Day After Report: Week 3 high school football notes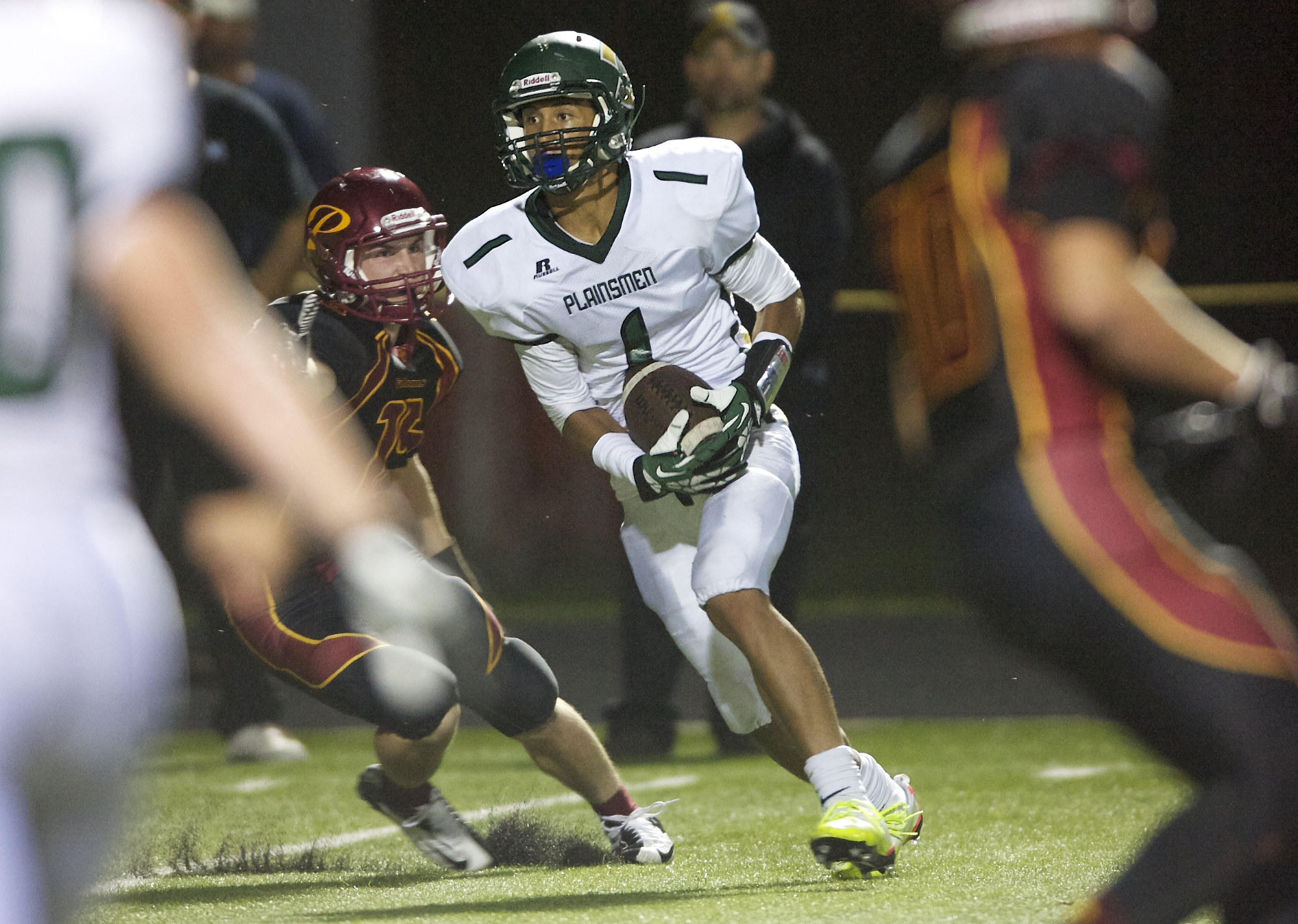 Week 3 is in the books.
Camas is still undefeated. In fact, with the way the Papermakers are winning, we should make them 6-0, not 3-0. They are beating teams so bad it should count for double.
Columbia River is still undefeated, with back-to-back final-play wins.
Hockinson is undefeated and went the first nine quarters this season without giving up a point.
Washougal is undefeated, and just like 2A GSHL foe Hockinson has given up seven points all season.
In the Trico, La Center and Woodland are both undefeated. They don't play each other until Week 9, and I know both teams expect to be undefeated going into that game, too.
That seems like such a long way away, though. For the 4A, 3A, and 2A GSHLs, we still have one more week of non-league action.
Until then, here are some notes from Week 3
UNION 30, PENINSULA 24
Leon Siofele runs free again in a win for the Titans.
Piling up the yards:
Union running back Leon Siofele seems like he gets better after contact. It is almost as if he likes the contact, that it fuels him. Anyway, he is one tough guy to bring down in a one-on-one situation.
Friday night, he had 27 carries for 239 yards. He had 10 carries of 10+yards, including two times when he accomplished the feat three times in a row.
Through three games, Siofele has 616 yards.
Don't forget about the QB:
I spoke briefly with Union quarterback Nolan Henry, just to say congrats on the win. One of the tough things about covering doubleheaders at McKenzie Stadium is I have a short amount of time to conduct my interviews after the first game. The goal is to write that story before the second game begins.
So when Siofele did his thing, and the Union defense got going in the second half, I knew I was going to highlight those accomplishments in the game story. The Titans, after all, only threw the ball four times in the second half.
Henry should not be ignored, though.
Bouncing back from the loss to Jesuit in Week 2, Henry completed 13 of 16 passes for 124 yards and a touchdown. Great completion percentage. Nothing spectacular with the yardage, but a strong performance nonetheless.
Henry's touchdown pass to Ethan Beniga on the first drive of the game showed great effort by the quarterback and wide receiver. Henry threw into coverage. However, he threw it high and outside, placing it only where Beniga could get to it. Sure enough, Beniga jumped and made the catch. 7-0 Union.
Caleb Browing led the Titans with seven receptions for 55 yards
Unhappy coaches:
The coaches will not be pleased with all the yellow flags. The Titans could not get out of the way of themselves for a lot of the game, then Peninsula decided to hurt its cause, too.
In all, Union was flagged for 13 penalties (including two for kickoffs out of bounds) for a total of 108 yards.
Peninsula, though, had three penalties for 25 yards on Union's drive to take the lead for good in the second half. Then Peninsula had two penalties for 28 yards on Union's next TD drive.
Winning time:
The Titans trailed 16-14 at the half. As noted in the game story, the defense made the stops, which led the way for Siofele to do his thing. Union got two touchdowns and two 2-point conversions to go up 14 at 30-16.
Peninsula would score again in the final two minutes but did not recover the onside kick. The Seahawks managed 113 yards in the second half.
"We just want to finish every game," Siofele said. "That's our motto. Finish."
"We had to dig deep. We played real Union football that last quarter," offensive lineman Connor Wong said.
Not LT, but maybe Reggie?
On Twitter last night, I noted that Union linebacker Josh Lee all of a sudden started looking like LT, as in Lawrence Taylor. He made back-to-back incredible plays rushing the QB in a close game. It was the defensive series of the night for the Titans.
Well, Lee is listed as a linebacker and he wears a number associated with linebackers. However, I found out after the game he was actually on the defensive line. So instead of LT, I'll retroactively call him Reggie White for those two plays.
Going for 2:
So Peninsula did something I love, even though it appeared on Twitter that I did not like the move. The Seahawks went for two points after getting to within eight at 30-22. On Twitter, I wrote they went for two, and I don't know why.
Well, I did know why. I was just trying to set up a Chip Kelly joke that just wasn't really funny, and with all the stuff I have going on in the booth, I never got back to it.
The norm is to kick the point to get within seven points in a situation like that. The Seahawks, though, were thinking they needed two touchdowns anyway, so why not try to go for the win if they did, indeed, recover the onside kick. Get within six, then score again, kick an extra point for the win. The worst that could happen after that first TD was a missed 2-pointer, but the Seahawks would still be within a TD and a 2-pointer to tie. That's not so bad.
Most of us who watch the NFL know that an extra point is just about a guarantee. I could look up the numbers, but I'd guess that 97, 98 percent of PAT kicks are successful. However, that number is much lower in high school football. If a team thinks it can get three yards in high school football for the 2-point conversion at better than a 50-percent rate, then teams should be going for two more often. Peninsula averaged more than 5 yards per play Friday night. (Actually, the break-even point here is less than 50 percent because going for 1 is no sure thing, either. But I'm not smart enough to figure all of the equations. I should ask Bill Barnwell from Grantland.com to help or Washington's own Score Czar!)
Anyway, if you succeed 50 percent of the time, then every two touchdowns is 14 points. If you do a little better than 50 percent … hmmmm.
Oh, and because kicking is rarely a 95 percent or better thing in high school, maybe coaches should look at the 2-point percentages a little more.
————————————————–
MOUNTAIN VIEW 36, BONNEY LAKE 21
No defense, then all defense for Mountain View
I think I just saw this game:
In the first game at McKenzie Stadium, the Peninsula Seahawks scored on all three of their possessions. In the second game, the Bonney Lake Panthers scored on their first three possessions before throwing an interception on their final drive of the first half.
Neither team did much in the second half, which allowed for the home teams to prevail.
The Mountain View defense is alive:
Very few of us who were at this game figured that Bonney Lake would be shut out in the second half. The Panthers had 288 yards and 15 first downs in the first half, after all.
Then the Mountain View defense hit the switch. Bonney Lake went punt, blocked field goal, punt, interception, punt, interception in the second half.
Perhaps the biggest defensive play of the night came from Mountain View's Eddie Richardson. It might not have seemed like much at the time, but it was key.
Mountain View had just scored midway through the fourth quarter to go up 29-21. The Panthers would go three-and-out and punt. But it was on that third-down play that Richardson shined. Bonney Lake running back Ethan McElderry got to the outside with Richardson in pursuit. Richardson got to McElderry and pulled him down. In the stat book, it went down as a 3-yard gain, and Bonney Lake brought the punt team in the next play.
The stat book does not show that if Richardson does not make this tackle, McElderry would have had at least a 20-yard gain. There was no one else on that side of the field for Mountain View. Perhaps the Panthers get the big gain, the first down, and things are different. Instead, they punted, and Mountain View scored again to go up by 15.
There were a few other big plays for the Mountain View defense. Nick Wilmoth had a fourth-quarter sack for a 12-yard loss. I believe it was Brock Busch who tipped a pass in the red zone in a drive that ended with a blocked field goal. I also thought I saw Kade Burns with a pass defense down the field on another play. He wears No. 72. Was that really him, a defensive lineman in pass coverage? That's what I thought I saw. And Jose Leyva, Corey Davis, and Garrett Jones each had interceptions.
I'm the moron:
So after the week that was, with Columbia River and Skyview and a blocked field goal and a live ball and, oh the humanity craziness, well, I will be thinking of that play at every field goal attempt the rest of this season.
Naturally, I figured everyone would be thinking like this, too. Well, not everyone.
Bonney Lake attempted a field goal to take the lead late in the third quarter. It was blocked. The ball fell to the turf. Behind the line of scrimmage. And nobody immediately went for the ball.
Now I promise you this is what I was thinking: Because of what happened last week, I was ready for what could happen after any block. When I saw nobody reacting, my thought process was "Doesn't anybody read the paper? Or watch ESPN? Didn't anybody see the Not Top 10? Was anybody paying attention at all? C'mon, man!"
This is what came out of my mouth: "It's a live ball, morons!"
Now I said the word "morons" in a way that if you do not know me would make you think I was being mean-spirited. Those who know me understand I am not mean-spirited. Not when it comes to high school sports, anyway. This was just my way of having fun. It was more like, "Duh, how could anyone not know THAT ball was live THIS week?"
I wish I had used the word "goobers." That is what my family uses when we want to show our disbelief at someone doing something but convey that we are not really upset. (Yes, we have a 7-year-old in the house. When he hears "goober" he understands to stop what he is doing but he is not in any real trouble. As in, "Hey Goober, might not want to stick your finger in the electrical outlet." "OK, Dad!"
And yes, I expect to be named Father of the Year any day now.)
The real funny thing (and the joke is on me) is that Ron Soanka and his broadcast team were right next to me. Not sure if my "moron" talk was picked up by the microphones but Soanka covered up his mic as if I had used one of George Carlin's seven dirty words.
I swear that I don't swear in the press box.
However, I wish I had not used the term moron, even in faux disgust.
I often call myself a moron for misplacing my keys, losing my phone, things like that. I guess this is another reason: For yelling "morons" around a microphone.
Kick it again:
Anyway, after a second or two, somebody got to that live ball on the blocked field goal. Bonney Lake recovered the ball but did not advance it. Mountain View reacted in time to make the tackle. This was a fourth-down play, by the way, and Bonney Lake did not pick up a first down.
So it should have been Mountain View's ball, right?
Well, no. Bonney Lake lined up to attempt the field goal again. At first we did not know what happened. Then it occurred to me. it must have been an inadvertent whistle.
Seriously.
So after all that happened last week, a whistle was blown after the blocked kick and the ball was live. (I later confirmed with Bonney Lake coaches that yes, there was an inadvertent whistle on that play.)
I'm not writing this to critique this officiating crew. Just using this situation to again praise last week's crew at the River-Skyview game. It is easy to blow a whistle after a blocked kick and there is no immediate reaction to the ball. It looks like the play is over.
————————————————–
EVERGREEN 29, PRAIRIE 20
Plainsmen score the game's final 22 points to hand Falcons their first loss.
On a warm summer's evening, on a train bound for nowhere, I met up with a gambler …:
Maybe Don Johnson should try his luck in Vegas.
The Evergreen coach was 3 for 3 in gambles Friday.
The first occurred on Evergreen's first play from scrimmage. Quarterback Brandon Bea threw a lateral to receiver Justice Murphy, who heaved a pass to Rey Green for a 66-yard touchdown.
Later in the half, after pulling within six points at 20-14, Johnson called for an onside kick after noticing a gap in Prairie's positioning for its kickoff return. It worked. Evergreen got the ball, then drove to take a 21-20 lead at the half.
Johnson and the Plainsmen got the trifecta after scoring a touchdown with 3 minutes left in the game to go up 27-20. Instead of kicking an extra point, they went for 2 points to make it a two-possession game. That worked, too, which made Prairie's final drive less nerve-wracking for the Evergreen fans.
Three makes a trend, and it's a winning one for Evergreen.
————————————————–
WOODLAND 74, SETON CATHOLIC 0
One of the best small-school teams in the state had everything going its way
These things happen:
The first thing fans typically ask when they read a score like this is, "Did they run up the score?"
Consider these facts in making your call:
Prior to two kneeldowns to end the game, Woodland ran all of 19 plays. The first-string offense was on the field for 11 plays in the first 20 minutes before getting the rest of the night off.
The Beavers scored on a pair of pick-sixes and a fumble return. They took advantage of six turnovers overall, and made 11 tackles for loss.
Both of Seton Catholic's punters were hurt, so the Cougars went for it on fourth down all night. That left Woodland with an average starting position at the Seton 37-yard line.
"I can't ask the kids not to compete," Woodland coach Mark Greenleaf said. "We kept getting a short field, we'd run one play, and we'd end up scoring. They have a lot of younger kids and not much depth. We have depth."
Cougars coach Dan Chase had no complaints.
"They were classy about it," Chase said. "They didn't do anything wrong. They ran their offense. We ran our defense. We just couldn't stop them.
"We're going to learn a lot from this game. Our kids are motivated to get better."
Hope for Seton:
Greenleaf sees a bright future in his crystal ball for the Cougars.
"Seton Catholic is a much improved program," he said. "They are an up-and-coming team that is well coached. They are doing a lot of things right. Once they get their numbers up, they'll be one of those powerhouse teams down the road."
The Cougars even flashed some of their potential during the opening minutes of Friday's game. Junior quarterback Will Noce-Sheldon made several big plays in the read-option, executing fakes to junior running back James Kerkels before pulling the ball away at the last second for gains of 25 and 10 yards.
Another junior, C.J. Farrell, had a team-high five tackles.
Beavers defense:
The Beavers held Seton to 92 yards of offense and five first downs. Senior linebacker Levi Leach had five tackles (two for loss) and senior Brian Preston had 2-and-a-half tackles for loss before both players saw their nights end at halftime.
HOCKINSON 39, HUDSON'S BAY 7
TALE OF TWO HALVES
At halftime of its season opener, Hockinson was tied with Elma 0-0. The Hawks eventually won 7-0.
In Week 2, Hockinson led Fort Vancouver 7-0 and eventually won 26-0.
On Friday, the Hawks were tied with Hudson's Bay 7-7 and went on to beat the Eagles 39-7.
"We've just been leaving plays on the table," Hockinson coach Brian Schott said. "We had turnovers and costly penalties that hurt us. But we knew the plays were there, and that's what we told the kids at halftime."
Of the Hawks' first five possessions Friday, two ended with three-and-outs and two others were ended by an interception.
But the Hawks' ended four of their first five second-half possessions with touchdowns.
What was the difference?
"Executive," quarterback Jess Krahn said. "That's it. We just executed our offense better."
HITTING THE ROAD
Hockinson is 3-0 for a second consecutive season, but the Hawks are far from satisfied.
All three wins have come at home.
The three wins have come against teams that are a combined 1-8 this season.
Next week, the Hawks hit the road for the first time, traveling to play River Ridge of Lacey in Tumwater on Saturday.
"Next week will be the real test for us," Schott said. "We can't have the starts we've been having next week, or we'll be in a big hole."
TOUGH BREAK
Receiver Austen Johnson, who was sidelined the first two weeks of the season as he recovered from an offseason injury, caught one pass for 15 yards in his 2013 debut.
Then he left with another injury.
"You just hate to see that," Schott said. "Austen is just one of those kids who loves to be on the football field. You hate to see him work hard to get back onto the field then get hurt again."
————————————————–
SKYVIEW 24, LAKES 19
The Storm needed this.
Happy for the Storm:
Besides being 0-2 going into this game, the Storm also suffered through the a week of being on the wrong side of a play that went national. So, yeah, I'm going to say it: This team deserved a win. Congrats to the Storm.
Stunningly, both of these teams were 0-2 coming into this game. Lakes and Skyview are perennial winners in football. Now, Lakes gets to travel to Camas next week. Last spring, we figured that was going to be a fun game to watch. On paper, it looks like another Camas rout.
————————————————–
COLUMBIA RIVER 23, MARK MORRIS 20
Chieftains win with FG on last play
Big comeback, big drive:
Yep, we know. A field goal try on the final play of the game. We've heard this before. Move along.
But a big shout out to Jonathan Branson. He had 43 of his 49 rushing yards on the final drive, getting the Chieftains into range for the winning kick.
————————————————–
CAMAS 69, AUBURN MOUNTAINVEW 24
A Thursday night victory
Another week, another blowout:
The Papermakers, No. 1 in all the polls, have outscored their opponents 164-45. And the games haven't been that close!
This one was a comeback victory, though. Auburn Mountainview scored first.
James Price had a big performance with 105 yards receiving and two touchdowns.
————————————————–
That's it for this week. Just saw that Battle Ground beat Decatur on Saturday for its first win of the season. Congrats to the Tigers.
Thanks to Micah Rice (Evergreen) and Rene Ferran (Woodland-Seton Catholic) for help with these notes.