The return of the Day After Report
It's the return of the Day After Report.
A little change this year. I will not have extra notes on every game every week. After all, sometimes all I have been doing is re-writing what already was in the paper. For the most part, we want these notes to be new, things that were not in the paper.
But you will still get "more notes than you need" from any game I covered. You know, because I'm obsessed with football, which means you should be, too!
I'm confident we will get to every team in the area.
Anyway, here we go with notes for these teams this week: Camas, Washougal, Hudson's Bay, Battle Ground, R.A. Long, Prairie, Columbia River, Union, Mountain View, and a special tribute from Ridgefield football to a classmate.
CAMAS 47, JESUIT 14
No. 1 in Washington beats No. 1 in Oregon. Big time.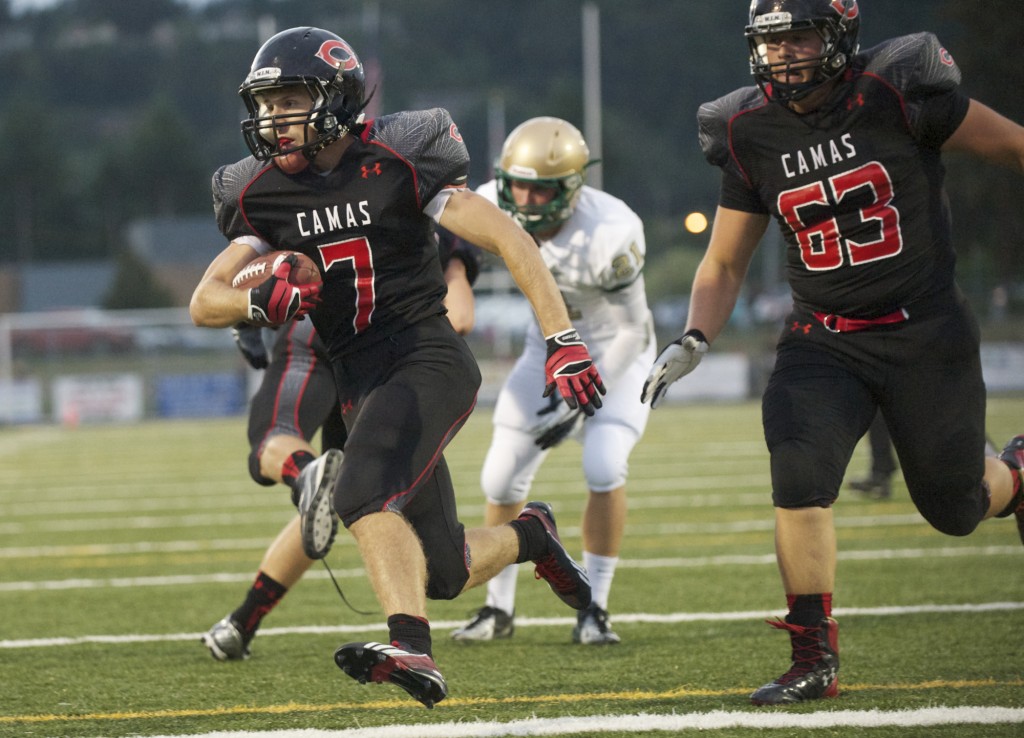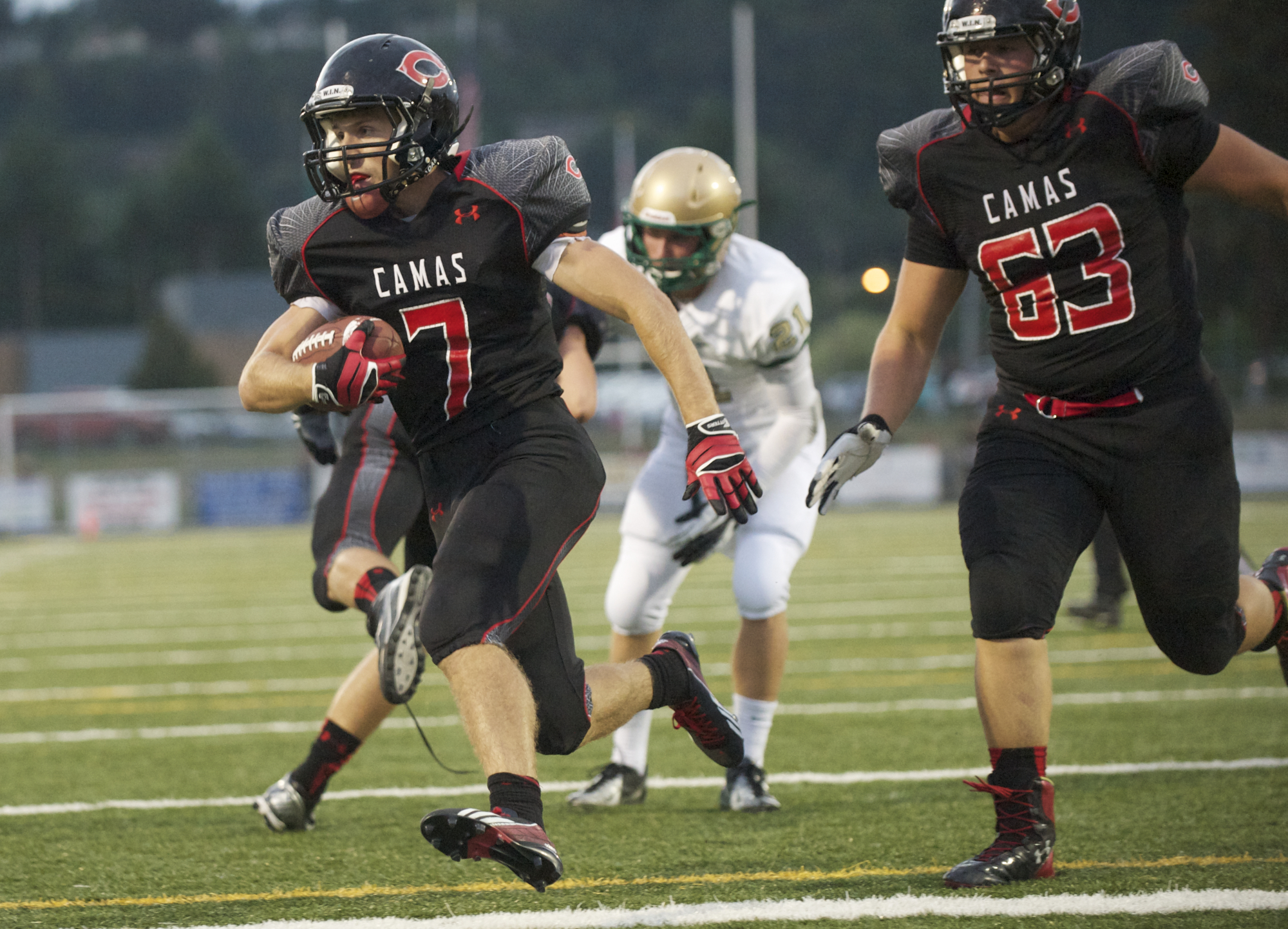 A star sits out, allowing new talent to emerge:
Division I football recruit Drew Clarkson did not play Friday because of a hamstring injury. I was told it is not serious, but the coaches did not want to push Clarkson too hard for a Week 1, non-league game.
Of course, this was not a typical non-league game. This was Jesuit.
Clarkson wanted to be out there, but it is better to be 100 percent in Week 5, 9, 12 or even 14 than suffer a setback in Week 1.
There was a silver lining for the Papermakers, though.
Alex Walker, a junior, got his first varsity start, filling in for Clarkson on the offensive line.
Camas coach Jon Eagle said before the game that Walker had been getting most of the reps in practice recently because Clarkson has been battling the hamstring issue for days.
Eagle was confident Walker would do a good job, even against a defensive line full of college potential.
Eagle was right.
Walker was part of a unit that scored five touchdowns on Camas' first five offensive possessions.
"The experience was amazing," Walker said. "Being under the lights was the coolest thing. My coaches prepared me very well.
"I think I did great. I did everything I was supposed to do. The team executed well, our team worked together, and we got the W."
—
Numbers troubles:
I'm grateful that I do not have to cover Jesuit every week. (Funny, though, I watched Jesuit last week, covered this game, and I am pretty sure I have Jesuit next week when the Crusaders play Union.) It is not fun to keep statistics for a team that has numbers that are difficult to spot.
Jesuit seemed to have light tan numbers on white shirts, and they were dreadful to read from up in the press box.
Camas' numbers are easier, but there are some issues. The Camas uniforms can get crunched a bit, so 35 can look like 25. For example, I noted on Twitter last night that Cole Zarcone returned the opening kickoff to set up Camas in great field position. He wears No. 25. But after the game, Zarcone said it was No. 35 Reid Conlee who had the return. Sorry about that Reid.
Another thing that makes our life difficult is double numbers: There are two 25s on the Camas roster and two 35s, and a few other doubles.
Anyway, if The Columbian gets some of these wrong, we apologize. But now you know there are some challenges.
By the way, Zarcone did have a big play later in the game, intercepting a pass and returning it 37 yards to set up another Camas touchdown.
"The hype, the fans, it's just the best feeling ever," Zarcone said of making a play in front a packed Doc Harris Stadium. "To be able to play in this town is amazing."
—
It's not you; it's me:
I love Twitter and how it has helped our coverage and our ability to update all the games from around the county in live time. I also enjoy reading the interactions with fans and followers. Just want you all to know that I cannot get back to most of you during the games.
This is what I do for every football game I cover:
I write down every result from every play, then I chart it on a stat sheet so I know how many yards any one player has at any time during the game.
I am one of the fools who love this stuff, so believe me, I am not complaining. Just wanted you to know I read my interactions when I can, but when Camas is running a play every 12 seconds or so, it is hard for me to find the time.
—
Numbers game:
When I tallied all the halftime stats, I was shaking my head, wondering if I did something wrong.
Jesuit had 194 yards of offense. Not bad for a half, right?
Camas was better, of course, with 254, but just by those numbers, it would not have appeared to be a blowout.
We know better, though. Camas led 40-7 at the break.
So I wanted to see how this happened. It was easy to figure out.
Camas scored so quickly, it gave Jesuit the ball a lot. Also, Jesuit did go 80 yards on 12 plays on its first drive of the game, tying the score at 7. After Camas made adjustments on defense, the Crusaders did very little until it was too late.
The next four Jesuit drives: 29 yards, turnover. 18 yards, punt. 5 yards, punt. 14 yards, turnover.
Then, trailing 40-7, Jesuit did move 48 yards against a conservative defense before half. All it did was get the Crusaders to Camas' 32-yard line when the clock ran out. It also inflated some yardage numbers.
"That's a pretty good offensive crew," Eagle said of the Crusaders. "I thought we did a good job just being physical. Just a lot of heart and determination."
—
A simple game:
Camas quarterback Reilly Hennessey completed 14 of 17 passes for 277 yards and four touchdowns.
"I have the easiest job," he said, downplaying his own numbers. "All I have to do is get guys the ball, get it to the playmakers."
One of those guys is Zach Eagle.
The 5-foot, 9-inch speedy receiver really does look like Wes Welker out there. He catches and cuts like a video game receiver, making defenders look foolish.
Against Jesuit, Eagle had seven catches for 118 yards. Six of his catches went for first downs, including one on a third-and-14 when the game was tied at 7.
Six out of seven first downs. Impressive, right. Yeah, but Nate Beasley and James Price can top that. Every time they caught a pass from Hennessey, they scored!
Beasley had three receptions for 119 yards and three TDs. Price's lone grab was a 17-yard TD.
Sorry Zach.
—
Keep this pick-six:
Dylan White had an interception and 50-yard return for a touchdown to give Camas a 21-7 lead in the first quarter.
After the game, he noted that he saw the Denver Bronco celebrate too early on Thursday night, dropping the ball before he got into the end zone.
"I was never going to let the ball go," White said.
—
What now?
So, what does this mean?
If expectations were already off the chart, well, now, just wow. The Camas Papermakers just made it a running clock against Jesuit. Or as some call it, the University of Jesuit.
But, as noted in the game story, the players say the cannot get carried away with a victory in Week 1.
Still, it was fun.
"Coaching. Teamwork. Conditioning," linebacker Michael DiGenova said, referring to the keys to the win. "We're here to play, I guess."
Beasley said beating a program as established as Jesuit's shows that Camas has to be in the discussion for a special season.
"It means we have a chance at state," he said.
Friday night, Camas showed it owned Oregon. The Papermakers hope to be the best in Washington come Week 14.
———————-
WASHOUGAL 35, HUDSON'S BAY 0
Class 2A Panthers open up season with win over 3A program.
No real concern:
Three Washougal starters, including all-league running back Bobby Jacobs, did not play due to minor injuries. Coach Bob Jacobs said he wants his team healthy before league play begins.
"We get those guys in and we'll definitely be better," the coach said. "But I was really happy with how our young guys played."
—
Improving:
Bay coach Sylvester Green knows his team has a long way to go to rebound from last season's 0-9 campaign. Despite Friday's loss, Green believes progress is being made.
"We're a young team," Green said. "What we are is a highly skilled JV team. What we're doing right now is putting everything together. Once we get to league, we'll be ready."
Washougal's coach likes what he sees from the Eagles, too.
"They look more organized than they have in the last couple years," Jacobs said. "Hopefully those guys are able to get that program turned around. I'm pulling for them."
———————-
R.A. LONG 49, BATTLE GROUND 28
Tigers find it tough to slow down R.A. Long.
Big plays tame Tigers:
R.A. Long ran 57 plays, but three 30-plus gainers as well as two long kickoff returns allowed the Lumberjacks to pull away from the host team.
Senior Jacob Yordy had a hand in three of the plays — touchdown runs of 74 and 50 yards, as well as an 88-yard kickoff return for a score that answered Battle Ground's first touchdown.
On boy of Yordy's TD runs, the Tigers gambled by bring both safeties in the box, leaving no one deep when he burst through the line.
"We're a lot smaller than they are, so we had to roll the dice, and it cost us," Battle Ground coach Larry Peck said.
Other than the two TD runs, Yordy's longest run was 17 yards. Senior linebackers Colby Cahoon (8 tackles) and John Smarr (7 tackles) led the Tigers' defensive effort.
"Other than a few big plays, we were able to stop him," Peck said. "If we don't make mistakes, give up those big plays, maybe it comes down to the final whistle."
Peck counted both long kickoff returns – Brandon Ziegler had a 69-yarder in the third quarter that set up the fourth of Yordy's five touchdowns on the night – among those killer mistakes.
"The first one, we kicked it right to him," Peck said. "The second one, it was just a bad bounce."
—
Mixed night for Vukanovich:
Tigers senior QB Colston Vukanovich had plenty to be happy about in his season debut. He completed 23 of 39 passes for 315 yards and three touchdowns, and also ran for a team-high 65 yards and another score.
However, he also threw three interceptions, although none came back to bite the Tigers. His timing on several passes also was well off, as he threw the ball before his receivers had a chance to get into their routes.
"I need to work on making sure all my reads are right," Vukanovich said in assessing what he needs to improve upon for next week. "And I need to throw a good, accurate ball every time."
Still, after some early hiccups, the Tigers racked up 371 yards of total offense and 19 first downs, and Vukanovich's third TD pass early in the fourth quarter drew them to within 42-28.
R.A. Long then went on an 11-play, 65-yard drive that chewed up more than 6 minutes and ended with Yordy's game-clinching 2-yard TD run with 4:59 to play.
"I was just hoping the defense would give me some kind of turnover, get me the ball back, because our offense was doing well," Vukanovich said. " We could drive the ball tonight."
—
2A GSHL up for grabs:
Peck thinks the Lumberjacks have all the pieces to make a deep run in the 2A state playoffs, but first, they'll have to escape what RAL coach Eric Bertram considers a deep pool of contenders just to get out of their league.
"I think the league is going to be super balanced," said Bertram, in his sixth year at the helm at R.A. Long. "Mark Morris lost some guys, but I don't expect them to be down, and Ridgefield played great last year. You can't overlook them.
"Hockinson has some skill guys and a new coach. Aberdeen has some big boys up front, and they're going to be a grinder. And I like our chances. I don't know if someone is going to run (the table) or not. I just know that every single week, there are going to be some good battles in our league."
Bertram also praised the Tigers' play afterward. "They have some real nice skill guys, some good athletes on the outside and their quarterback is a good athlete also," he said. "We struggled to match up with them on the outside, but we found a way to get it done tonight."
———————-
PRAIRIE 31, SKYVIEW 17
Falcons get a confidence boost with win over 4A perennial power
Big guys up front did the job:
There was nothing tricky about the way Prairie went about beating Skyview on Friday.
The Falcons won the battle in the trenches.
"The strength of our team is our guys up front on both sides of the ball," Prairie coach Terry Hyde said.
On the offensive line, left tackle Mitch Bessett, left guard Matt Vick, center Scott Keyser, right guard Manny Valezquez, and right tackle Tyler Grant paved the way for a Falcons ground game that gained 284 yards.
Sophomore Dallas Goodpaster finished with 173 yards and was a handful for the Skyview defense.
Speaking of hands, Taylor Martin made a beautiful catch on the game's first touchdown, laying out for a finger-tip catch in the end zone. Later, he made a similar catch along the sideline.
And on Jacob George's interception in the end zone, it was Martin who tipped the ball into the air.
In addition to his work at center, Keyser made a 37-yard field goal that made the score 17-10 in the third quarter.
———————-
COLUMBIA RIVER 33, HERITAGE 21
New faces get the win for Chieftains
These guys are good:
A coach never knows how his team will preform in a season opener until it actually gets on the field. That was especially true for Columbia River coach John O'Rourke, as he was breaking in a whole new roster of first-time starters.
Yet, the Chieftains' convincing win over Heritage did not surprise the veteran coach.
"Ever since team camp this summer, we have been steadily improving," O'Rourke said. "Before camp, I had my concerns. But we really started coming together that I felt like we were progressing coming into this game. You never know for sure, especially since so many of our players hadn't played a full 48-minute game before."
The Chieftains said they felt good coming into the opener.
"We were really confident in our ability," senior Marcus Gaylor said. "We were ready to show people what we could do. We saw that 360preps (The Columbian) picked us to lose to Heritage like 34-20, so that got us a little more fired up."
(Paul Valencia chimes in: What? That must be a misprint. Predictions on 360preps.com are never wrong!)
—
Wrapping up:
While Columbia River's speed did give Heritage problems, the bigger issue for the Timberwolves was tackling.
On many key plays Friday, the Timberwolves got to River ball carriers but were unable to wrap them up.
The biggest example of this came in the second quarter with Heritage leading 14-12. River was facing third-and-14 at the Heritage 16.
River quarterback Jonathan Branson dropped back to pass. As Heritage defenders collapsed on the pocket, it looked as if the Timberwolves might get a big stop. But just as the onrushing defenders were about to bring down Branson, the senior quarterback flipped the ball back to his brother Jayson, who slipped free for a 16-yard touchdown run that gave Columbia River a 20-14 lead.
The Chieftains never trailed after that.
Columbia River was 9 for 16 on third-down conversions. On six of those third-down conversions, the Chieftains needed to gain at least six yards to pick up the first down.
———————-
UNION 44, MOUNTAIN VIEW 0
Titans get the shutout to open 2013
Early returns:
It's hard to find some silver linings in a 44-0 loss when your offense barely musters 100 yards.
But Mountain View did get a nice game from return man Nicholas Wright.
Wright averaged 24 yards on four returns. He had a 44-yard return in the second half during which he had one man to beat for a touchdown. But as he tried to make one last move, he stumbled and fell to the turf at the Union 46.
—
What if …:
Mountain View didn't force a turnover from Union, but it wasn't for a lack of trying.
The Thunder had four potential interceptions slip right through defenders' hands, two of which had the potential to turn into a touchdown-producing return.
It's not as if this would have impacted the outcome of the game, but it might have made the result easier to swallow.
—
Efficient Titans:
Punter? Who needs a punter?
All of Union's 10 possessions ended in Mountain View territory. Six ended with a touchdown, one on a field goal, one on a missed field goal, one on a failed fourth-down conversion and one when time expired at the end of the game.
—
Titans on the attack:
Some of the Titans' biggest plays came on the first play of a new possession. Here's what the Titans did on the first play of a drive:
A 51-yard touchdown run by Leon Siofele
A 44-yard touchdown pass play from Thomas Lampkin to Ethan Beniga
A 27-yard run by Caleb Browning
A 21-yard run by Siofele
A 72-yard run by Siofele
———————-
ROCHESTER 34, RIDGEFIELD 0
Forget the score, there was a touching tribute to a Ridgefield classmate
This was in our game story, but I thought we should highlight it again:
The Ridgefield community gathered for the first time since the death of senior Tanner Trosko.
A banner that read "We Love Tanner" draped the chain-linked fence outside of the tennis courts. Before the game, players bowed their heads and fans in the stadium fell silent in a moment of remembrance.
"He had a lot of friends," quarterback Jonah Roberts said. "He was a great guy. I enjoyed every minute I spoke to him."
———————-
That's it for this week.
Contributing to this report were Micah Rice (Bay-Washougal); Rene Ferran (R.A. Long-Battle Ground); Paul Danzer (Prairie); Tim Martinez (Columbia River, Union, Mountain View).