Football preseason notes: Skyview Storm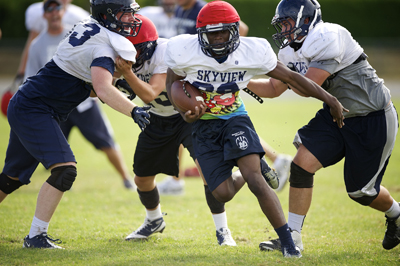 I was at Skyview last Friday, taking in a practice, watching the Storm prepare for the season. My story on center Matt Matteo should be in Thursday's edition of The Columbian. Here are a few more notes on Skyview football:
Coach: Steve Kizer
10th season
Record: 66-35
Note: Led team to four of the past five 4A GSHL titles and five of the past seven.
—
QB battle at a QB-strong program:
Three quarterbacks are battling for most of the snaps this season as the Storm try to find the next standout. The Storm have had incredible play from that position in recent years. Austin Dodge is now at Southern Oregon. Kieran McDonagh is at Portland State. Jordan Berni is at Western Oregon.
So, will one of these guys step up to become the next big thing at the position? Mavericq Yamaguchi is the senior, and a state champion from the baseball team. Then there are juniors Taylor Johnson and Zac Shomler.
"We're looking for the guy who leads the group the best," Kizer said. "We're keeping an eye on every pass, who is performing the best. Right now, Mav has the edge with leadership and knowledge. He understands our complex offense a little better."
Skyview coaches have been known to keep an open mind about these things. Both Dodge and McDonagh were not the starting quarterbacks during their breakout juniors seasons when their junior seasons began. Just saying that the quarterbacks who are not starting in Week 1 should keep working on their skills. Never know if an injury or something will lead the coaches to call your number. It worked out for Dodge and McDonagh.
—
Throw it here:
Whoever the quarterback is will have at least one experienced guy to throw the ball to this season. While Skyview is filling a lot of holes with its skill positions, Jacob Dennis returns to bring some normalcy. He caught 26 balls for 468 yards and seven touchdowns last year.
—
Too old to be up this long?
The Storm had a midnight strength and conditioning party about a week before the season, a tough workout that lasted until 2:30 in the morning.
"I was tired," Kizer said, referring to being out so late, er, early. Not that he was doing the workout. "It didn't seem like the kids were tired, but it took me a week to recover."
—
Gifted speakers:
After each practice, the team huddles up to hear a few words from a coach or two. Typical stuff with most football teams. In this case, Kizer said his usual coach-speak stuff, then yielded the field to defensive coordinator Julian Williams.
Kizer shook his head, and said to watch and listen. The athletes don't pay much attention to the head coach, Kizer said with a laugh, but they eat up whatever Williams says.
"I say a million things, nothing. Williams says one thing, they'll make a T-shirt out of it," Kizer said. "I say some good stuff. I never get a T-shirt."
Sorry Kize. Maybe one day someone will at least use one of your quotes to make a button or something.