Football preseason notes: Battle Ground Tigers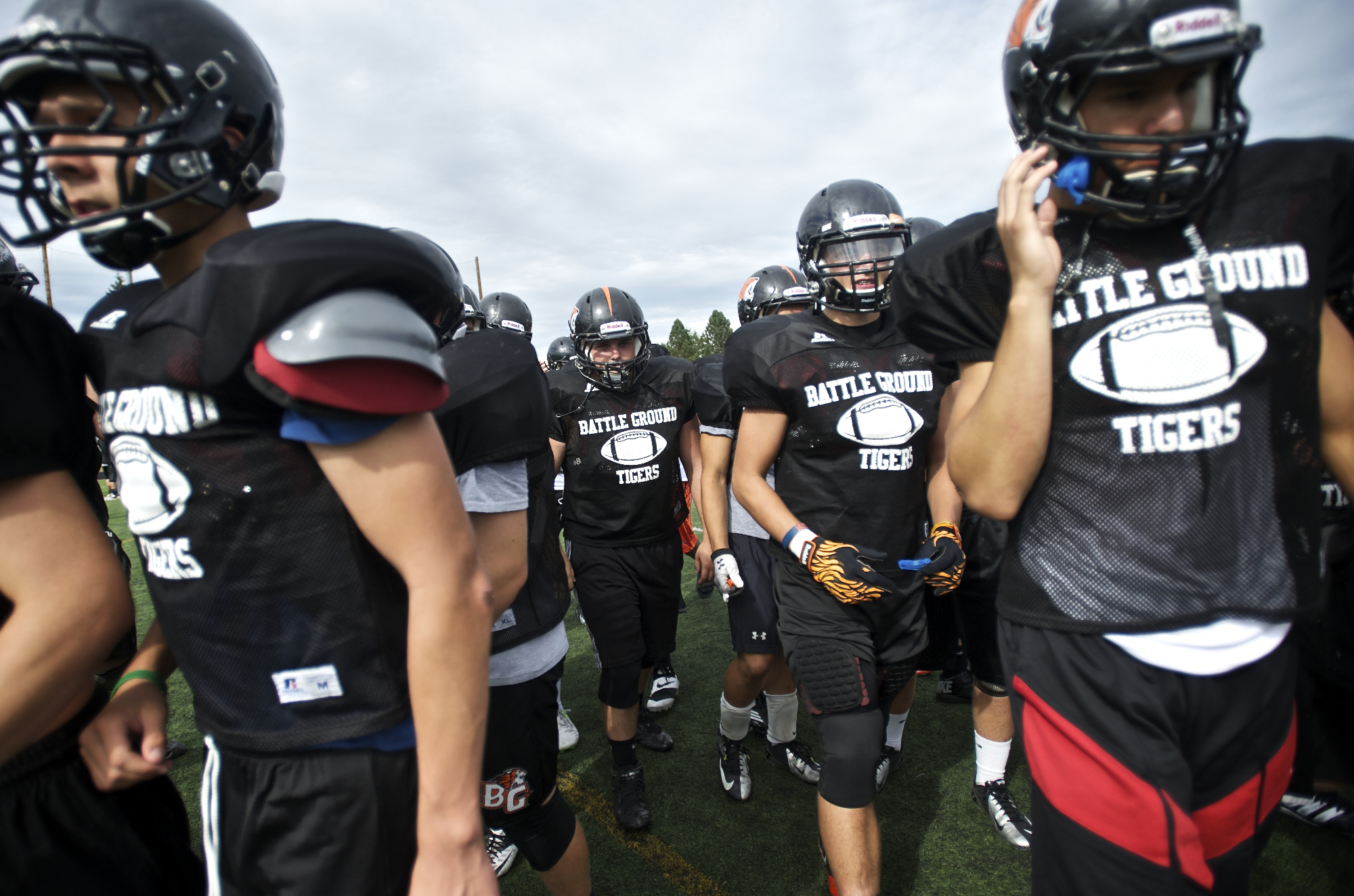 I spent Saturday morning in Battle Ground, watching the Tigers prepare for their football season. It was great to see some familiar faces. Bryan Levesque of gshlfootball.com fame was there. I also found out that a couple of old friends from my high school days at David Douglas in Portland are helping out with Battle Ground.  And, as I pointed out on Twitter, the Tigers fed me cookies, which automatically makes them the best football team this year from Battle Ground. (See what I did there? You won't catch me getting in trouble with the other teams.) Anyway, my story on Battle Ground's Josh Lemar will be in Wednesday's edition of The Columbian.
Here are a few more notes and a quick glance at the head coach.
Coach: Larry Peck
Fourth season
Record: 10-17
Note: Last year led Tigers to first wining season since 2003.
—
"We want somebody who is going to be a leader, who will make a sacrifice for the team, who is going to work extra hard in the offseason. He's got to be an aggressive style of player who doesn't make excuses. That's what we're getting. We're getting kids who are tougher mentally."
— Larry Peck, explaining how the program has improved in the past three years.
—
Bigger staff:
The Battle Ground coaching staff, including volunteers, is up to 16 now. Peck said he is proud of the fact that some of his volunteers have worked with the youth programs for a couple of years and are helping out as those youngsters turn into high school athletes. Peck, in fact, is no longer a position coach. He has enough quality people on staff, he said, that he can focus on being the head coach, overseeing everything.
—
New faces to fill big roles:
From the statistics we tracked last year, the Tigers will have a lot of new names gaining the yards, scoring the touchdowns.
Justin Smalley is the top returning rusher, and he had 83 yards and a touchdown last year. Hayden Humphrey is the top returning receiver, with nine catches for 143 yards and a touchdown.
Nic Manuel and Colston Vukanovich are battling for the starting role at the quarterback position. Manuel, in a very limited role, threw 9 passes last year for 52 yards and a touchdown. Vukanovich, who played for the Tigers in 2011 and then moved out of state last year, has returned to Battle Ground for his senior year.
Of course it is a concern for any coach going into a season with so many unknown factors. However, the Tigers have been trying to build a program in recent years. And any "program" goes through its turnover, with a big senior class of talent leaving, allowing new talent to fill in with those roles. The Tigers believe they have the athletes to get the job done. From freshmen to seniors, there were 130 players out for football last week.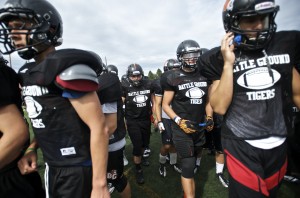 The goal:
After going from one win in 2010 to four in 2011 and then five in 2012, there is one more hurdle for this program. Make it to Week 10 and the playoffs.
"We want to take the next step and beat one of the Big Three," Peck said, referring to Camas, Skyview, and Union. "That's our goal, to beat one of them and get a playoff berth."