Football preseason notes: Union Titans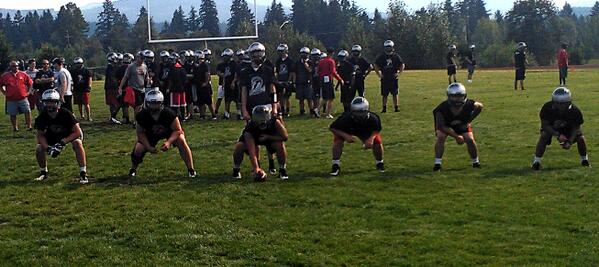 I spent Thursday morning at Union High School, watching the Titans as they prepare for the 2013 campaign. My story on left tackle Connor Wong will be in Sunday's paper. In the meantime, here are a few notes and a quick glance at their coach.
Coach: Cale Piland
Seventh season
Record at Union: 53-16
Note: Only coach to win a big-school state title with a Clark County program (Evergreen, 2004).
—
"Hunger for excellence. It's excellence in all aspects of what we do. On the football field. In the weight room. In the classroom. As a son. As a brother. That's a standard we're consistently striving for."
— Cale Piland, on playing for the Union Titans.
—
The Ambassador:
During the time I visited practice, starting quarterback Nolan Henry was looking more like a coach than the starting quarterback. During this period, the other quarterbacks were taking the snaps, throwing the passes, getting better.
Henry, now a junior, was there for a word of encouragement.
Which should surprise no one. I was reminded of the story we published on him last year, the sophomore starter with a heart. The guy who wants to give.
Anyway, I started calling him The Ambassador of Football, trying to bring peace and harmony to the world, one touchdown pass at a time.
—
Last year's numbers:
Among the returners are a couple players who put up strong numbers last year for the Titans. Henry threw for 1,467 yards in his first year as the starting quarterback, completing 62 percent of his passes. Running back Leon Siofele rushed for 836 yards and, more impressively, 19 touchdowns. Siofele also caught two touchdown passes.
Clear to see those two will be the ones expected to lead the Union offense this season.
—
Legendary fun:
During this particular practice, the lesser experienced QBs and the centers were having troubles with the exchange. Happens to every team, from time to time. There are times when this can be a serious problem for a football team, but there are others — such as Day 2 of practice — when it is OK to have a little fun at someone's expense. Not the players, but a coach.
One coach asked a member of the media (wonder who that could be?) to ask the quarterback coach why the QBs could not hold on to the ball this day. It must be coaching, right?
Gary McGarvie took it in stride. But, yes, there were a couple more botched snaps when I was there, and McGarvie just knew he was in for it again, from the media and his fellow coaches.
I heard he dishes it pretty well, so I won't be surprised if he gets back as his fellow coaches. He'll probably leave the media alone, though, because of this:
That's right, Gary McGarvie is a Linfield Legend. The best part is the NFL Films wannabe music.
OK, OK, sometimes his colleagues give him grief over this video. I have, too, but I must admit this is pretty cool.
More importantly, it is a good reminder to today's high school players that all of their coaches have been where they are, and many of their coaches have gone on to have careers in college. You look around at the staffs all over the county, and you will find talented players everywhere.
Gary, we kid because we care, but this video is cool. Well done, sir.
Now, about those fumbled snaps …