First day of practice: A great day for some football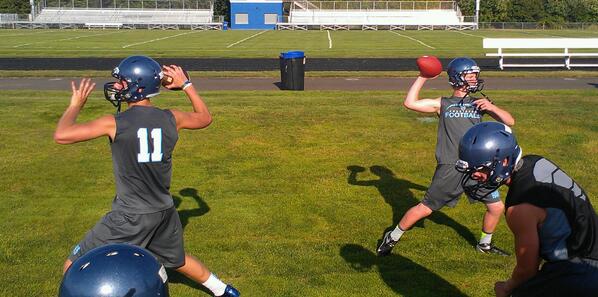 My story on the first day of high school football practice will be in Thursday's edition of The Columbian. Here are a few more notes from the camps I visited Wednesday.
Numbers game at Fort Vancouver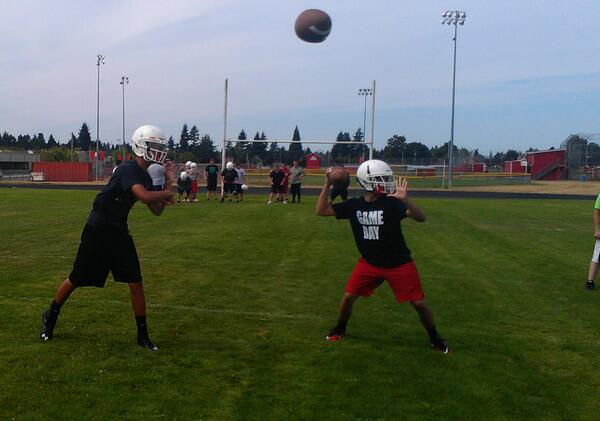 First off, there are signs of improvement. The first practice was sharp, and the players there are excited about the future. There do not have delusions of a championship this year. This team wants to improve, the be more competitive. And the Trappers had a lot of athletes work out this summer with that goal in mind.
However, the Trappers did not have 100 percent attendance on Wednesday.
"It's exciting to be out here, but I'm disappointed (some) kids who were here all summer aren't here," first-year Fort coach Todd Quinsey said. "We're going to make sure they get here. There will be a couple phone calls I'll be making. That's part of it."
Quinsey said when he has everybody, he really likes the talent on the first team. Depth will be a problem at Fort, but there is talent. Now, it's a matter of getting that talent to practice on time, while also making sure the players who have unexcused absences are not given a pass.
"They have to be held accountable. It's not a show-up-when-I-want thing," Quinsey said. "You have to be here every day."
The players who were there Wednesday appreciate that.
"We're trying to get the younger guys out here and trying to get them used to what we're doing," senior Marquis Taylor said. "Hopefully we'll be strong going into that first game."
Evergreen foundation
Evergreen's new coach, Don Johnson, Jr., is not afraid to say that Evergreen football is back.
Not "is going to be back" but already is back.
Hard to argue with him after the first day of practice. More than 90 athletes were cleared to participate.
It remains to be seen what that will mean in terms of wins and losses, but all signs point to progress after the Plainsmen won a combined four games the past three seasons.
"Evergreen football is the foundation of Vancouver football. We're trying to bring this team back to what the great coaches before me created," Johnson said.
He was referring to Camas coach Jon Eagle and Union coach Cale Piland, who both used to be the head coach at Evergreen. Eagle led the Plainsmen to the state semifinals. Piland won the state title with the Plainsmen in 2004.
The program has fallen on hard times, but Johnson said Evergreen no longer will be an easy game for opponents.
"Instead of looking at the schedule and seeing Evergreen and marking it off as a win, you've got to wait until Friday night now," he said.
Final first day of practice for Hockinson seniors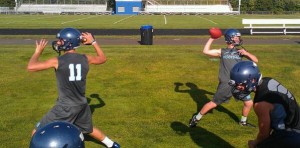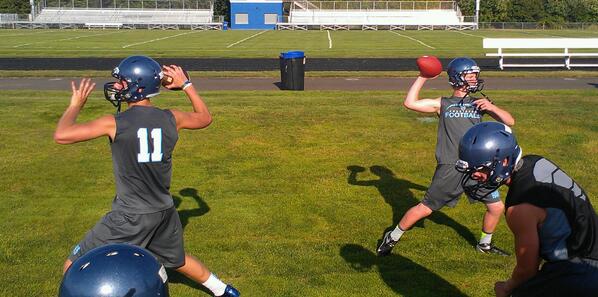 Hockinson quarterback Jess Krahn said the seniors are talking about it, soaking it all in, trying to save these memories. Everything is a last for them. Wednesday was the last first day of high school football practice.
"We had our last summer workouts and we got sentimental about that," Krahn said. "All the seniors are taking it pretty rough. We've dedicated a lot of time to this program the last four years, and we all want to see it succeed."
The last first day of practice for the seniors was the first day of practice for Brian Schott as a head coach. After a decade of being an assistant at other schools, Schott is in the top spot with the Hawks.
He noted that being a head coach means more responsibilities, such as helping athletes get cleared to play, and raising funds — "All the stuff you take for granted as an assistant."
Schott said he was thrilled for the first day of practice just so he could actually get out on the field for football. For those couple of hours, the other things get put on hold.