Kelly Clarkson to perform at Bellevue High School football fundraiser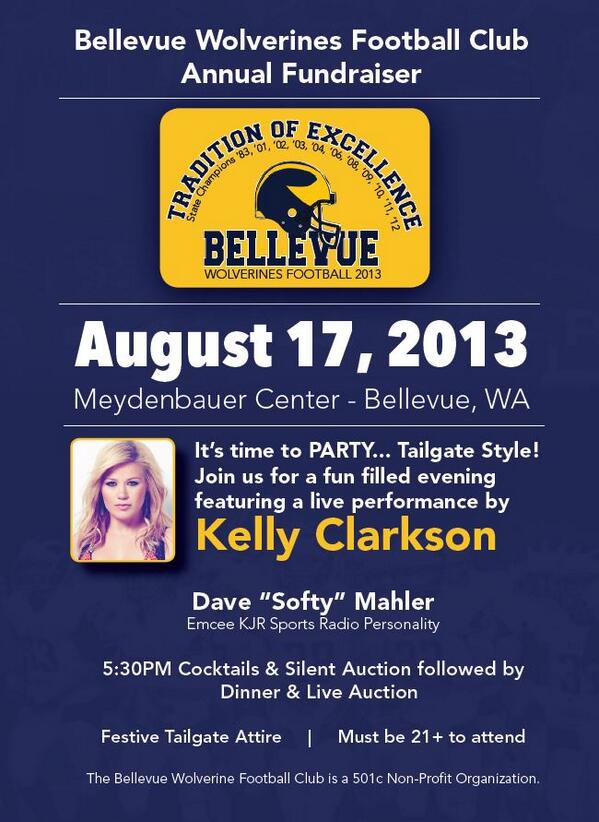 Fundraisers are as much a part of high school athletics as practices and long bus rides.
Teams use a variety of methods to fund their program and trips: car washes, cookie dough sales, fireworks stands, golf tournaments.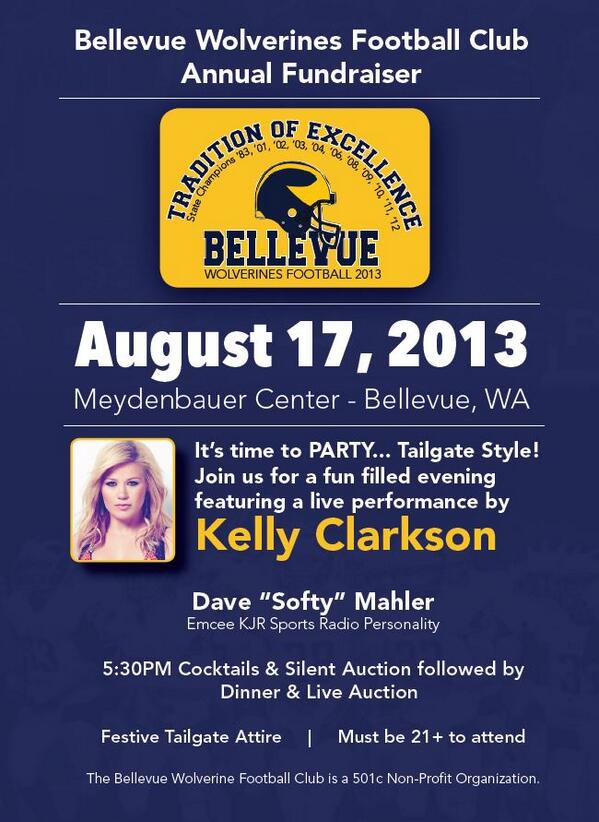 And then there is the Bellevue High School football team.
On Saturday, the Wolverines will hold their annual "Tradition of Excellence" fundraiser at the Meydenbauer Center in Bellevue, a tailgate-style party that includes a live performance from Grammy-award winner and American Idol champion Kelly Clarkson.
Kelly Clarkson. Yeah, we'd say that has more drawing power than a box of sparklers.
Tickets for the event are $150 a seat.
Here are some other facts about Bellevue football that are completely unrelated to the above information.
Bellevue has won the last five Class 3A state championships and 10 titles in the past 12 years under the guidance of head coach Butch Goncharoff. Bellevue has won more state football titles in the past 12 years than any other school has EVER won — and that dates back to 1973 (Skyline and Lynden are tied for second with 7 titles, and Skyline's 7 titles date back to 2000).
Bellevue plays at the Class 3A level, because playing at the 4A level would not be fair … for the other 4A teams in the state.
In 2007, the WIAA passed the so-called "Bellevue Rule" which stated that "gifts" from a booster club to a high school coach could not exceed $500, after it was revealed that the Bellevue football booster club was paying Goncharoff $50,000 above the $5,600 stipend he was receiving from the school district.
Bellevue will open the 2013 season against Skyline in the Emerald City Classic at Husky Stadium. Tickets went on sale Thursday … for a Sept. 7 game.
Meanwhile, other 3A teams will open practice next Wednesday in hopes of unseating Bellevue as state champion … undoubtedly to the strains of Clarkson's "(What Doesn't Kill You Makes You) Stronger."