Ridgefield finishes installation of new turf field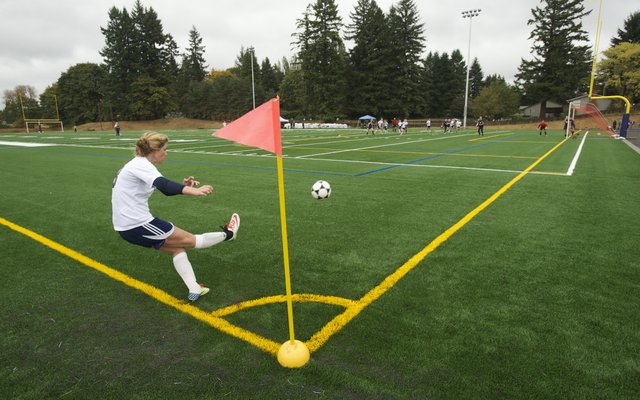 Ridgefield High School is putting the final touches this week on the installation of a new turf field (see above image), joining the growing list of schools replacing its grass fields.
Earlier this summer, Washougal, which installed a turf field at Fishback Stadium more than a decade ago, replaced its turf field with a new surface. That means Class 2A Greater St. Helens League football teams will be playing on two new turf fields this season.
Late last fall, King's Way Christian High School began using its new turf field in its new stadium with bleachers and lights.
Those fields join other turf facilities in the county like Doc Harris Stadium (home to Camas and Setont Catholic football teams), McKenzie Stadium (home to Evergreen, Union, Mountain View and Heritage), Kiggins Bowl (home to Hudson's Bay, Fort Vancouver and Skyview) and District Stadium (home to Battle Ground and Prairie).
In addition to those stadiums, Camas and Prairie high school have turf surfaces at on-campus fields.
That leaves Columbia River (Chieftain Stadium), Hockinson (Nautilus Field), La Center (La Center Middle School) and Washington School for the Deaf (Devereaux Field) as the last high school football programs in Clark County that play on natural grass fields.