Class 3A boys golf notes: Day 2
That was a crazy couple of days, huh Clark County golf fans?
All spring, we had great weather. I believe we only suffered through two or three days of baseball or softball rainouts this year. It was the best spring for sports in at least five years.
And then this. When Clark County is hosting four state tournaments. We get this. It did not just rain a little bit Wednesday. It poured for most of the day. Congrats to all the golfers who qualified for state, then endured two miserable days for golf.
It's so fun, let's keep playing: Patrick Sato of Interlake had the round of the day Wednesday at Tri-Mountain, a 71 to erase a two-shot deficit. He forced a playoff with Frank Garber of Juanita.
Then I'm sure everyone was happy to get right back out there in the monsoon.
Unfortunately for Sato, but fortunately for everyone else who wanted this thing to end, Sato's drive found the water on the 18th hole. (Of course, every drive found some water, rain water. But by water, in this sense, I mean the hazard.) So Garber had a huge advantage early.
Still, Sato kept battling. He was lying four on the par-5 here.
He had to mark his ball, while a member of the grounds crew waited to clear off some of that water. Sato ended up getting some relief from that spot, but finished up with a double-bogey. These are the conditions the players had to endure just about all day.
Anyway, Garber ended up making a par for the win. You can read about it here.
Mountain View represents: Mountain View fans had a blast, even in the rain, while watching Taylor Smith this week. That's one thing Clark County golfers had that they have not had in previous state championships: large gathering of fans.
With state in other parts of the state, it's hard for golfers to get more than their parents to show up for their rounds. But Mountain View fans were there both days.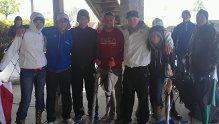 "I really appreciated everybody coming out. It was awesome," said Smith, who finished in a tie for eighth, earning a medal for the second consecutive season. "It's definitely a cool way to end my high school career."
Smith said he will be golfing at Bellevue College next school year.
So close: Columbia River junior Brandon Barnes had two rounds in the 70s in his first appearance at the state tournament. He also almost got something really special.
He was about an inch away from a hole-in-one on No. 6.
"The ball landed five feet past the whole and spun back," Barnes said. "Just missed the edge. It was a tap-in birdie. Those are nice."
Next year: The 4A boys and girls and 3A boys and girls state tournaments are scheduled to be back in Clark County next year, as well. Here's hoping it's 95 degrees both days, to make up for this week.