Baseball extra: Mountain View 7, Columbia River 2
Don't tell the Mountain View baseball players that they weren't supposed to be this good this soon this year.
The Thunder were loaded with seniors last year. Only three players on the roster came into this year with any varsity experience. So it would not have been surprising if the Thunder had suffered through some bumps and bruises in the early part of the season.
Instead, it is the Thunder putting the hurt on the rest of the Class 3A Greater St. Helens League.
Through the first round of league play, the Thunder are 5-0, sitting in first place as we had to Spring Break. Mountain View never trailed and beat rival Columbia River 7-2 on Friday.
Let's not start crowning anybody just yet. Remember, this is a 15-game league season. The teams play each other three times. Still, always better to be 5-0 rather than 4-1 or 3-2.
The Thunder will take this, but they won't be overconfident coming back to baseball after the break.
"We could be 3-2," Mountain View coach Aaron Coiteux said.
Player of the game: J.T. Kaul. Threw six innings, striking out nine in the victory. He shut down the Chieftains for the first five innings. He also had a hit in the deciding fourth inning, when the Thunder scored four runs to take a 5-0 lead.
Kaul threw on three days' rest. He beat Prairie 1-0 on Monday. Friday, he had more to work with on the mound.
"We attacked the baseball and put runs up against a really good team," Kaul said. "It felt good to get some runs. It made my job a little bit easier."
"He's been tough to hit all year," Mountain View coach Aaron Coiteux said. "He's a workhorse and the leader of the team. That's how he's been pitching all year. I wouldn't expect anything different."
Boom: There was one extra-base hit in the game. Andrew Krafve hit a solo home run with one out in the fourth inning, jump-starting the four-run frame for the Thunder.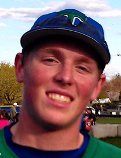 Krafve threw his arm up in celebration as he circled first base. He did not know for certain it was a homer until he watched the ball clear the right-field fence at Mountain View's home field. It was his second career home run.
"I knew I put a good swing on it," he said. "I was just thinking line drive up the middle."
His bat had other ideas. Instead, it was a high blast to right field.
Columbia River will be back: We all know Columbia River is a good baseball team. Sure, the Chieftains dropped to 3-2, but this is no time to panic.
"There's a lot of baseball left," River coach Stephen Donohue said. "We could still win the series against Kelso and Mountain View. We just have to play a little better. J.T. (Kaul) just threw a really good game today."
By the way, Bryson Oury had the two-run single in the sixth inning to get the Chieftains on the board.
Standings check: Mountain View takes the break at 5-0, followed by Kelso at 4-1, River at 3-2, and Prairie at 2-3. Of those four teams, there are no gimmes. Prairie lost to Mountain View 1-0 on Monday, then fell to Kelso 3-2 in extra innings on Friday. This looks like it will be a fun race all year.