Seton Catholic's Powell will remain a Coug
Erik Powell is kind of a big deal right now at small-school Seton Catholic. He scored 13 goals in the first three soccer matches of the season for the Cougars — all 13 goals for the team, in fact.
He is also known for his football skills.
In fact, that's what he is going to play in football.
Powell accepted an invitation to be a walk-on with Washington State University. He expects to redshirt this fall, then compete for kicking duties in 2014.
Here he is, proudly displaying a WSU jersey: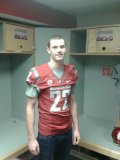 No truth to the rumor that he was forced to go to Washington State by his principal. Ed Little is kind of a fan of WSU.
In fact, this little WSU fan sits outside Little's office at Seton Catholic.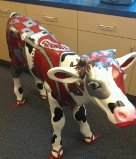 I asked if she had a name.
A person who shall remain nameless but who works in close proximity to the cow said: "I have a few names for her."
Don't think those were pleasant names.
Good luck Erik at WSU. You will always have fans at Seton Catholic, with Mr. Little and What's Her Name, the Crimson Cow.