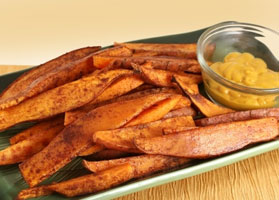 Sweet potatoes are packed full of good nutrition providing a good source of vitamin A, fiber an vitamin C.  Adults and kids will love these "Sweet" Potato Fries.The perfect pairing for your Friday night hamburger! Sweet potatoes don't just belong during the Thanksgiving holiday!
Ingredients
Cooking spray
2 large sweet potatoes (about 2 pounds total), peeled and cut into 1/2-inch wedges
2 tablespoons olive oil
1 teaspoon cinnamon
¼ cup Splenda® Brown Sugar Blend
 Instructions
Preheat oven to 400 degrees F. Spray a baking sheet with cooking spray.
Place potatoes in a bowl and add oil; toss to coat.
Add remaining ingredients and mix well.
Place potatoes on a baking sheet and bake for 35 minutes or until potatoes are soft.
This recipe is gluten-free.  Happy Eating!
For more great diabetes-friendly recipes, visit MyFoodAdvisor.