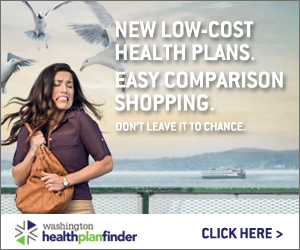 Turns out, the Affordable Care Act has a funny side.
For the last couple months, health officials have been trying to spread the word about the new insurance exchanges created under the Affordable Care Act. The exchanges are where uninsured individuals purchase health care for themselves and their families.
Washington is one of 14 states that created its own exchange, www.wahealthplanfinder.org. Residents of the other states use the troubled healthcare.gov federal exchange.
Health officials (and their marketing teams) are trying their best to sell the idea of the exchanges and some are getting pretty creative.
Take these ads from Colorado Consumer Health Initiative, for example:
I think it's pretty clear they're trying to reach out to the younger crowd.
Oregon also created its own exchange. And since we live in the Portland TV/radio market, I'm sure you've seen or heard Cover Oregon's catchy ads (I've even heard them when listening to Pandora).
If not, here's one of the ads running on local TV and radio stations:
http://youtu.be/Xv2UUcXCo9g
But what about the folks with Washington Healthplanfinder?
Well, they're advertising too. We just don't see much of their work. So, I dug up a couple ads.
Here's one of a poor woman being attacked by seagulls while on a ferry (Side note: I hate birds. This is actually terrifying to me.)
And here's a gentleman in an unfortunate situation.
But the best, in my opinion, are the ads featuring a cute little girl named Chance.
Chance is like Mayhem, the Allstate insurance character causing all sorts of, well, mayhem, for drivers.
Chance appears when people are in precarious situations and, after a game of chance like rock-paper-scissors, determines whether they're going to need medical care.
Here, sweet little Chance meets a woman about to be attacked by a raccoon:
You can check out more Washington Healthplanfinder ads here.
Love 'em or hate 'em, I'm sure most people would agree these are all better than the creepy "Uncle Sam in the exam room" ads that popped up on the Internet a couple months ago.
And better than this ad in Illinois:
Boring.