Burger King hopes to 'Satisfry'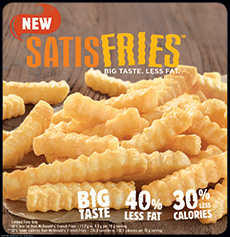 Burger King is hoping its attempt at low-fat French fries will "Satisfry" the growing number of people looking for healthier options at restaurants.
BK's new Satisfries are touted as having "Big taste, less fat." The new French fries use a special batter recipe that absorbs less oil than traditional fry batter, thus, the lower numbers.
The company website boasts the new fries have 40 percent less fat and 30 percent fewer calories.
The ad campaign is also comparing 70 gram servings of fries.
The problem? BK's smallest serving of Satisfries – the "value" size – is 87 grams. McDonald's small order of fries is 71 grams.
So since BK won't compare the new Satisfries to its own original fries, I thought I would do it for you.
A value order of Satisfries (87 grams) has 190 calories and 8 grams of fat.
A value order of regular BK fries (89 grams) has 240 calories and 10 grams of fat.
So while Satisfries may have 40 percent less fat than McDonald's fries, they only have 20 percent less fat than their own traditional fries.
My journalist math also tells me Satisfries have only 21 percent fewer calories than regular BK fries.
Also, that value order of new "healthier" fries has 210 milligrams of sodium, which is better than the 330 milligrams in regular BK fries. A small order of McDonald's fries has 160 milligrams of sodium.
Wonder why they don't advertise those numbers?