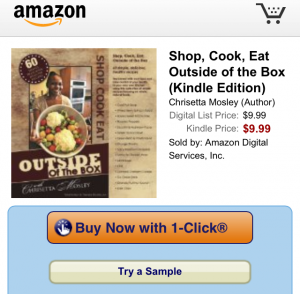 Super duper exciting news…"Shop, Cook, Eat: Outside of the Box" is now available on Amazon.com as an eBook for Kindle. To take a look-see (you don't need a Kindle) or to purchase check out the link! Coming soon on iTunes and Nook.
Taken from "Shop, Cook, Eat: Outside of the Box with Chrisetta Mosley"
Introduction
Everything about this cookbook is "Outside of the Box," including my journey and how I came to author it. I invite you to read this introduction where I share a little about myself and the inspiration behind the book.
I'm a product, and now a survivor, of childhood obesity. At my heaviest weight I tipped the scales at a whopping 388 pounds. At the time, I was a single mother of an eight year old daughter and was earning a bachelor's degree from Seattle University (SU).
My experience at SU changed my life and saved my life. At 388 pounds it took an enormous effort to walk the hilly campus – aching knees, struggling to breathe while I walked. Then once in the classroom I was overwhelmed by the youthful intellects that filled the room. They were running circles around me intellectually and physically. In the hallways, they were taking stairs two at a time while I waited for the elevator to go one flight. In class, the humiliation of not being able to fit into attached desk-chairs was compounded by being afraid to speak up because I felt my ideas were less than important and not so intelligent. SU is a private Catholic school. Most of the students there had been attending private schools their entire lives. Me, well, I went to a public high school umpteen years prior and transferred in from a community college at the age of 28. I was new to the culture, the learning environment, and critical thinking.
There was the feeling of shame while attending SU I always felt like I was under a dark cloud, in a daze. In retrospect, the highly caloric, sugary, processed boxed foods I was eating kept me feeling drugged and crappy. It's no wonder I didn't have a lot of energy or enthusiasm.  The good thing that came of all of this was the more I grew intellectually the more I became intolerant of obesity. For the first time ever, I believed I could change, had the right to change, and the courage to do it.
Fast forward, 2012: To date, I've lost 170 pounds. I've done this by making conscious food choices, preparing my meals at home and exercising regularly.
A healthy lifestyle for me begins at home in my kitchen. Cooking at home allows me to be in control of my food and what I eat. I love food and unlike a drug or alcohol problem with food you have to still use, in this case, eat. So, over the years, I've had to re-examine the way I think about food, how I interact with food, and most importantly how I prepare food. Today, I lovingly prepare 99 percent of my meals at home using fresh, whole ingredients.
I share my passion for food and cooking with others through my blog, Farewell Fatso! and by teaching cooking classes. Blogging and teaching others how to create good healthy meals brings me great joy, but I had a desire to offer more of myself. I wanted to share my enthusiasm and zeal for life by helping people transform themselves. In the fall of 2011, I enrolled in the Fitness Trainer program at Clark College in Vancouver, Washington.
Again, education was a catalyst to my growth. I was taking Health 100: Food and Your Health taught by Veronica Brock. Being a food enthusiast, this class quickly became my favorite. It was more than just what to eat or not to eat. It was about how food related to my health, how it nourished my body, and something that I became particularly interested in — how food and nature are connected.
Inspired by my blog followers, my cooking classes, and the information I was learning in Health 100, I authored my first cookbook Bringing Cooking Back. Veronica, of course, knew about the cookbook and even bought a copy. Our relationship continued to blossom even after the quarter was over. I was thrilled months later when Veronica called asking me for recipe ideas that could be used in Clark's curriculum, and honored when the health department asked me to author this cookbook.
In creating Shop, Cook, Eat: Outside of the Box I want to help you re-connect to food, to truly appreciate food. I hope to inspire you to be mindful while shopping, cooking, and eating. As you shop for berries, go ahead pick them up and smell them. As you prepare the grains run your fingers through them and become familiar with the texture. Relish the beauty and the aroma of the freshly roasted peppers you pull out of your oven. When you sit down to eat, take your time — enjoy the meal, enjoy the experience.  Maybe even take a moment to pay homage to those who were instrumental in bringing the food to your plate.
I truly hope that the sections of this book will allow you to celebrate every aspect of food preparation from shopping to savoring the meal you made.  For this reason, I chose to include a section on Grocery Shopping and Planning that will help you easily locate all the wonderful foods in your store and help you stock your fridge and pantry. You'll also find a section on basic recipes that will help you whip up a healthy meal in a flash: Beans, Whole Grains, Tomato Sauce, Olive Oil Drizzle, Vegetable Stock, Vinaigrettes, Perfect Hard-Cooked Eggs.
The recipes in this book focus on using fresh, whole ingredients and are centered around simple, everyday foods that you can find in the supermarket: Wheat berries, quinoa, lentils, chickpeas, kale to name a few. My goal is to help you learn to make simple "Outside of the Box" healthy meals that will free up your time to do more of the things you love.  It's time my friends to Shop, Cook, Eat: Outside of the Box.