Domaine Divio: Authentic Burgundy comes to Ribbon Ridge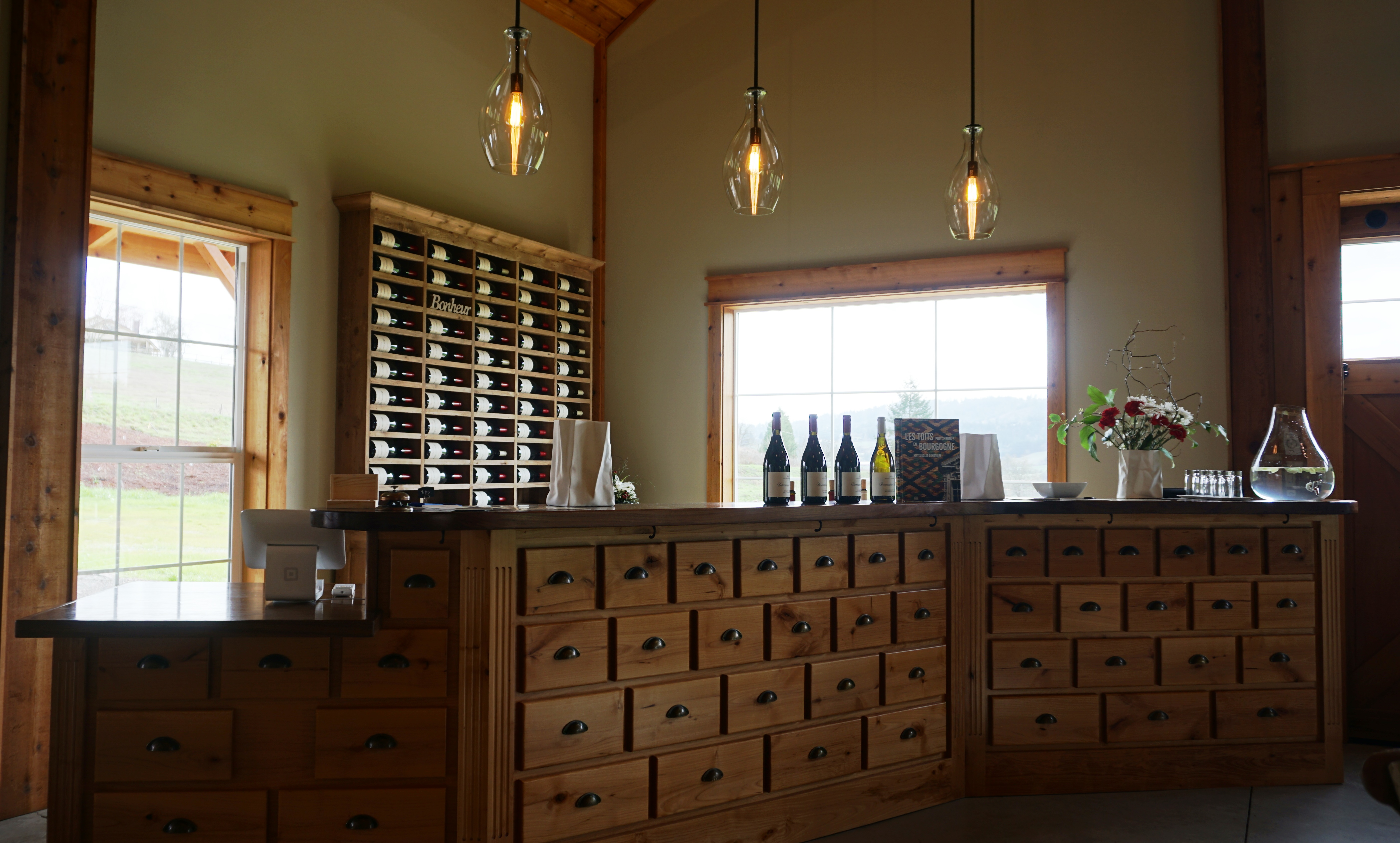 Back in 2008 I had the pleasure of spending a few days in the Jura region of France and the quaint town of Arbois captivated me with the postcard perfect La Cuisance River meandering along the backs of centuries-old stone houses. I saw with my own eyes ladies walking to market with wicker baskets and was treated to one of the most amazing hospitality moments of my travel memories at a warm, country restaurant overlooking La Cuisance during my stay.
That and so many other special French encounters since left me excited to spend an afternoon with Domaine Divio owner and winemaker Bruno Corneaux and his engaging wife, Isabelle, recently. Together they have woven a beautiful story of their Dijon homeland and their adopted homeland in the sought-after Ribbon Ridge AVA, creating a true wine tasting experience. Many weekends the charming and approachable Bruno can be found behind the bar sharing comparisons of Burgundian terroir with Willamette Valley terroir in his mesmerizing French accent.
Domaine Divio is poised to be a very special addition to the Willamette Valley and Ribbon Ridge AVA specifically. Currently sourcing from the Willamette Valley, Dundee Hills, Eola-Amity Hills and Chehalem Mountain, Bruno is concentrating on Burgundian varietals only.
Guests can step right up to the apothecary bar (no, the drawers don't open) and confidently find at least one offering for every palate in the group. Dark red fruit and a velvety finish are the highlights of the 2012 Pinot Noir Eola Amity Hills. His 2013 Pinot Noir Chehalem Mountain—now known lovingly in the Valley as a winemaker's year—presents with ripe strawberry on the nose and its lively acidity makes it a very food-friendly pinot and an excellent candidate for aging. My two favorites: His 2013 Chardonnay delivers laser focus and his 2012 Pinot Noir is a luscious representation of the earthy pinots that Oregon is world-renowned for with beautiful hints of spice—a characteristic akin to his native Burgundy.
In a few years, Burgundian wine fans will be able to enjoy Domaine Divio estate fruit as the 2014 vines mature, are harvested and the final product comes of age to be released. Until then, Bruno is focusing on farming the 23 acre site biodynamically due to research he has undergone to explore grape growing in Tahiti (a tale for another time).
A true boutique winery, total case volume from their 2013 Willamette Valley Chardonnay was all of 25 which increased to 50 in 2014 and 150 in 2015. Those numbers will surely climb when the twelve acres under vine are harvested in 2017 and 2018.
As a fourth generation Burgundian vintner Bruno's passion to share the similarities and the differences of grape growing through captivating storytelling bridges the miles and makes visitors feel truly connected in an intimate way.
"Part of the experience is to share our vision of what pinot noir should be in Oregon," Bruno said.
In the Northwest barn style tasting room—replete with a stone fireplace, casual furnishings, ample natural light and massive sliding doors that invite the outside in—this couple has brought to life the Galic meaning of Divio; a gathering place or sacred place. Plans are in the works to showcase their international story at such local events as the Bastille Festival—said to be the largest on the West Coast. For now, drop into the tasting room year round Friday through Sunday.
**If you like what you're reading, follow Corks & Forks by clicking the 'Follow' button or follow Corks & Forks  on Facebook or Twitter @WACorksandForks.