Sherry opens up a whole new flavor profile of possibilities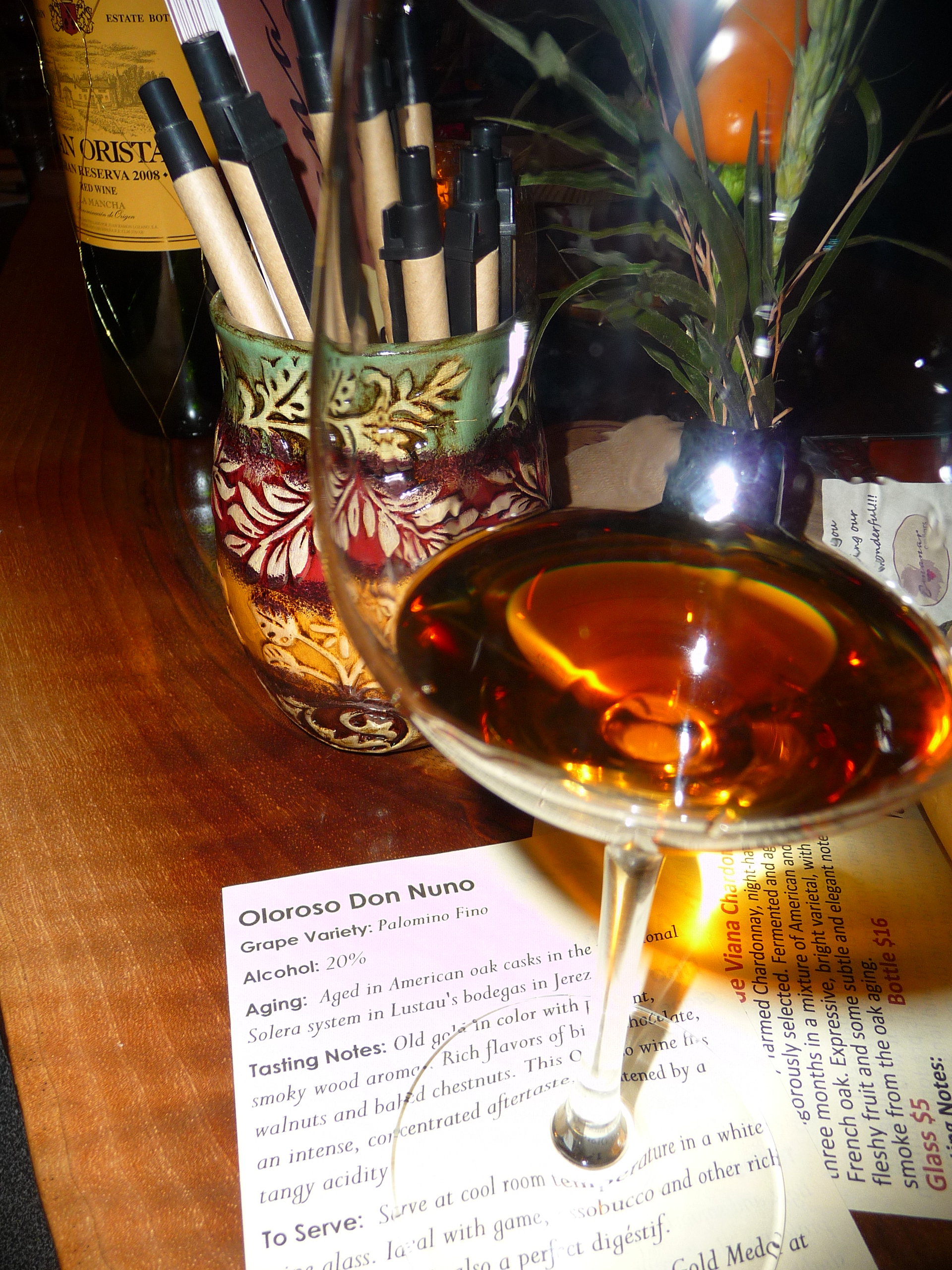 Hosting a sherry tasting as an anniver-sherry celebration is, for a Spanish wine bar, an absolute stroke of genius considering that true sherry grapes are grown in Andalusia, Spain and it enjoys the coveted protected denomination of origin much the same as the Douro Valley and Port or French Champagne.
A confession, however, is in order. When I stopped into Emanar Cellars in Battle Ground a couple weeks ago co-owner, Mar, humbly offered that it was actually a loyal customer's idea. The Sherry selections were not and Richard and Mar unwittingly chose four Sherries that received from 91-96 points from Robert Parker so all those in attendance were in for a real treat.
Sherry ranges from very dry to quite sweet and is classified as a fortified wine. Admittedly the Fino Puerto Fino that I tried Friday night was my least favorite due to my inexperience with dry Sherry. I understand it really is an acquired taste that grows to a strong appreciation over time. The Amontillado Los Arcos, at 18.5% alcohol, was more reminiscent of Port which I have a greater knowledge of. Where the Fino was pale in color due to being aged in the protective blanket of flor to keep out oxidation, the Amontillado leaned toward amber with partial flor aging and partial oxidative aging. As such, not the sweetest of Sherries but a softer, more rounded mouth feel than the Fino.
Moving on to the Parker 94-point Oloroso Don Nuῆo I was really warming up from the inside out and enjoyed how the oaky finish was lingering well after being drank. Having purchased a bottle of S'Naranja from Emanar in the past, the East India Solera was at once familiar to me. Richard shared that this little beauty is actually sweetened with Pedro Ximénez grapes, same as what is in their house Sherry-style wine though Ximénez grapes are grown just north of the Sherry region so S'Naranja cannot be considered true Sherry. Aged a total of 15 years, East India Solera is dangerously sippable with 20% alcohol.
Seafood, nuts, blue cheese, smoked meats, pork, game and cakes are just a few recommended food pairings for Sherry depending on the style. With a list like this, Sherry opens up a whole new flavor profile of possibilities.
**If you like what you're reading, follow Corks & Forks by clicking the 'Follow' button on the bottom right-hand corner or follow Corks & Forks (News/Media Website) on Facebook.