Niche Wine Bar's four-year anniversary tonight and weekend happenings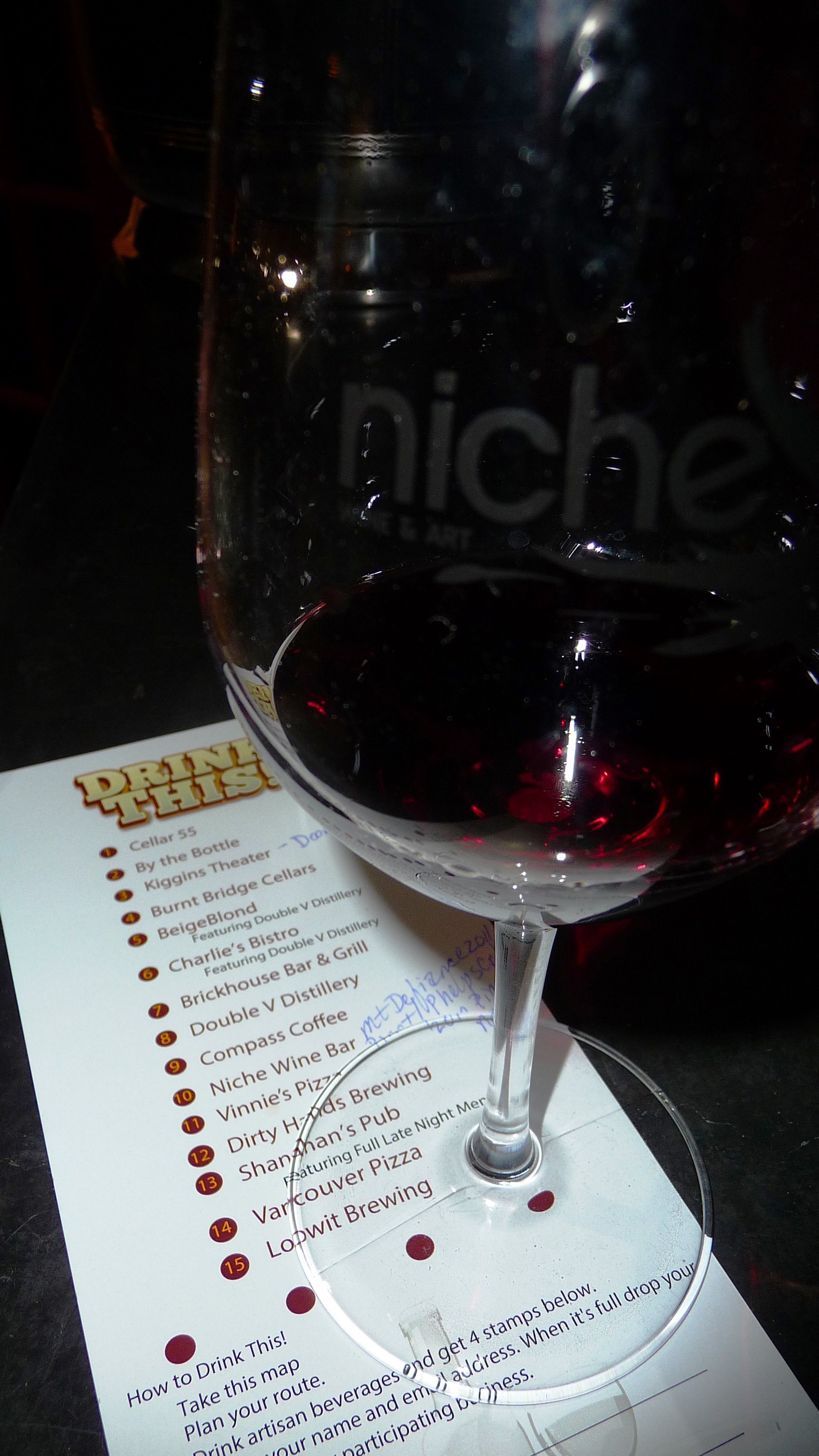 Weekend highlights:
Niche Wine Bar celebrates their four-year anniversary TONIGHT (Thurs, Oct 23) right next door at the Kiggins Theatre. Folks can enjoy a glass of wine and/or appys at Niche and then mosey on over to enjoy the grandeur of the historic theatre while watching a line up of French films. Tickets are free but must be reserved in advance by contacting Niche. You can also purchase a bottle of vino at Niche to enjoy throughout the viewings. $10 corkage fee. It all starts at 6 pm.
Emanar Cellars is celebrating their one-year anniver-sherry with sherry tastings from 4-9 pm this Thur, Fri and Sat. Live music by guitarist, Michael McCabe, from 6-8 pm on Friday and a Spanish Wine & Chocolate fundraiser to bring Ruslan home for Christmas on Saturday.
English Estate Winery – Fifth annual Chili cook-off and pumpkin-carving contest this Sat, Oct 25 from 2-5 pm. Music by Laura May 2:30-4:30pm. This is a 21 and over event. Friday night dinner is maple-glazed ham with all the fixings and music by Caryn Jamieson. Music and food begin at 6 p.m. The only winery open Monday from 4:30-7 pm.
This weekend:
Downtown
Brewed – Carrying a selection of Columbia and Willamette Valley wines, the folks at Brewed are well-educated on the choices available.
Burnt Bridge Cellars – Recovered from another successful Drink This! Vancouver event last Saturday. Back to regular wine tasting hours Sat-Sun noon-5 pm.
Cellar 55 Tasting Room – Vocalist Chris Taylor is performing this Fri from 6:30-8:30 pm. His soulful voice will be aptly paired with The Pit BBQ fro 5-9 pm. New hours. Now open at noon Wed-Sun.
Charlie's Bistro – Charlie's has a great deal for wine lovers every Monday-50% off all bottles of wine $50 and under. Plus Saturday is always Flight Night from 4-10 pm. Tomorrow night solo guitarist, John Bunzow, plays from 7-10 pm.
East Fork Cellars – It appears they're still closed while Gallery 360 moves in to share space and offer even more to wine and art enthusiasts when they re-open. Definitely looking to be open for the First Friday Art Walk Nov 7.
Evergreen Wine Cellar typically hosts a Friday night tasting from 5-8 pm for $5 per person but changed this weeks' day and location to support her friend, Wendy, who just opened We Plan It. Look forward to her regularly-scheduled Friday night tasting to resume next week.
The Grant House has a wonderful happy hour and terrific dinner menu showcasing fresh, local ingredients. They recently added a new cider to their offerings. Excellent fall location to check that out. Future happenings include their Autumn wine dinner on Nov 7 which will feature Dobbes Family Estates wine paired with harvest favorites like butternut squash and short ribs as well as a Sharon's Paint 'n Pour event upstairs on Nov 11 at 5:30 pm.
La Bottega – Terrific casual Italian dining with a wine list to complement each flavor profile. Wine tasting every Wednesday night from 5-7 pm. $12 includes four tastings and antipasti.
Latte da Coffeehouse & Wine Bar – Keep Oct 30 open for their monthly wine tasting event beginning at 4 pm. Also hosting a children's Halloween party this Saturday from 2-4 pm. Come see for yourself how much this place has to offer Clark County.
Niche Wine Bar – Celebrating their four-year anniversary at Kiggins Theatre tonight (see top of post). A cozy wine bar designed for wine enthusiasts. Features: 30+ pours available six days a week and a staff who knows their wine all in a relaxed atmosphere with walls decorated in local artists' work. Live entertainment every Saturday night.
Willem's on Main – Excellent happy hour Tues-Sat from 4:30-6:30 pm to enjoy with their carefully-prepared wine list, 50% off bottles under $40 on Tuesdays.
North Vancouver
Farrar's Bistro – In the Felida neighborhood Farrar's knocks the sox off its guests with unique appetizers like salmon won tons and gorgonzola cheesecake and soul food like today's French Dip Sandwich. Why not stop in and pair some comfort with a big fat Zinfandel or bold Sauvignon Blanc?
Hudson's Bar and Grill – Inside the Heathman Lodge near Westfield Shopping Center. How could sipping a warming glass of wine at a cozy fireside table with soft piano music playing in the background not sound good this weekend?  Come find your own spot under the massive Northwest logs and enjoy 'Hudson's Hour' from 4-6 pm.
Village Vineyard – Tastings at this gorgeous destination winery are from noon-6 pm Sat and 11 am-5 pm Sun.
North County
Confluence Vineyards and Winery – Call now to purchase tickets for their Winemaker's Dinner Sat, Nov 2 at 5 pm. Chef Peter Dougherty of La Bottega will be preparing the perfect menu to accompany Confluence's French oak-aged wines. Tasting room hours Sat-Sun noon-5 pm.
Koi Pond Cellars has a too-good-to-be-true happy hour Wed-Fri from 4-7 pm. This Saturday guests can listen to live music from Erik Sutten from 5-7 pm while sipping on, say, a Geisha Red. Open Wed-Sun.
Gougér Cellars – Live music by solo guitarist Ron Hughes from 5-8 pm this Friday. Not sure if Gary's recently-completed back deck is covered but there's plenty of indoor seating to enjoy his award-winning wine line up with some non-alcoholic ice creams or food options that go beyond small bites. Open Wed-Sun.
Bethany Vineyards – Tasting their consistently elegant wines Fri and Sat noon-6 pm, Sun noon-5 pm. Walt's first vintage was 2002 and recent tastes have proven that his wines are aging beautifully. Currently experimenting successfully with a Russian grape that's growing well in our area.
Three Brothers Vineyard – Their '10 Brethren Cuvee would be an excellent choice to warm up with this rainy fall weekend. Tasting hours Fri 1-6 pm, Sat noon-6 pm, Sun noon-5 pm.
Pomeroy Cellars – Opening earlier the month of October to coordinate with Pumpkin Lane on the same property; 10 am-6 pm Sat, 11am-6 pm Sun. Newsflash: They're also hosting an adult Halloween Party on Oct 31 from 6-10 pm. Worth it just to see what the always stylish, Destiny, will be sporting.
Moulton Falls Winery – Novemberfest coming Sat, Nov 8 beginning at 11 am in conjunction with the last Wine Train of the year. All aboard the Chelatchie Prairie Railroad at noon and back to the winery in time to enjoy music by Five Drunk Cowboys, blues guitarist, Terry Robb, and a lasagna dinner. Veterans receive 20% off train tickets.  Live music this Fri by Grammy award-winning guitarist, Doug Smith, accompanied by his wife, Judy Koch-Smith and Sat Wayne Hoffman and Mollie Hart 6-9 pm. Award-winning wine, beautiful scenery and wood-fired pizza available Fri-Sun.
Heisen House Vineyards introduced two new wines at their Oct 4 Crush Festival. If you weren't there, check out 2012 Sangiovese and 2012 Syrah this weekend. Open Fri-Sun.
Olequa Cellars – Next wine tasting day this Saturday, Oct 25 from noon to 5 pm. Brian's receptive to accommodating interested wine lovers with some advanced notice so give him a call at (360) 666-8012. Wines by the bottle or by the glass.
Rusty Grape Vineyards – Look for sipping chocolate and vin chaud to be making an appearance in time for the wet-to-the-bones weather. Literally 'hot wine' in French, vin chaud is made with red wine, a selection of fall spices and sometimes a shot of liquor. Interesting to see Rusty's version. Check out their recent renovation project, complete with a full-on move of their wood-fired pizza oven. Open Wed-Sun.
Emanar Cellars in Battle Ground Village is celebrating their one year anniver-sherry with sherry tastings Thur-Sat from 4-9 pm along with their impressive selection of quality Spanish wines. Enjoy guitarist, Michael McCabe Fri from 6-8 pm. Excited to hear his gypsy jazz and Spanish classical. This Sat is the Spanish Wine & Chocolate fundraiser to bring Ruslan home for Christmas. A lot going on at Emanar so stop by and join in.
Pasta GiGi's – Kathy is always cooking up a weekend special to go with her ever-expanding wine list. Amazing, fresh Italian food with a passionate wine staff like Lindsey and Kathryn– a pairing made in Heaven.
C'est La Vie Crêperie – Wine-O Wednesday is marked by $1 off mimosas, spritzers and wines by the glass. Keri gives people an excuse to drink wine with the most important meal of the day – breakfast. Perfectly-flavored mimosas with such inspirations as French toast with mixed berry compote and chantilly creme. Très bon. Open Tue-Sat 8 am-3 pm.
East County
Vinotopia – Located inside Cascade Park's Cinetopia, Vinotopia has received Wine Spectator's Best of Award of Excellence for the last five years. Aside from the dizzying array of wines by the bottle, guests can enjoy ½ off bottles of wines on Wednesdays and tastes or glasses of wine from a selection of over 100 daily. Pair that with their Tightwad Tuesday pasta buffet or live music from 6-10 pm every Sat in their dining room and you have a no-fail date night.
Roots Restaurant & Bar-An extensive list of quality wines by the glass or bottle. From Cakebread to Domaine Drouhin to L'Ecole, you'd be hard-pressed to choose wrong and from 3-6 pm Mon-Fri and 9-11 pm Fri-Sat, pair your selection with locally-inspired happy hour bites.
English Estate Winery – Fifth annual Chili cook-off and pumpkin-carving contest this Sat, Oct 25 from 2-5 pm. Music by Laura May 2:30-4:30pm. This is a 21 and over event. Friday night dinner is maple-glazed ham with all the fixings and music by Caryn Jamieson. Music and food begin at 6 p.m. The only winery open Monday from 4:30-7 pm.
Birch Street Uptown Lounge – Live music beginning at 8 pm this Fri and Sat. Sunday wine flight pouring begins at 4 pm. Spend some time cozying up at this classic cocktail lounge and enjoy the behind-the-bar entertainment of Dennis as a bonus.
Krystal's Champagne Lounge serves up more than bubbly in historic Camas with a few specials featured every Friday night. Sparkling, wines and beers also available. Will be participating in Camas First Friday on Nov 7, as always.
Puffin Café floats along the port in Washougal. They have a limited and, quite frankly, not great wine selection but, if you're in the mood to feel the island vibe without leaving town – and who couldn't use a dose of the islands right now – this is the place to be (they have indoor seating). Their food menu is tantalizing, their wait staff is friendly and accommodating and they typically host live music on Friday nights. Check their Facebook page.
**If you like what you're reading, follow Corks & Forks by clicking the 'Follow' button on the bottom right-hand corner or follow Corks & Forks (News/Media Website) on Facebook.