A LONG list of excellent wine locations and weekend events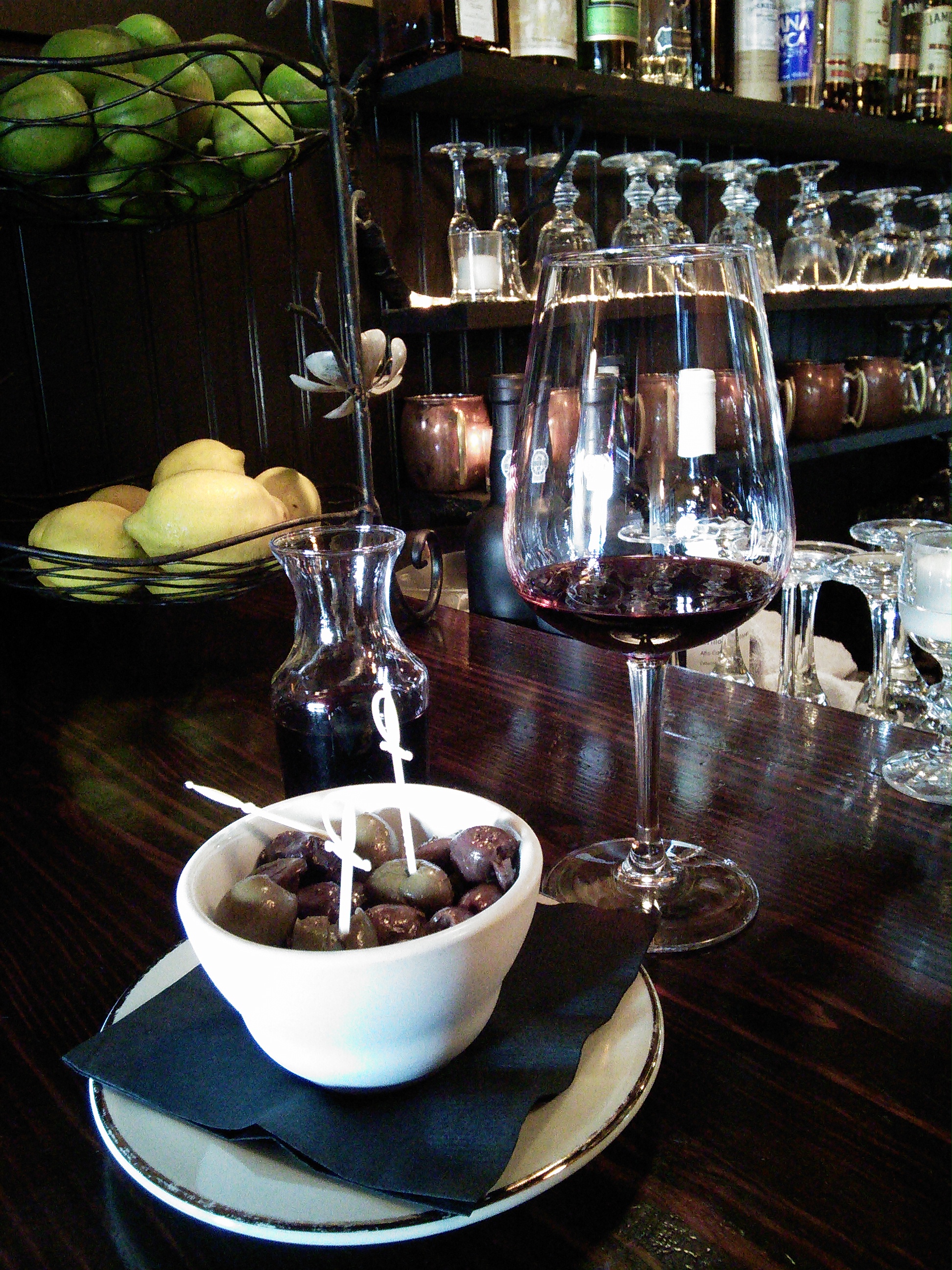 I love the classics – an era of jazz I'm too young to be born into, old movies, drinks that would make Sinatra sway. If you're like that, Birch Street Uptown Lounge in Camas is your kind of place, too. The bartender, Dennis, would be easily recognized behind a mahogany bar 70 years in the past. His knowledge of his craft is staggering and he has a true gift for making people comfortable and providing white-linen service without being stiff. And their wine list? Yes, he's made sure to give as much attention to that as his Negroni-making skills. My Revelry Cabernet Sauvignon was smooth, silky and a little sassy…kind of like Dennis.
Below is an extensive list of places to sip quality vino and some weekend goings-on in the Clark County area. Who says you have to cross the bridge to elevate a weekend? If you feel I missed a good spot, let me know.
Downtown
Brewed – Carrying a selection of Columbia and Willamette Valley wines, the folks at Brewed are well-educated on the choices available.
Burnt Bridge Cellars – Sat-Sun noon-5 pm wine tasting.
Cellar 55 Tasting Room – Paired with their ever-changing and always interesting wine selection, Cellar 55 is hosting Spanish & Flamenco guitar this Friday night from 6:30-8:30 pm.
Charlie's Bistro – The other-era sounds of Boy and Bean accompany fine wines and a satisfying dinner menu tomorrow night from 7:30-9:30 pm. Their courtyard seating might still be an inviting spot for a few more days. A plus: dog friendly. As always, Saturday is Flight Night from 4-10 pm.
East Fork Cellars should've reopened Fri, Oct 3rd after their September-long remodeling project. Enjoy tastings on Fri, Sat and Sun beginning at 11 am.
Evergreen Wine Cellar hosts a great Friday night tasting from 5-8 pm for $5 per person. Tomorrow Pam is featuring Bateaux Cellars' Pinot Gris, Cherry Pie Pinot Noir, Valley of the Moon Zinfandel which typically sells for $25 and is on sale this month for $19.99/bottle, a Moscato and Revelry Chardonnay. Evergreen has a neighborhood feel with a friendly cast of regulars whose mission it is to make you one by nights' end.
The Grant House has a wonderful happy hour with a dog-friendly porch. Mark your calendar for their Autumn wine dinner which will feature Dobbes Family Estates wine paired with harvest favorites like butternut squash and short ribs.
La Bottega – Terrific casual Italian dining with a complimentary wine list. Wine tasting every Wednesday night from 5-7 pm. $12 includes four tastings and antipasti.
Latte da Coffeehouse & Wine Bar – This place doesn't serve just terrific coffee. They have a well-rounded wine list and some very nice food options to go with them, as well. Keep Oct 30 open for their monthly wine tasting event beginning at 4 pm.
Niche Wine Bar – What more could an oenophile want than a place with 30+ pours available and a staff who knows their wine all in a relaxed atmosphere with walls decorated in local artists' work? Live entertainment every Saturday night.
Willem's on Main – Excellent happy hour Tues-Sat from 4:30-6:30 pm to enjoy with their carefully-prepared wine list, 50% off bottles under $40 on Tuesdays and this Sunday they'll be hosting their first Prime Rib dinner showcasing wines from Bateaux Cellars.
North Vancouver
Hudson's Bar and Grill – Inside the Heathman Lodge near Westfield Shopping Center, I am a sucker for how Hudson's is able to create an intimate space under the massive Northwest logs that surround guests sitting by the fireplace enjoying piano music Tues-Sat and a warming glass of wine accompanied by something so quintessentially Northwest as crab cakes.
Village Vineyard – Tastings at this gorgeous destination winery are from noon-6 pm Sat and 11 am-5 pm Sun.
North County
Confluence Vineyards and Winery is tasting from noon-6 pm this Saturday and Sunday but keep Oct 18 or 19 available. From noon-6 pm they'll host Harvest in the Vineyard with music, food and some barrel tasting.
Koi Pond Cellars, which opened on June 28, has a too-good-to-be-true wine happy hour Wed-Fri from 4-7 pm. This Saturday they'll also be featuring live music by Erik Sutten from 5-7 pm.
Gougér Cellars – Gary just completed a back deck for some lazy wine sipping. Head on out, enjoy the view of the llamas and pair your wine selection with one of his non-alcoholic ice creams like Muscat with toasted oak or Zinfandel chocolate chip. Wine AND ice cream tasting under one roof…it doesn't get much better than that.
Bethany Vineyards – Tasting their consistently elegant wines Fri noon-6 pm, Sat noon-6 pm, Sun noon-5 pm. For those fortunate enough to secure a ticket to WSU-Vancouver's "The Promise of Washington Wines" presentation tomorrow, Walt will be one of two local speakers.
Three Brothers – Get in on their Fall wine sale and taste some award-winning wines Fri 1-6 pm, Sat noon-6 pm, Sun noon-5 pm.
Pomeroy Cellars – Opening earlier the month of October to coordinate with Pumpkin Lane on the same property; 10 am-6 pm Sat, 11am-6 pm Sun. Newsflash: They're also hosting an adult Halloween Party on Oct 31 from 6-10 pm. What a treat!
Moulton Falls Winery – Live music Fri and Sat 6-9 pm accompanies their award-winning wine, beautiful scenery and wood-fired pizza. Their Sangria Sunday specials might be winding down with the changing of the seasons so put a drive in the country on your weekend list and salud!
Heisen House Vineyards introduced two new wines last weekend at their Crush Festival. If you weren't there, check out 2012 Sangiovese and 2012 Syrah this weekend.
Olequa Cellars – Next wine tasting day is this Saturday, Oct 11 from noon to 5 p.m. Brian's excellent wine-making skills are worth a visit. Wines by the bottle or by the glass.
Rusty Grape Vineyards is completing their tasting room renovations, complete with a full-on move of their wood-fired pizza oven that adds extra ambience to this already cozy wine bar.
Battle Ground Produce typically hosts a free Friday wine tasting from 4-7 pm. Check Facebook for details.
Emanar Cellars in Battle Ground Village is featuring Rezabek Vineyards' 2012 Tempranillo this weekend. New hours: Thu-Sat 4-9 pm. Rezabek is a local winery not yet open. Come be the first to sip their liquid promises. Live music by Sun City Players this Sat 6-8 pm if Laura is feeling better. All wines available by the taste, glass or bottle. Linger over their tapas menu which includes olives, almonds, a trio of cheeses served with quince paste spread over bread (very traditional Spanish tapas), as well as a few classic meat selections.
Pasta GiGi's – Kathy is always cooking up a weekend special to go with her ever-expanding wine list. Amazing, fresh Italian food with a knowledged wine staff – a pairing made in Heaven.
C'est La Vie Crêperie – Keri gives people an excuse to drink wine with the most important meal of the day – breakfast. Perfectly-flavored mimosas with such inspirations as plum galette or croissant French toast with peaches. Très bon.
East County
Vinotopia – Located inside Cascade Park's Cinetopia, Vinotopia has received Wine Spectator's Best of Award of Excellence for the last five years. Aside from the dizzying array of wines by the bottle, guests can enjoy ½ off bottles of wines on Wednesdays and tastes or glasses of wine from a selection of over 100 daily. Pair that with live music from 6-10 pm every Sat in their dining room and you have a no-fail date night.
Roots Restaurant & Bar-An extensive list of quality wines by the glass or bottle. From Cakebread to Domaine Drouhin to L'Ecole, you'd be hard-pressed to choose wrong and from 3-6 pm Mon-Fri and 9-11 pm Fri-Sat, pair your selection with locally-inspired happy hour bites.
English Estate Winery's Friday night dinner is German brat kababs with music by Wade Hendrix. Music and food begin at 6 p.m. Well-mannered dogs on leashes welcome outside.
Birch Street Uptown Lounge – Along with classic cocktails and live music on Fri & Sat, this classy spot has wine flights on Sundays beginning at 4 pm. This Sunday Dennis is featuring food-friendly Italians.
Krystal's Champagne Lounge serves up more than bubbly in historic Camas with a few specials featured every Friday night (open Tues-Sat).
Puffin Café floats in the port in Washougal. They have a limited and, quite frankly, not great wine selection but, if you're in the mood to feel the island vibe without leaving town, this is the place to be. Their food menu is inspired, their wait staff is friendly and accommodating and they typically host live music on Friday nights. Check their Facebook page.