Addictive Sweet Potato Burritos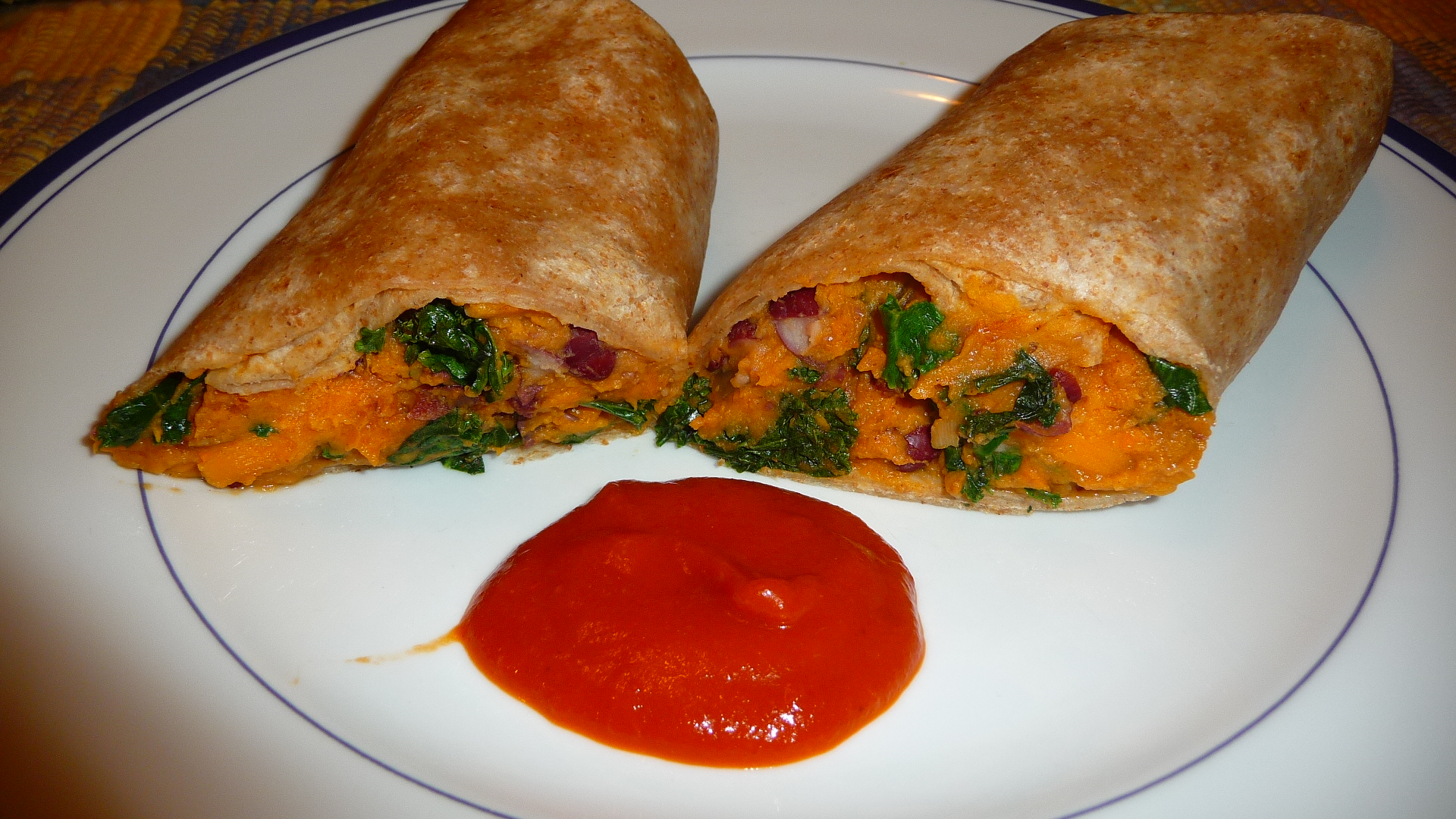 I'm a big fan of sweet potatoes. According to the Center for Science in the Public Interest, sweet potatoes rank higher in overall nutritional value than even spinach or kale.
Granted, I've never heard of the Center for Science in the Public Interest but, if they're helping me back up my post, I'll site their findings. Seriously, I enjoy mashed sweet potatoes drizzled with black truffle oil more than I like white potatoes with butter. As the name implies, they're sweet but not drippy, corn syrup sweet. That's if you use canned candied yams around Thanksgiving or Christmas.
Pick up a few fresh, whole ones from the produce section and just bake them like a normal baked potato. Of particular note, sweet potatoes possess an astonishing amount of Vitamin A (473 percent of the recommended daily allowance). Cinnamon is a natural accompaniment to sweet potatoes so shake a little over the top like you would salt on French fries. Cinnamon's another super food, by the way. It's a natural anti-inflammatory and helps lower blood pressure, among other things.
I found this Addictive Sweet Potato Burrito recipe around Feb 2002 so, unfortunately, I won't be able to tell you where it came from but it is wonderful. We've served it to non-vegetarian friends and they're always surprised they're eating mashed sweet potatoes and kidney beans. As you can imagine, a serving has nearly 20 grams of protein and 13.6 grams of fiber.
When I made these burritos a few days ago, I decided to add steamed kale and will be doing this from now on. Pairing a super food with a super food is a no-brainer in my book.
Addictive Sweet Potato Burritos
1 ½ tsp vegetable oil
½ onion, chopped
2 cloves garlic, minced
1 bunch kale, finely chopped*
3 C canned kidney beans, drained**
1 C water
1 Tbsp & 1 ½ tsp chili powder
10 (10") flour tortillas, warmed
4 oz shredded cheddar cheese – I never add this but the recipe calls for it
1 tsp ground cumin
2 tsp prepared mustard
½ pinch cayenne pepper
1 Tbsp & 1 ½ tsp soy sauce
2 C cooked, mashed sweet potatoes
Preheat oven to 350F. Heat oil in medium skillet and saute onion and garlic until soft. **Add finely chopped kale at this point, if you desire, and cook until wilted** Stir in beans and mash. Stir in water and heat until warm. Remove from heat and stir in chili powder, cumin, mustard, cayenne and soy sauce. Add potatoes, mash and divide mixture evenly between warm tortillas. Top with cheese. Fold tortillas burrito-style. Bake for 12 minutes in preheated oven and serve. Makes 10 servings.
**2-15 oz canned beans = 3.5 cups