Felines and First Families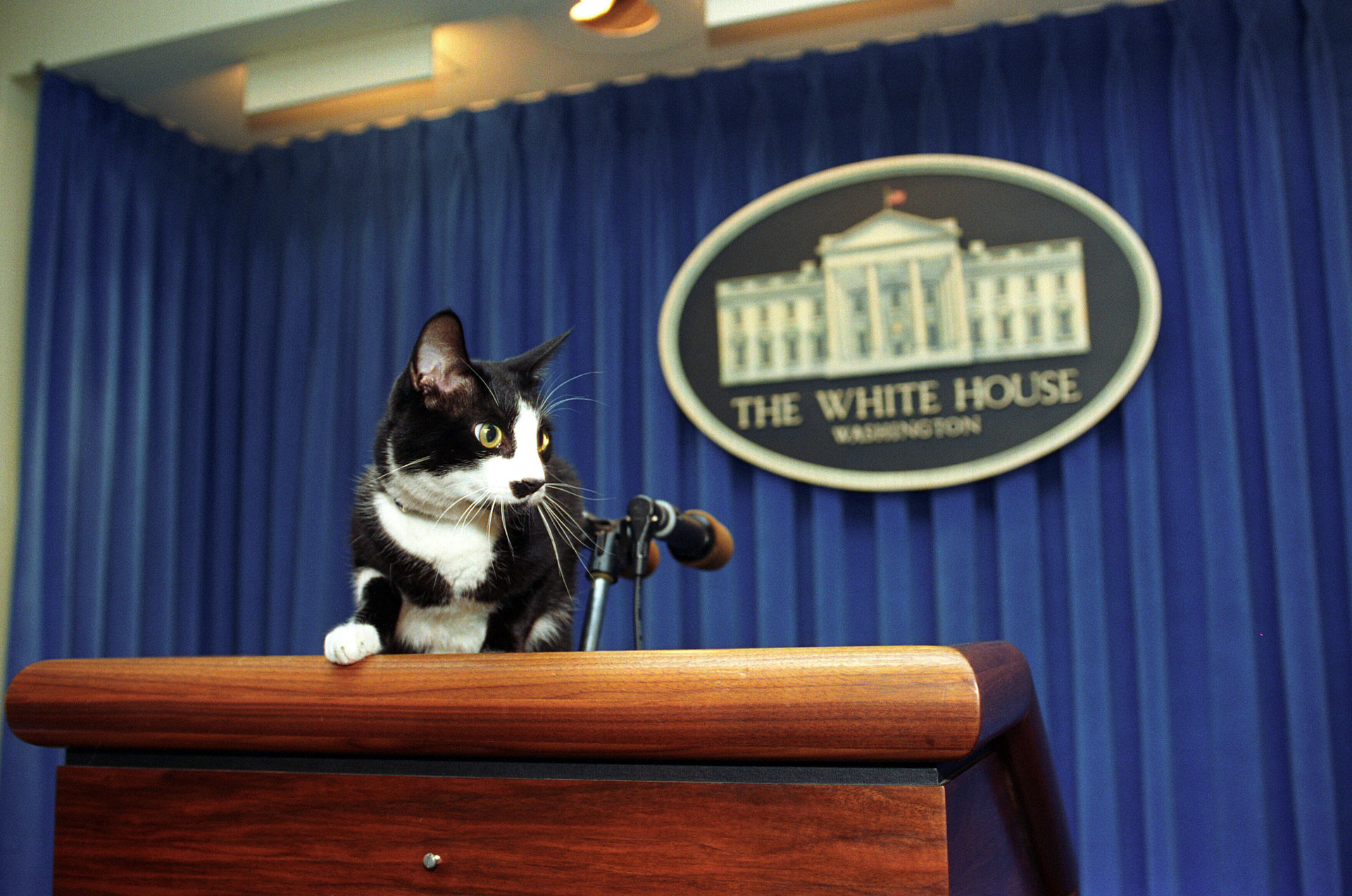 Being an election year, what a fitting time to revisit some of the nation's most famous and infamous First Felines.
Abraham Lincoln was the first known president to bring cats into the White House, including his son Tad's cat, Tabby, reportedly feeding him with a gold fork at White House dinners. Lincoln was an avowed ailurophile, who could play with cats for hours, and when his wife, Mary, was asked if her husband had any hobbies, she simply replied, "cats." On a winter visit to General Grant's headquarters during the Civil War, Lincoln rescued three half-frozen kittens from a telegraph hut, tucked them inside his coat, and brought them back to the White House, where they lived until they were placed in permanent homes.
The wife of Rutherford Hayes received America's first-ever Siamese cat, aptly named Siam, in 1878 as a gift from an American diplomat stationed in Bangkok, Thailand. A good-natured cat, Siam soon became a favorite of the Hayes family and the staff, calmly roaming the White House, and often making "grand entrances" when the First Lady entertained guests. The President's personal physician even treated Siam when she became seriously ill with a respiratory infection, but she ultimately died.
William McKinley owned two Turkish Angora cats: Valeriano Weyler, named for the governor of Cuba, and Enrique DeLome, named after Spain's Ambassador to the U.S.
Theodore Roosevelt had two cats, Tom Quartz (named for the cat in Mark Twain's "Roughing It"), and six-toed Slippers, who habitually fell asleep while sprawled out in the hallways of the White House. At one state banquet, guests even had to walk around her as they made their way to the dining room.
Woodrow Wilson owned two overly friendly felines named Mittens and Puffins. Both cats were overly fond of attempting to leap onto the Wilson's dining-room table during family meals, only to find themselves squirted with water to shoo them away.
Calvin Coolidge owned several cats during his time in the White House, including Blacky, Bounder, Climber, Tiger and Timmie. Timmie slept with the family's uncaged canary, Caruso, perched between his shoulders at night, while Tiger could be found walking beside the president or wrapped around his neck. Once, when Tiger wandered off, Coolidge pleaded for his return in a radio address, and he was. But despite being fitted with a special collar (it included his White House address), he strayed a second time and disappeared.
John F. Kennedy's daughter, Caroline, owned Tom Kitten, named after "The Tale of Tom Kitten," the classic children's book by Beatrix Potter. Sadly, when the President was subsequently diagnosed as being allergic to both cats and dogs, he was forced to keep his distance from the cat. When he died, however, Tom Kitten earned his own obituary in a Washington newspaper!
Gerald Ford's daughter, Susan, owned Shan Shein, a seal point Siamese named for a city in China. This First Feline slept in Susan's bed at night and spent her days with Mrs. Ford while Susan was at school.
Jimmy Carter's family owned Misty Malarky Ying Yang, another seal point Siamese that First Daughter Amy adored. During her years in the White House, Misty Malarky could usually be found curled up in her favorite spot – inside Amy's dollhouse.
Ronald Reagan and his family owned two stray tortoiseshells, Cleo and Sara, that lived at their vacation home, Rancho del Cielo, in California during his White House years. They also kept several other cats at their ranch.
Bill Clinton's daughter, Chelsea, was the proud owner of Socks, the "tuxedo" she rescued in Arkansas after noticing her outside the window during a piano lesson. Dubbed the "Chief Executive Cat" by Clinton, Socks had her own fan club page on the White House web site, and her own "inbox" for her fan mail that was kept on the desk of the President's secretary. When Socks died of cancer in 2009, her ashes were flown back to Arkansas for burial.
George W. Bush and his family owned India, a striking black cat named after baseball player, Ruben "El Indio" Sierra, of the Texas Rangers. Very shy and reclusive, India died just prior to the Bushes leaving the White House. They also had Ernie, named after Ernest Hemingway, who, because of his "wildness" was eventually sent to live with friends.