Paws Need Claws – Prevent Scratching without Declawing!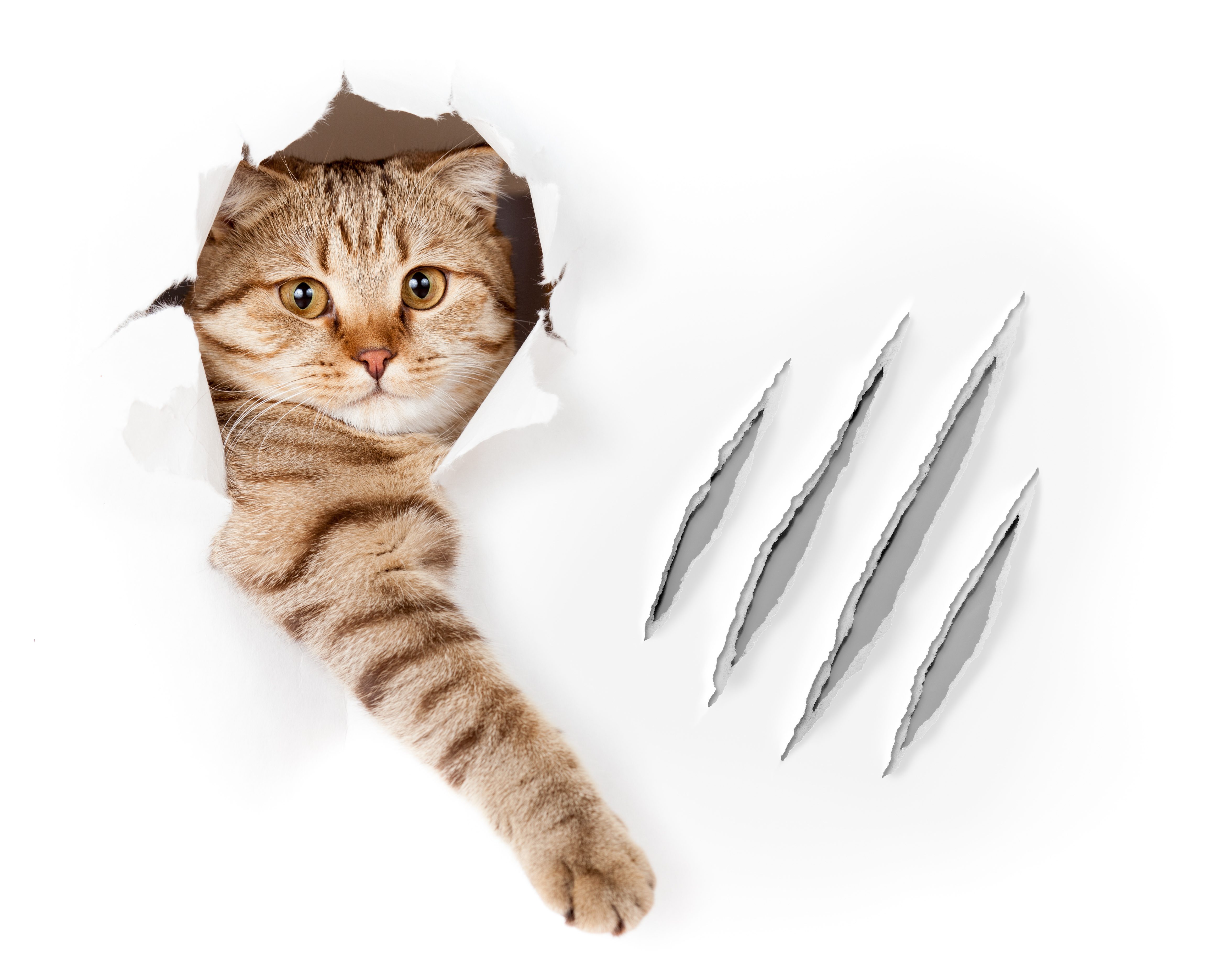 Biologically, cats have claws for many important purposes: they use their claws to catch prey, leave visual and scent marks through scratching various objects, and defend themselves from other cats and predators.  But sometimes, having a tiny semi-wild hunter living in our modern homes can be inconvenient, and at times, destructive!  Given how wild "domestic" cats actually are (compared to dogs, who have been domesticated for far longer than cats), it's actually pretty amazing that cats and people don't have more problems living together in an environment that is not natural for kitties.
Basically, paws need claws.  But, one of the biggest problems people have with cats is how they use their claws in the home.  Clawing or scratching is completely natural and healthy for cats, but most people don't like their stuff shredded to bits.  However, you don't need to worry – with a little work, you can give your cat appropriate scratching opportunities and save your home furnishings without even thinking about declawing (which can cause a whole suite of other issues, but more about that some other time)!  Try these tips to cut down on inappropriate scratching:
Give your cat appropriate scratching surfaces

that she actually likes!  What you might think should be a good scratcher might not be appealing for your cat, and she won't use it if it's not.  A scratcher must be sturdy – if it moves or shakes during scratching, cats tend to not use them.  They can be vertical (like a scratching post), angled or inclined, or horizontal (e.g., inexpensive cardboard scratchers).  And they can be made of various materials – carpet, sisal rope, cardboard, or plain wood.  Experiment!  Find out what she likes best!  She will let you know.
Is your kitty not using the scratcher consistently? 

Move the scratcher

over to near where she SHOULDN'T be scratching, sprinkle the scratcher with catnip, lure her over with a toy, and reward her (treats or praise) when she scratches.  She'll get the idea quickly!
If she still occasionally scratches the furniture,

don't yell or punish

– that will just create fear of you and could simply teach her to scratch there when you're not around.  Gently take her over to the scratcher and encourage her to use it (see above) – and reward her when she does!  It's all about positive reinforcement – treats and praise are highly effective.
You can discourage scratching on inappropriate surfaces by applying

double-sided tape

to the area temporarily (check out Sticky Paws, just for this purpose).  You can also try using aluminum foil (just purrfect for the holiday season…so shiny…lol) or spray scents that cats don't like near where the cat is scratching (citrus is not a favorite).

Regular nail trimming

will help, but kitties will still have the urge to scratch things because they need to stretch their back muscles and also mark objects with the scent glands in their paw pads.  Cats especially like stretching and clawing when they wake up from naps, so if your cat has a bed she likes, put it next to a scratcher instead of on furniture she shouldn't be scratching.
If nail trimming is difficult, the application of

plastic nail covers

("Soft Paws") is a popular method for keeping claws from damaging both furniture and people!  And, they come in plenty of colors (including glitter styles), so your cat can be furniture-safe AND stylish!
If you have trouble trimming your cat's claws, there is help.  Veterinarians can trim your kitty's claws, and there are even people that can come to your home to do the job to save you a trip out (and you won't have to stress your cat out by getting her into a carrier).  If, after you've tried the above tips and are still having problems with your cat clawing things she shouldn't, give your local cat behaviorist a call (hint hint).  We'll be happy to help!