The Internet is for Cat People, too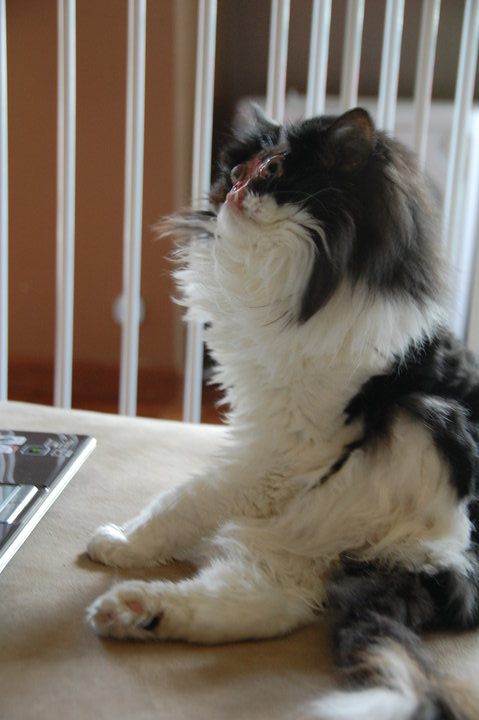 Someone once said…
"The internet is full of cat people because dog people go outside."
I couldn't tell you who said that, but I've seen it everywhere online. As a cat person, I should really be offended by this, but it's sort of true. The internet is full of cat people and their cats, most of which have Twitters, Facebooks, websites and very dedicated owners that make sure their cats have more active social lives than them.
Besides being adorable, these cats help educate about special needs animals, promote adoption and just make you feel good with their heart-warming stories of overcoming the odds. We mentioned a few of the famous cats in an earlier blog post, including Grumpy Cat and Lil' Bub, so I thought I would continue the list with a few more cats that I follow.
One of the first cats I began following online was Chase No Face. Chase was in a car accident when she was 4 weeks old, which left her  face disfigured. She is fully healed and, according to 10 vets, is living completely pain-free. All she needs to be happy nowadays are eye drops to keep her eyes moist and a warm place to sleep.
Chase No Face's story just warms my heart. This little cat beat all the odds and found a human that loves her, despite her strange looks. You can learn more about her, follow her progress and even help support her by donating on Facebook.
Another cat that fought to beat all the odds is Anakin the Two Legged Miracle Cat. According to his Facebook,  Anakin's owner found him as a kitten at a feral colony outside of her dad's work. It took her a few days to catch him, which just shows how tenacious this cat is. She took him to the vet who found that not only was he missing his back legs, he was missing his entire pelvis! A year or so later and Anakin is healthy and gets around just fine. Anakin is another heart-warming story.
And I can't seem to stop watching videos of him. So cute!
The last cat on my little list is Oskar the Blind Cat. Oskar has  microphthalmia, which is a genetic disorder that prevents the cat's eyes from developing. He spent the first few months of his life living outside on a farm before he was adopted and met his big brother "The Klaus" in 2011.
My first introduction to Oskar was this video of him "boxing" with the stream of a hair dryer.
Now Oskar the Blind Cat uses his fame to help educate about special needs cats and find perfect homes for the ones up for adoption through his Facebook page. His owners also set up a shop, www.oskarandklaus.com, that sells Oskar and Klaus merchandise, cat toys, treats and more and some of the proceeds go to The Cat House in Nebraska, Blind Cat Rescue & Sanctuary in North Carolina, and The Cat House on the Kings in California.
These three amazing kitties are just a few of the amazing cats online. The internet is full of cat people.
And they are doing amazing things.