Ghosts at the 1866 Charles Brown House?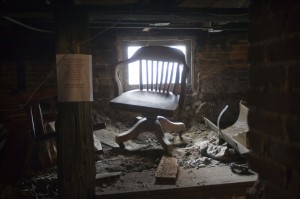 Rumor has it cabinets sometimes open on their own at Vancouver's Charles Brown House, built in 1866. Tom Vogt, The Columbian's science, military and history reporter, had an interesting story in today's paper about the building's grim history.
Here's a little extra from Tom about possible ghosts at the site: "People who work in the building say they do notice some unexplained happenings once in a while. Some office cabinet doors are latched; otherwise, they tend to swing open. But when staffers have stepped away from their desks, they have returned to find those latched cabinet doors wide open."
Here's the full story:
Banker's suicide chapter in history of 1866 Charles Brown House
Tom Vogt, Columbian science, military & history
Charles Brown was a prosperous banker. The former mayor and his family lived in one of downtown Vancouver's showcase homes at the turn of the 20th century.
When Brown's propensity for cooking the books was suddenly revealed, however, the banker and his accomplice used the same pistol to kill themselves.
While the Browns moved out long ago, the house built in 1866 is still there. Now it's the office of the Stahancyk, Kent & Hook law firm.
And 113 years after his death rocked Vancouver, Brown's distinctive house at 400 W. 11th St. still has stories to tell.
So do a lot of other buildings in established neighborhoods around the area. On Saturday, the Clark County Historical Museum will host a morning workshop on uncovering those stories.
During the 2 1/2-hour class, Brad Richardson will discuss resources available in the museum's library for researching historical properties.
It's actually a topic that comes up frequently through museum programs, Richardson said.
"People come in for exhibits, and we mention our research library, where they can look up information about historic properties or buildings," Richardson said. "They often leave amazed."
Richardson also leads downtown walking tours through historic parts of town. He's always looking for more information about the people who lived or worked in those buildings.
City directories can provide the names of residents at an address, Richardson said. When a name becomes available, other resources can be tapped. They can include oral histories that have been collected at the museum.
"We can't promise you will find specifics on your home," Richardson said. "But if information is out there on your home or its previous residents, here are some research tools."
Vince Roman had an advantage when he researched the history of Charles Brown's residence: The Brown story was front-page news.
This was how the April 25, 1901, edition of the Vancouver Independent newspaper reported it:
"The First National Bank of Vancouver failed, closed by bank examiner J.W. Maxwell. The president, Charles Brown, and the cashier, Edmund L. Canby, committed suicide."
Roman now works in Brown's former residence as a client relations specialist for Stahancyk, Kent & Hook.
As the law firm's in-house historian, Roman has written about Charles Brown and his landmark residence for the Clark County Historical Society's annual publication.
Brown and his bride, the former Rebecca Slocum, were married in 1874 at their new home, Roman said.
Brown became president of Vancouver's First National Bank in 1891. Brown and Canby, the cashier, began making false entries in the ledgers to cover up a series of bad transactions, Roman wrote.
It didn't seem to be a classic case of embezzlement.
"No motive was ever known for their actions, other than speculation that both men might have accommodated friends with loans that were never repaid," Roman wrote.
In its story, the Vancouver Independent noted that "The bank had been struggling to recover from severe setbacks due to the severe financial depression of 1893 …"
Whatever their motive, the falsifications continued for a decade, until the bank examiner confronted the two men.
Brown and Canby left the bank together, Roman wrote. One witness reported having seen Brown stop by his house and peek through the windows, presumably for one last glimpse of his family.
The bodies of the two men were found a few blocks away, just a couple of feet apart. The pistol was clenched in Brown's hand, Roman wrote, indicating that Canby had killed himself first.
Brown then took the pistol from his dead friend's hand, put the muzzle in his own mouth and pulled the trigger.
Groups interested in getting a look at the Charles Brown House can contact Roman at 360-750-9115.
IF YOU GO
• What: Workshop on researching old homes and buildings
• When: 9:30 a.m. to noon Saturday, Feb. 1, 2014
• Where: Clark County Historical Museum, 1511 Main St., basement research library
• How much: $10 for Clark County Historical Society members; $15 for nonmembers.
• Reservations required: Call 360-993-5679