A look at our most popular Facebook posts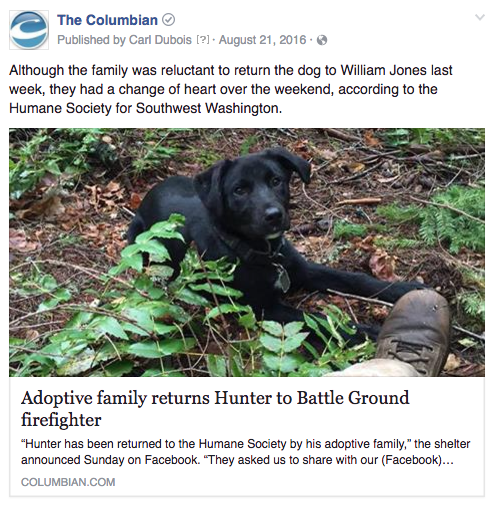 Every year the media trots out Top 10 and Best of lists as the year draws to a close and we are not stranger to this trend. Earlier this week, we provided a list of the top 10 local stories of 2016 selected by the newsroom and by the readers, as well as the 10 stories on columbian.com with the most pageviews and a list of our favorite photos chosen by the photo staff.
But just in case that's not enough for you, I thought I'd dig back through our Facebook data to pull out a list of our 10 most popular Facebook posts, so here goes:
1) A family returns Hunter, an adopted dog, to the Humane Society so the animal can go home to his owner, firefighter William Jones. This story went viral, gaining coverage as far away as Europe. It  was also the second most viewed story on columbian.com with 79,270 pageviews. According to Facebook, the total reach of this story exceeded that of any story we've ever shared on social media with about 523,313 people reportedly seeing this post in their feeds. (Below we'll simply add the total reach to the end of each item.)
2) Mathew Rios administers CPR and saves a woman's life at Costco: 131,599.
3) Evergreen Public Schools announces it's changing the start time for high schoolers next year: 118,138.
4) PeaceHealth uses music in neonatal care to help infants with feeding and pain management: 95,945.
5) Live video the morning of Bernie Sanders' visit to Vancouver: 95,491.
6) The Ilani casino plans to hold a job fair and hire up to 1,000 people: 88,805.
7) Value Village will close its doors in November: 86,297.
8) Vancouver get its own Hopworks: 82,598.
9) We publish our annual map showing where to see homes lit up with holiday lights: 80,369.
10) The body of a naked man is found early one morning inside a Chinese restaurant: 74,391. (This story was the 4th most viewed story on columbian.com with 42,074 pageviews.)