Thorns Unveil 2013 NWSL Champions Banner at Home Opener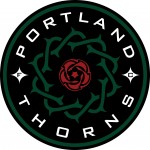 Near the Portland Timbers Ring of Honor up above the General Admission area of Providence Park, The first Championship Banner to be hung in the city of Portland since the blazers won the NBA championship 35 years ago was revealed to the crowd at the rainy Thorns home Opener.
It's cold and wet but the smiles and hugs were warm as the Thorns recognized the players then thanked the fans for their support during the inaugural 2013 NWSL season that saw the Thorns win the league championship largely due to its road form.
Roses were handed out and the Captain Christine Sinclair addressed the crowd before fireworks signaled the start of the new season.