Tuscan Pumpkin Sauce & Spaghetti Squash
Tuscan Pumpkin Sauce & Spaghetti Squash offers a fun and seasonal twist on a classic favorite. Replacing traditional tomato paste with roasted pumpkin, turns everyday 'sketti into a rich and creamy Tuscan delight.
GROCERY LIST (makes 6 servings)
2 spaghetti squash
coconut oil
olive oil
1 large sweet onion, chopped
3 garlic cloves, minced
1.5 lb. grass-fed ground beef
2 large cans crushed tomatoes
1/4 cup red wine (optional)
1 cup roasted pumpkin (I use canned to save time)
1/4 cup fresh basil, chopped
1 TBSP Italian seasoning
1 bay leaf
salt & pepper, to taste
COOKING INSTRUCTION (prep time: 15 minutes; cook time: 45 minutes)
1) Pre-heat oven to 350 degrees. Cut spaghetti squash in half and de-seed. Place spaghetti squash skin-side down and sprinkle with salt & pepper and a smidge of coconut oil. Bake squash for 45 minutes, or until al dente. Use a fork to scrape the 'noodles' into a serving bowl.
2) Meanwhile, in a large sauté pan over medium-high heat, drizzle enough olive oil to coat the bottom of the pan. Sauté onion and garlic in olive oil, 3-5 minutes.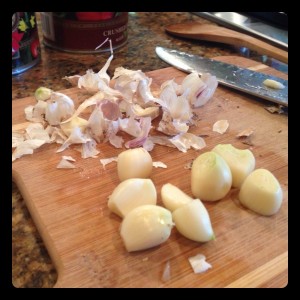 3) Add ground beef and brown, about 10 minutes. Drain fat. Stir in crushed tomato, red wine, pumpkin, herbs and seasonings. Bring sauce to a boil. Cover sauté pan with lid and turn heat down to low. Simmer 35-40 minutes. (If sauce is too thick, add a bit of water)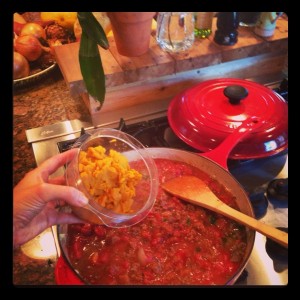 To serve: Layer sauce on top of speggetti squash.
Side serving suggestions: Salad and sautéed broccoli.
From my kitchen, to yours …. rollin' with the seasons. Enjoy!!