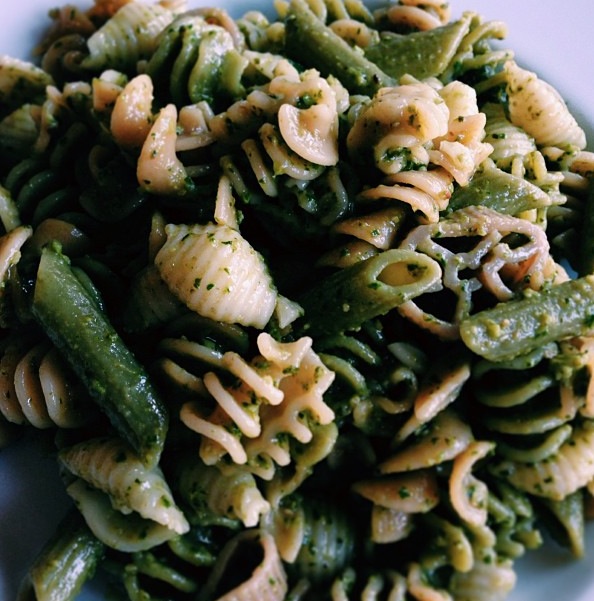 They say it isn't easy being green, but I think this recipe proves otherwise. With a recent bounty of basil from my summer vegetable garden, I whipped up a weekday meal of walnut pesto pasta. The addition of walnuts to the pesto makes it rich and smooth, while the cloves of garlic add the perfect amount of kick.
This recipe makes about 1 cup of pesto. If you have extra, spoon it into a plastic Ziploc bag, squeeze out the air, and freeze. Serve the leftover pesto with grilled shrimp, as I did the other night, or spread it on toasted baguette slices with chopped cherry tomatoes.
Walnut Pesto Pasta
Ingredients:
2 cups fresh basil leaves, packed
1/2 cup freshly grated Parmesan-Reggiano or Romano cheese
1/2 cup extra virgin olive oil
1/3 cup walnuts (you may substitute pine nuts, if you like)
3 medium sized garlic cloves, minced
Salt and freshly ground black pepper to taste
Boxed pasta (I used Fusilli)
Directions:
1.  In the food processor, pulse the walnuts a few times. Add the basil, and pulse again. Add the garlic, and pulse a few more times.
2.  While the food processor is on, slowly add the olive oil in a constant stream. Stop the food processor, and scrape down the sides with a rubber spatula. Add the grated cheese, and pulse until blended. Season with salt and pepper to taste.
3.  Cook the pasta according to package directions, and drain. While the pasta is still in the pot, mix with the pesto, until the pasta is evenly coated. Serve warm.