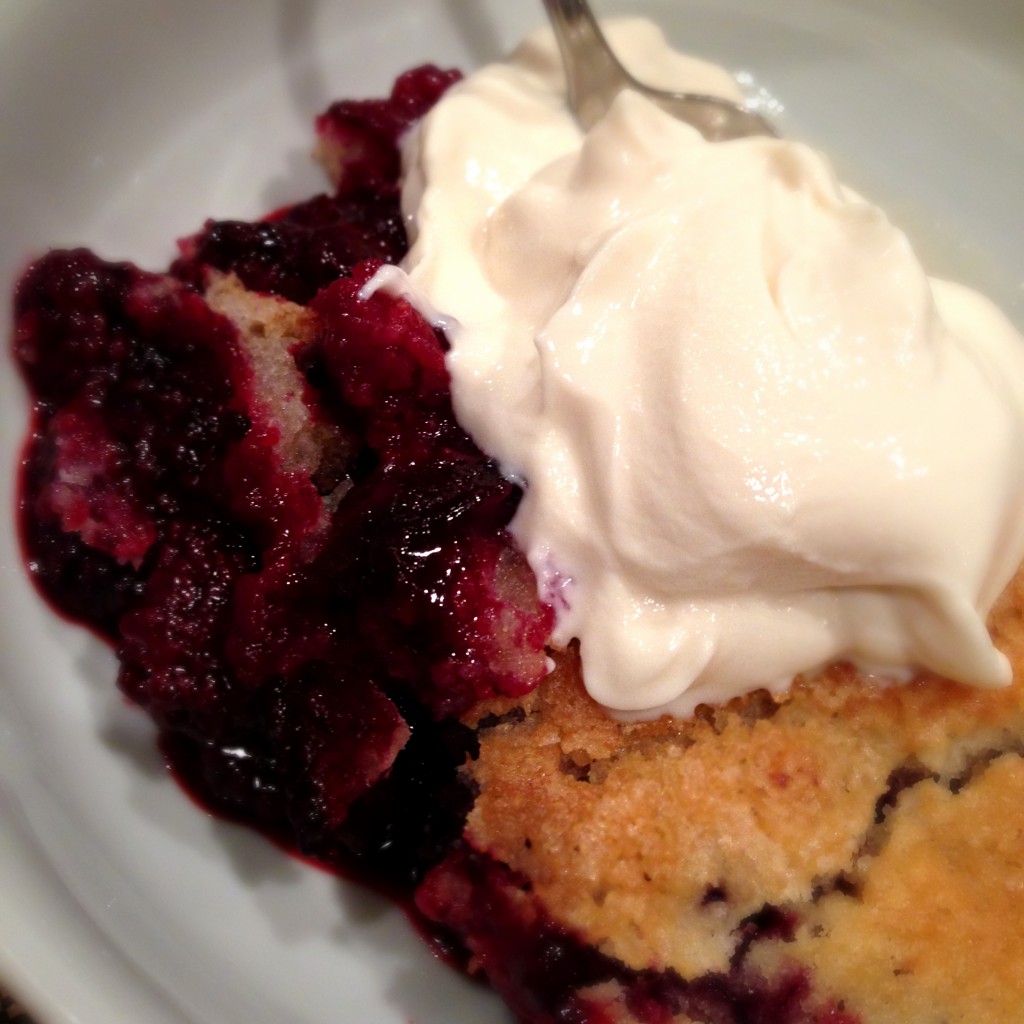 Is there still time for one more summer berry recipe? Ah, who am I kidding? There's always time for cobbler! We take cobblers very seriously in my family, always with the goal of bringing the best cobbler to the family reunion. Great Aunt Mary is the cobbler champion, of course, but this recipe may be just as good, if not better. Shh, don't tell her!
Adapted from America's Test Kitchen.
Blackberry Cobbler
Serves 6-8
Ingredients:
Filling:
1/2 cup granulated sugar (3.5 ounces)
1 Tablespoon cornstarch
Pinch ground cinnamon
Pinch salt
6 cups fresh blackberries (30 ounces), picked over
1 1/2 teaspoons grated lemon zest
1 Tablespoon lemon juice
Biscuit Topping:
1 cup unbleached all-purpose flour (5 ounces)
2 Tablespoons cornmeal, stone-ground
1/4 cup granulated sugar, plus 2 teaspoons for sprinkling
2 teaspoons baking powder
1/4 teaspoon baking soda
1/4 teaspoon salt
4 tablespoons unsalted butter (1/2 stick), melted
1/3 cup buttermilk
1/3 teaspoon vanilla extract
1/8 teaspoon ground cinnamon
Vanilla ice cream, frozen yogurt, or Greek yogurt for serving (optional)
Directions:
1.  Adjust oven rack to lower-middle position, and preheat oven to 375 degrees Fahrenheit.
2.  For the filling: Stir sugar, cornstarch, cinnamon, and salt together in large bowl. Add berries and mix gently with rubber spatula until evenly coated; add lemon zest and juice and mix to combine. Transfer berry mixture to 9-inch glass pie pan, place pie pan on rimmed baking sheet, and bake until filling is hot and bubbling around edges, about 25 minutes.
3.  For the biscuit topping: Whisk flour, cornmeal, 1/4 cup sugar, baking powder, baking soda, and salt in large bowl to combine. Whisk melted butter, buttermilk, and vanilla in small bowl. Mix remaining 2 teaspoons sugar and cinnamon in second small bowl and set aside. One minute before berries come out of the oven, add wet ingredients to dry ingredients; stir with rubber spatula until just combined and no dry pockets remain.
4. To assemble and bake cobbler: Remove berries from oven; increase oven temperature to 425 degrees. Pinch off 8 equal-sized pieces biscuit dough and place on hot berry filling, spacing them at least 1/2 inch apart (they should not touch). Sprinkle each mound of dough with cinnamon-sugar. Bake until filling is bubbling and biscuits are golden brown on top and cooked through, 15 to 18 minutes. Cool cobbler on wire rack 20 minutes and serve. Serve with vanilla ice cream, frozen yogurt, or Greek yogurt, if desired.
*Note:  While the blackberries are baking, prepare the ingredients for the biscuit topping, but do not stir the wet into the dry ingredients until just before the berries come out of the oven. A standard or deep-dish 9-inch pie pan works well; an 8-inch-square baking dish can also be used. Vanilla ice cream or lightly sweetened whipped cream is the perfect accompaniment. To reheat leftovers, put the cobbler in a 350-degree oven for 10 to 15 minutes, until heated through.