Healthy Living Cooked vs raw: Cooked wins
Healthy Living Question:  Does your body desire cooked vs raw food?  Do you strive to eat more raw foods and feel sluggish and bloated?  Consider switching to consuming more cooked food to jump start your healthy living eating program. 
I am currently enrolled in Vancouver Yoga Center's 200 hour yoga teacher trainer course instructed by Certified Ayurvedic Practitioner Melonie Nielsen LMP and E-RYT 500.
Wowza what a course – not only are we learning about traditional yoga asanas (poses), body alignment, and body biomechanics… we are also learning about the power of the mind, benefits of meditation, ayurvedic principles, natural healing, healthy living, breath work and I'm sure a whole host of other topics yet to be discussed in our final 3 immersion weekends.  Its been a great way to jump start my journey to better health of my mind body and spirit.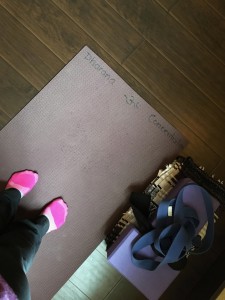 Part of this month's assignment was to complete a 5 page comprehensive ayurvedic health history to help me determine my mind-body constitution – otherwise known in ayurvedic terms as my prakriti. My prakriti corresponds to the type of dosha I have – either vata, pitta or kapha or a combination of dosas.  In a nut shell the vata dosha = cool, dry, irregular; pitta = fiery, hot and good leaders; and finally kapha = oily, wet and easy going.  I believe I'm a vata pitta dosha – it will be interesting to get validation once my assessment is complete in the next few weeks.  For more info on doshas.
Each meal I ask my body what she wants.  For some reason over the last week, my body wanted more cooked foods over raw foods.  My vata constitution said "heck yeah!"  No problemo – pulled pork crockpot, non dairy salmon chowder, oatmeal with cherries and walnuts, and lots of vegetable stirfrys.  Not one RAW SALAD ALL WEEK!  My body and mind felt nourished and more alive.  My body easily digests and metabolizes cooked foods over raw.  This gives me so much energy or digestive fire Agni.  I feel more alive which I believe is due to better absorption of nutrients.  When I am eating a diet consisting of more raw fresh fruits and vegetables my body feels sluggish with more bloating and more gas.
I remember I did a similar week long cooked food vs raw food protocol experiment 2 years ago as part of my Nutritional Therapy coursework at Portland Community College.  I remember feeling this same amazing on top of the world feeling then too.  Why didn't I continue eating/cooking this way?  I dunno life got in the way I suppose.  Nevertheless, I am reminded yet again that my body really enjoys cooked food over raw foods and have posted a note on the fridge to help me remember how wonderful I am feeling!  Read more about Ayurvedic Perspective on Food from the Chopra Center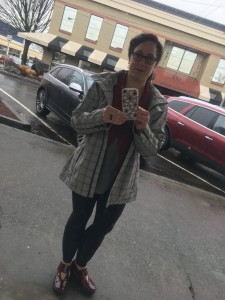 So in celebration of this refreshed "cooked over raw" ayurvedic approach to food preparation I prepared a wonderful breakfast for myself of black bean noodles with red curry sauce and sauteed vegetables.
Black Bean Noodles:  Prepare black bean noodles according to package directions.  Once drained, toss noodles with 1 tsp olive oil
Sauce:  16 oz can of light coconut milk, add 1 TBS red curry sauce, 1 tsp of tumeric, 1/2 tsp black pepper, 1/4 tsp of 5 powder spice, and 1/2 tsp of cinnamon.  Bring ingredients to a boil then reduce to a simmer until desired consistency.  Warning – watch the boiling stage – easy boil over stage.
Vegetable saute:  1 cup of carrots sliced, 1/2 red onion chopped, 2 cups of romaine lettuce chopped, 1/4 cup red cabbage sliced, 1/2 yellow pepper.  Saute vegetables in 2 tsp of olive oil until desired consistency.
Serve:  3/4 cup of noodles, add 3/4 cup of sauted vegetables, and 1/2 cup of sauce.  Enjoy!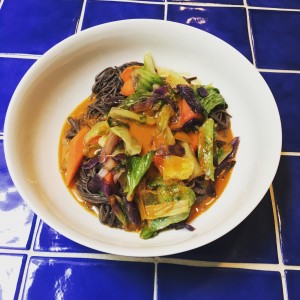 #healthliving #satedsensitive #yum #healthybreakfast #ayurvedic #igotthis