John Allen on his surprise invitation from the Blazers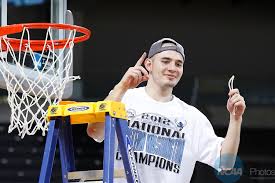 Late last night, John Allen had just wrapped a session at the gym when his cell phone rang. It was his agent telling him about his very first job interview.
The Portland Trail Blazers invited six players in for pre-draft workouts on Tuesday morning, including one curious selection: a 6-foot-1 guard from Division-II Western Washington.
"I wasn't planning on this and then I got the call and it was sudden," Allen said after finishing his first workout with an NBA team.
Inside the Blazers' practice facility, Allen reflected on the last 12 hours of his life, a hectic spell that included the potentially-life changing phone call, playing 3-on-3 with Gonzaga's Kelly Olynyk and the concern that he needed to rush back home and study for a final exam the following morning.
"It was good, there's a lot of top talent here," Allen said. "It's a little different (than) playing up in Bellingham or at the rec in Bellingham but it was fun. It's always exciting when you get to play against top competition like that."
The Blazers have invited a mix of players – from those who are considered as lottery picks to the mid-major prospects likely targeted for D-League rosters – but Allen is the first invitee from a Div. II school. Allen started his college career as a walk-on at Washington State but transferred to Western Washington where he played three seasons as the Vikings' dynamic scoring guard. His 1,480 career points rank seventh all time in program history . Remember, in D-2 programs, the players stick around for four years. So for Allen to reach that total shows a knack for getting buckets. He's also a winner: In 2012, the Vikings won the NCAA Div. II championship.
Yet, in spite of his high marks in college, Allen's still a D-2 kid. And D-2 kids don't always get invited to NBA pre-draft workouts. When you consider that five former Western Washington players make up the current roster of a semi-pro basketball team based in Bellingham, then you'll get an idea about what kind of future awaits most players like Allen. However, when an NBA opportunity arises, then you better say 'yes' — even if the invite comes out of nowhere.
Allen's story sheds some light on what it's like for these lower-division players just to get their foot in the door. Something tells me that Olynyk was afforded a little more of a heads up before his Portland workout.
"I was leaving the gym at 11:30 and I got a phone call from my agent. And then Nick (West) called me and said 'hey, can we fly you out at 6:30 in the morning?,'" Allen said, recalling the brief conversation he had with the Blazers' director of basketball operations.
Ordinarily, a gym rat like Allen would jump on this chance. But recently, Allen severely sprained the index finger on his shooting hand and hasn't been able to play basketball in over a week. Additionally, Allen has a 10-page paper due on anterior cruciate ligament injuries for a class back at Western Washington and a final coming up on Wednesday. Allen has juggled the routine of rehabbing his finger while cramming for tests, but the Blazers' sudden invite forced him to drop everything else and rush to Portland.
"I've been up a couple nights in a row studying for a final, so I talked to my agent (who) said, ' You can't pass this opportunity up,'" Allen said. "I drove home to Seattle and then a car picked me up. I got to bed at 1 or 1:30 am., after eating a little bit and then I woke up at 4."
Allen had a flight to catch to be in Portland by 9 a.m. Despite the injured finger, Allen thought he played well in the workout. During 3-on-3 games, Allen teamed with Olynyk and D.J. Stephens (Memphis) against Khalif Wyatt (Temple), Chris Babb (Iowa State) and Erik Murphy (Florida). According to Allen, the groups were evenly matched but his trio earned one more win over the Wyatt-Babb-Murphy team.
"Kelly and I don't really know each other but we both have that in-state connection, so it was fun getting to play with him," Allen said, then joked: "I went to Washington State first, so all my Coug people, they're not going to like that."