Defending Kobe: What's Ahead for Will Barton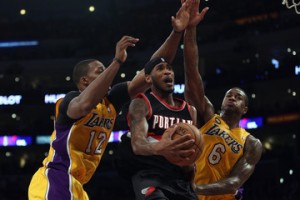 Young teams can be an exhausting lot. After all, some would argue that the N.B.A. means "No Boys Allowed" as this game favors grown men. While Houston (average age 24.9 years old) defies logic as the league's youngest team but also a playoff contender, the Portland Trail Blazers, saddled with five rookies, are eight games deep into a losing streak and fading fast before the end of the regular season.
So, they've got a lot to learn but still, young teams can be fun to watch and just a joy to be around. Take for instance this exchange last Saturday between rookie Will Barton and veteran Jared Jeffries. I asked Barton, a big fan of the rapper Future, if he was going to see him in concert and Jeffries chimed in…
Barton: "Yes! I might be on stage with him. April 11th!"
Jeffries (unaware that Future is coming) : "No, he not."
Barton: "Yes, he is I've already got my tickets!"
Jeffries: "I'm getting mine, too! Where he's at?"
Barton: "The Rose — (Roseland Theater) I'm going to be up there – I'm there! Game or no game!"
Jeffries: "We there!"
Me: "It's after the Lakers game."
Barton (even more excited now): "Definitely there!
Me and Kobe!
…And Vanessa!"
Understand that today in Barton's world is Christmas in April. In a matter of 24 hours, not only does one of his favorite artists come to Portland – a rapper whose lyrics have inspired Barton through his roller coaster of a rookie season – but so does his basketball hero. And when we had this Saturday exchange, that was before Barton learned that he would be starting tonight against the Los Angeles Lakers and matching up against Kobe Bryant.
So, let's take a look at what will be ahead for Barton on this "Christmas" day.
The last time the Blazers played the Lakers (Feb. 22), Barton played 19 minutes and finished with 5 points (2 for 7). And though some of Barton's time on the floor intersected with Bryant (who played 36 minutes), the two never matched up against the other. Barton, who was assigned to backup shooting guard Jodie Meeks, never switched off to help even when Bryant drove to the basket on the help side.
So, considering this will be Barton's first time matched against an elite NBA scorer, he can definitely use the wisdom of Wesley Matthews … a player who cherishes any time he gets to match up against the Lakers. Matthews shared his philosophy in defending Bryant.
"Stay down on his pump fakes."
Basically, don't do let this happen.
http://www.youtube.com/watch?v=-G6mCcybg9g
More Matthews: "He's got sweet spots on the court like everybody does. If he tries to post you up, he'll try to spin baseline and get inside."
Like so…
http://www.youtube.com/watch?v=sdeq5YdX3-A
And finally: "If he's 'iso'ing at the top of the key, he's going to try to get to an elbow."
Waa-laa
According to Synergy Sports, this season Bryant has scored 52.8 percent of his points on post-ups. Barton has only defended the post-up for 11 plays all season, and has allowed a score 36.4 % of the time. As far as other plays, Barton has difficulty in defending the ISO (guarded against it 24 times and scored on 45.8 %) but he's better against the pick-and-roll ball handler  – which Bryant has become more so now with Steve Nash gone. The pick-and-roll is the play that Barton has seen the most of this season at 48 times and scored on 39.6 %.
However, Barton will likely get some help. Don't be surprised to see rookie Victor Claver on Bryant. Claver is taller and bigger than Barton – and in Nicolas Batum's opinion – he's the better defender at this point (mainly due to the above information). Also, Sasha Pavlovic is back active, and before breaking his month long break away from the court, he last played significant minutes against the Lakers on Feb. 22 as well as guarded Bryant.