The Education of Damian Lillard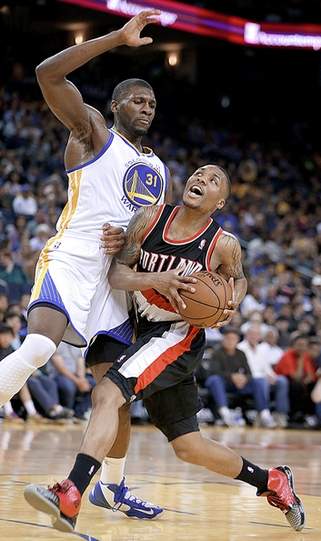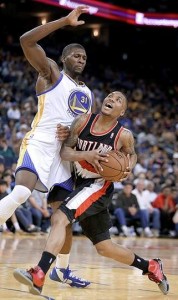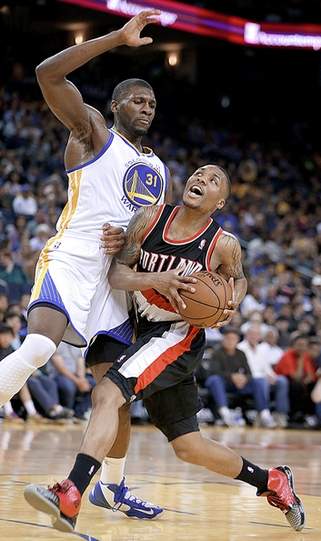 After all the contact Damian Lillard has taken during his rookie season, he has slowly developed a line of communication with game officials.
Remember plays like this…
https://www.youtube.com/watch?v=Zp8KYmtrz0E
Kobe basically smacked Damian Lillard upside the head. Still, Lillard, who was probably seeing two baskets at that time, attempted a shot that would have pulled the Trail Blazers within one point in the closing seconds of the game. OK, now check out the video carefully. You're not looking for the obvious foul, you're watching for Lillard's reaction. Lillard did not seek out or complain to the three referees. He didn't even flash the stink eye at them to non-verbally communicate, "Where's the foul!?"
That was February. If the same thing happens now, Lillard will not go quietly into the locker room. He will talk – sometimes demonstratively – with officials. It's one of the many NBA lessons that Lillard has slowly learned during his rookie campaign: he who protests, gets the calls.
"I feel like I have to ask questions now," Lillard said about communicating with officials. "It was a point when I was like, I'm not going to say nothing at all but you get to a certain point when you've got to communicate with them. With me, sometimes I might get frustrated behind something and I'll go and ask them like what's the difference between this play and that play. Sometimes it's just me approaching them, wondering what the other team can and what they can't do. So, I'll know if I'm fouled or if they missed a call, I know that I'm right when I approach them about it. Maybe I'll get a call at the end of the game or something."
Recently, I've detailed here and here about the new fiery side we've been noticing from Lillard. Very early in the season, Lillard told me that he never talked to officials and would leave that task to his veteran teammates. Rookies should be seen, not heard, right? But Lillard could no longer keep his tongue. And in light of LaMarcus Aldridge recently missing four straight games and Lillard responding by taking it upon himself to go aggressively inside, he's had to stand up for himself.
Such a far departure for Brookfield's finest, whose calm and cool personality plays out on the court. Only once have I heard Lillard quicken his voice and show some irritability off the court – and that was when he was reminiscing about riding the bench during his high school sophomore year at Saint Joseph Notre Dame. Otherwise, Lillard speaks with an even and calm tone and plays with that same controlled rhythm.
However, there was a noticeable change in the March 29 game against the Utah Jazz and even the following night in Oakland as Lillard went out of his way to talk with officials.
"When I started seeing other guards going up to the referees and making a case and then, throughout the game they started getting the calls," Lillard said, explaining the genesis of his mentality change. "And I saw that it was making a difference, so I started to do the same thing."
Also, Lillard revealed the details on his encounter with official Kevin Scott on March 29. Although in that game, Lillard tied a season-high 14 free throw attempts, he felt that he had taken unpunished hits all night. So after the loss, Lillard wanted to get something off of his chest and made a beeline for Scott who was standing close to the baseline near the Jazz bench.
"I walked up to him and, like I said, I had to ask him some questions," Lillard said. "I felt like I got beat up that game and I wanted to ask him what I needed to do. What more can I do … I told him I'm not the type of player who's going to constantly complain to you guys, so what do I need to do for you guys to get them off of me and let them not play so physical, knocking me down every play."
"I got hit in my face a couple times that game. Nobody wants to get hit in their face and let it keep happening. I wanted to ask him, and I didn't know if he took me approaching him in the wrong way because I was mad, so he just walked away."
As Lillard mentioned, he's not a big complainer. Anyone who has watched this Blazers' season should know that he rarely engages with officials. Heck, most of the Blazers stay away from chirping. Wesley Matthews, the most passionate of the bunch, may talk the most with officials but even he's not constantly whining. Still, it is a part of the game. And as long as Lillard keeps the communication under control and doesn't become this guy or gets in this guy's crosshairs, then showing a little more animation on the court could be a good thing.