We have achieved threat level red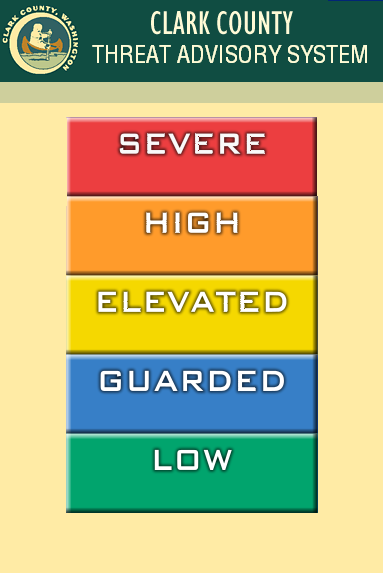 Clark County Commissioner David Madore has been using a nice, simple image to announce county updates on Facebook over the past few months. They look like this:

But Madore upped the ante just after midnight Friday morning with this new image:

Are you asking yourself what the color change means? Don't worry, just refer to the Clark County Threat Advisory System that I mocked up for them: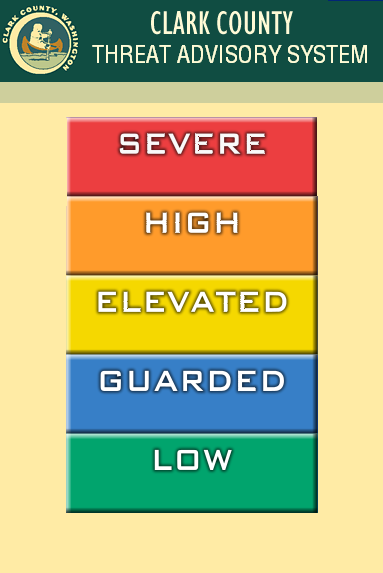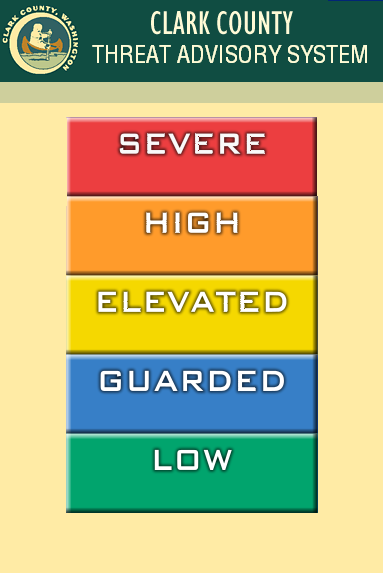 Notice there is no explanation listed for the colors. That's because I have other things to do and didn't want to spend all day on Photoshopping a fake Clark County Threat Advisory System. But hey, we have a comments section! Go hog wild with suggestions.
The urgency in Madore's post is related to this whole thing about C-Tran funding light rail with a plan that was drafted in just a bit over two weeks and includes a funding gap of at least $400,000 each year for an undetermined "third party" to come up with. No, seriously, that's part of the plan.
The plan passed by a vote of 5-4, and it now allows C-Tran to start working with TriMet over light rail on a proposed Interstate 5 Bridge replacement.
So here we are: threat level red. It's risen to the point where Madore is citing scripture on his Facebook wall, from Esther 4:14, which reads from the New International Version:
"For if you remain silent at this time, relief and deliverance for the Jews will arise from another place, but you and your father's family will perish. And who knows but that you have come to your royal position for such a time as this?"
Okay.
The plan was also called "about the most stupid thing I've ever seen in my life" by Madore before the vote.
Heck, even Commissioner Steve Stuart, who voted "yes" on the funding proposal, said earlier in the week it seemed the plan held "too many unanswered questions." Stuart also spoke unflatteringly about the proposal during the commissioners' Sept. 24 public hearing. And he did it to the point that Madore was nodding his head.
I bring this all up because in the past few weeks, the board of commissioners have been getting along really well. I documented it on Twitter I was so excited:
You guys, commissioners just reached consensus on a new parks model through calm deliberation. They're governing! OMG IT'S HAAAAPPENING!

— Tyler Graf (@col_clarkgov) September 25, 2013
But now that we're here, now that we're running in the red, is that dynamic going to change?
And, if this is what red looks like, what color are we going to need if the bridge actually gets built?