Vancouver can't pay for doggie "country club"
In April, the city of Vancouver disclosed the incentives used to lure Banfield Pet Hospital from Portland. On Monday, development overlord Chad Eiken was going through the incentives with the council, which needs to formalize the commitments. Eiken mentioned a few changes, including the fact the city will do longer be spending $150,000 to build a 1-acre dog park with "base level improvements" adjacent to Banfield's new corporate headquarters at Columbia Tech Center.
There will still be an off-leash dog park, Eiken told the council, but it can't be considered a public park because of the requirements Banfield has for dog park users.
Banfield had always been interested in paying for a "higher level of improvements," to what the city was going to build, Eiken said. He and other staff members took a field trip to Banfield's current dog park.
"It is an amazing facility for dogs," Eiken said. (After the workshop he told me that it's "like a country club for dogs.") But once the overlord learned about Banfield's screening requirements for users, he realized this was not a park that could be built with any public money.
While the park will be available to the public, owners first have to have their dogs screened. And not just show proof of shots. The animals have to show they are "behaviorally adjusted so they can interact in a positive way with other dogs," Eiken said.
Eiken said the city will take what it was going to spend on the park and put it toward infrastructure that will benefit the public, such as pedestrian improvements, but the details haven't been worked out.
Here's photos (taken from Yelp) of Banfield's current dog park.
Nice doggie shower.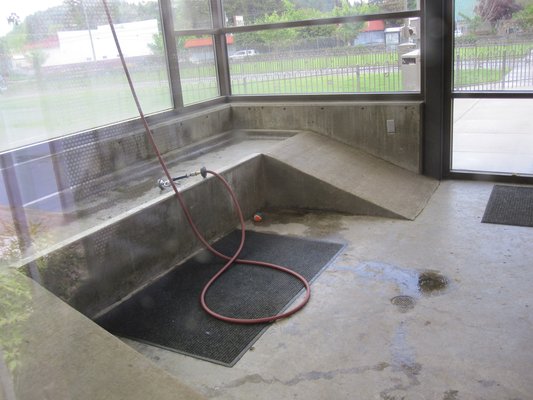 And the rules:

Banfield, which bills itself as the nation's largest veterinary practice, plans to bring 560 employees to east Vancouver in late 2015. The company, a subsidiary of the family of companies owned by candy giant Mars Inc., is a franchise chain of more than 850 pet clinics and hospitals across the United States and Puerto Rico, including some in-store hospitals within the PetSmart retail chain.
On Sept. 19, Banfield signed a 15-year lease with the landlord, PacTrust Realty, Inc., and on Sept. 23 Banfield submitted a site plan application to the city.