Stuart explains his C-Tran vote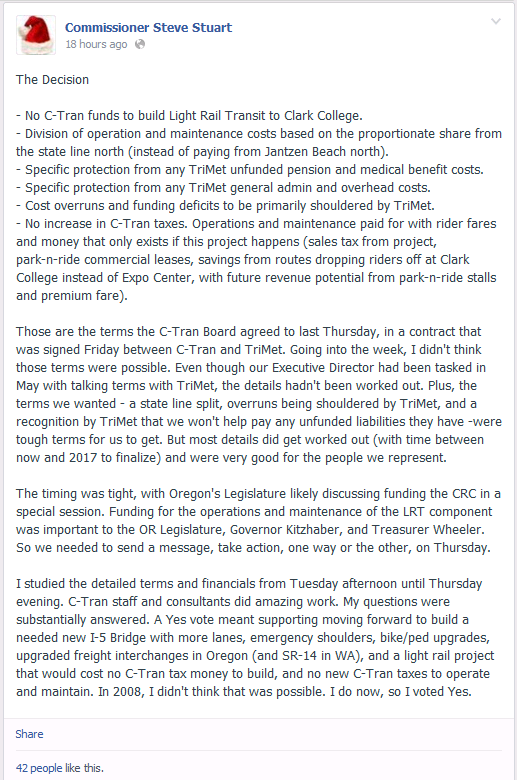 In a 5-4 decision, anyone in the majority could be considered the deciding vote. But after the C-Tran board last week approved a plan to operate and finance light rail in Vancouver, much of the attention fell to Clark County Commissioner Steve Stuart.
It was Stuart who earlier in the week appeared to be leaning no when he said the proposal had "too many unanswered questions." He said nothing during the meeting. Yet in the end he cast a yes vote.
So what gives?
Here's Stuart's explanation, posted to his Facebook page Sunday.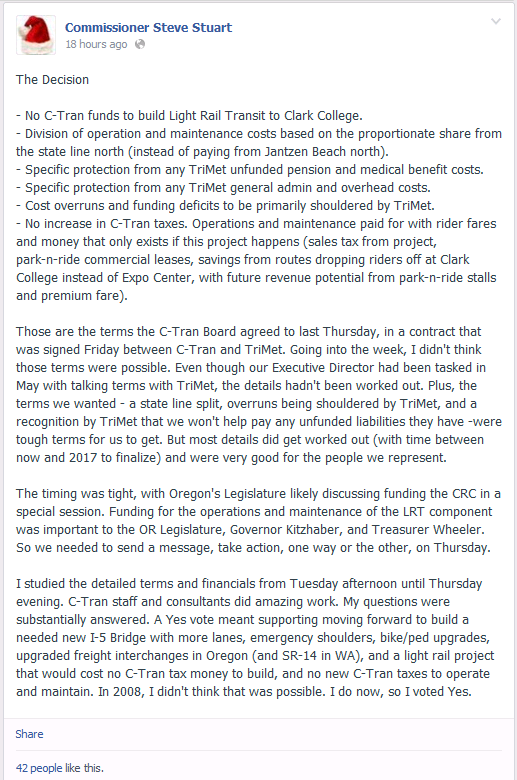 That followed an earlier post in which Stuart addressed the outcry against C-Tran giving a green light to a hastily prepared agreement that essentially keeps light rail and the Columbia River Crossing alive. The contract with TriMet was signed Friday.
Stuart's answer, in part: It's not the end of the world.
No, literally, that's what he said.
"When I got up today, there was light in the sky, though the rain was definitely falling hard, making it darker than usual. Yesterday, the same. Friday, no rain falling, but nevertheless the sun had risen in the East as it has every day of my 42 years. Yep, just another day. There was no (Revelation) apocalypse after the C-Tran meeting, I wasn't given 30 pieces of silver, nor did some dark beast come to collect for the soul I supposedly sold. Yet I was told that would happen, was charged with accepting those, and was accused of bargaining with," Stuart wrote.
And later:
"Light rail is not mentioned in (Revelation), and is not the Devil. Nor is it our Savior. It is a hybrid mass transit solution used in many cities around the U.S and Globe, that has pluses and minuses. Please feel free and argue those pluses and minuses with me, but if you're only interested in spreading fear and anger, while attacking my integrity and intellect, save your breath."
Meanwhile, Clark County Commissioner David Madore has taken to his Facebook page to object to last week's developments. That includes a letter he sent to C-Tran attorney Tom Wolfendale formally protesting the vote approving the light rail plan.
One of Madore's objections to the vote is the participation of Vancouver Mayor Tim Leavitt. Leavitt's employer, PBS Engineering + Environmental is a paid contractor for TriMet.
(Madore made a similar complaint earlier this year, alleging a conflict of interest. Wolfendale found that the complaint lacked basis for further investigation.)
Madore also challenged the agreement itself, saying it "appears to be inappropriate, problematic and potentially illegal." He and others have focused on a clause that allows C-Tran's eminent domain authority to be used for TriMet to acquire properties needed for the CRC light rail extension.
Madore listed other reservations with the contract. He also demanded that Wolfendale recuse himself from the process.
In a later post, Madore — under the threat level red banner — threw down the gauntlet.
"It is my intention, as a defender of the citizens of Clark County, to dispatch the legal resources available to pursue these matters," he wrote.
"Flags in Clark County should be flying at half-mast as the citizens of Clark County have been illegally sold out by these tyrants. This shall not stand, not on my watch! Will you stand with me?"
Remember when C-Tran meetings used to be boring? Yeah, me either.