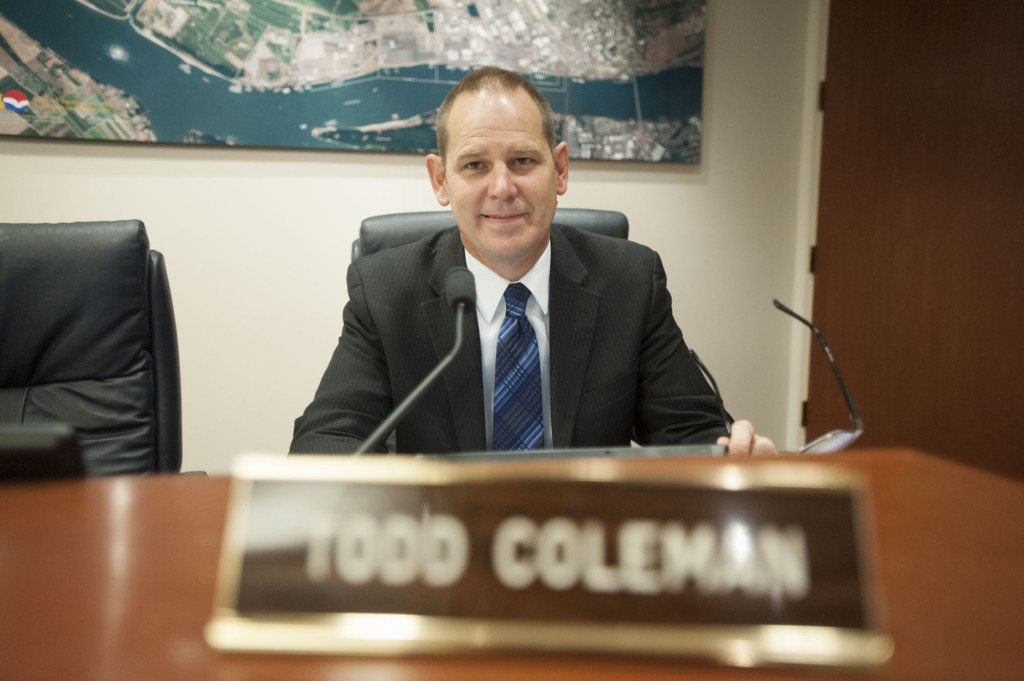 Port of Vancouver CEO Todd Coleman decided four years ago he's only going to lead the port for four years. He reminded his three bosses, the port's commissioners, with a two-week notice on Tuesday.
Nevermind that nation's-largest-oil-terminal thing. Or that Coleman has no deputy or clear successor. Or that an interim CEO has to be hastily appointed Tuesday. Or that, c'mon, it's a $211,800-per-year job.
Even if his departure had nothing to do with, say, the commissioners voting against Coleman's recommendation to deny an oil terminal lease extension last month, the timing is curious. Though his term hit four years on the nose April 30, why wouldn't he give more than two weeks' notice?
Granted, April was very busy at the port (remember that daylong hearing and lease amendment vote?). Maybe he didn't want to distract from the issue that came to define his tenure as port CEO. And Commissioner Brian Wolfe recalled that Coleman had indeed pledged four years when he took on the role.
"I thought he was joking or we could talk him out of it," Wolfe told me.
The port's past two executives served 13 years (Larry Paulson) and 14 years (Byron Hanke). Coleman, 47, spent more time as a deputy executive than full CEO, having served as Paulson's successor from 2005 to 2012. When I called Paulson on Wednesday, he would only say Coleman is "well-qualified" and "perhaps he wanted to do something else."
But still, the timing? The short notice?
"There's no perfect time (to leave)," Coleman told me Tuesday afternoon. But while he was pretty firm in sticking to his four-year plan, he told Conrad Wilson over at OPB: "Honestly, if I did not feel the port was in good hands or if I did not feel that vision was clear, I probably would've rethought it and I would've stayed on for a little while longer," he said.
There you have it. The port is in good hands and the vision is clear. Best of luck in your future endeavors, Mr. Coleman.