All politics is (hyper) local
Every election year, a flood of fliers begins flowing into mailboxes. Candidates rely on direct-mail campaigns to reach the largest number of people with the least amount of work. And, despite being annoying, they tend to work. That's why candidates do it.
What has traditionally been the bailiwick of candidates running for governmental position appears to be morphing into a tactic used by hyper local candidates. You see, a couple of precinct committee officer candidates are treating their campaigns like they're running for Senate.
They're Republicans Ann Donnelly and Dick Sohn. Residents of Precinct 225, within Vancouver's city limits, have had the privilege of receiving the candidates' materials in the mail over the course of the election season. A tipster who lives in the neighborhood says it's the first time he's ever seen PCOs battle it out in people's mailboxes.
There is some history between the two candidates. Donnelly previously held the Republican party's Precinct 225 committee officer position for two decades before Sohn unseated her.  As her flier states, she was elected to act as a Washington state delegate at the 2012 GOP national convention.
Here's her flier: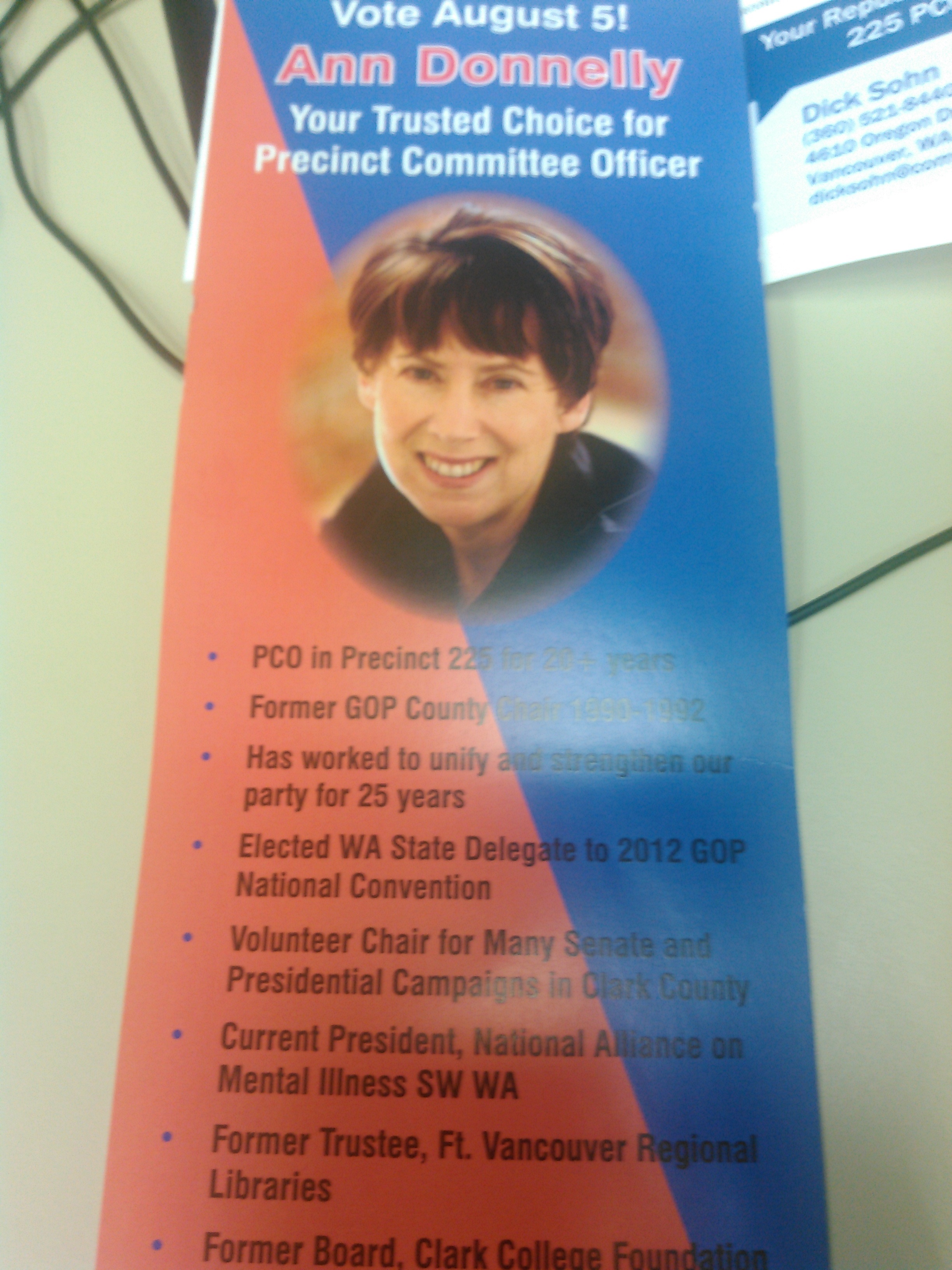 She also wrote a letter to her neighbors, which outlines why she is again running for PCO. In the letter, she aligns herself as a centrist of sorts, beating back against some of the more – ahem – alienating forces of the party.
I am running for PCO because I believe our party's influence in the community can and should be improved. It is essential that our party field and elect the most qualified and persuasive candidates. To make them successful, our party organization must have the credibility and respect of the majority of the voters. I believe we can do better in this regard.
The next part of the letter is where it gets interesting.
In recent years, some leaders in our party have taken a course of action with which I disagree. It is not about whether we should be more or less conservative. It is about whether we should tolerate diversity of opinion and dissent within our ranks. I strongly believe that we should be tolerant.

…

I believe we are strongest when we unite behind some common ideals. In recent months and even years, a number of previously active members of our party have expressed concern about their future participation. We have kept them with us because, in future elections, their silence and absence from our activities will mean losses for our candidates.
Here's her letter to residents: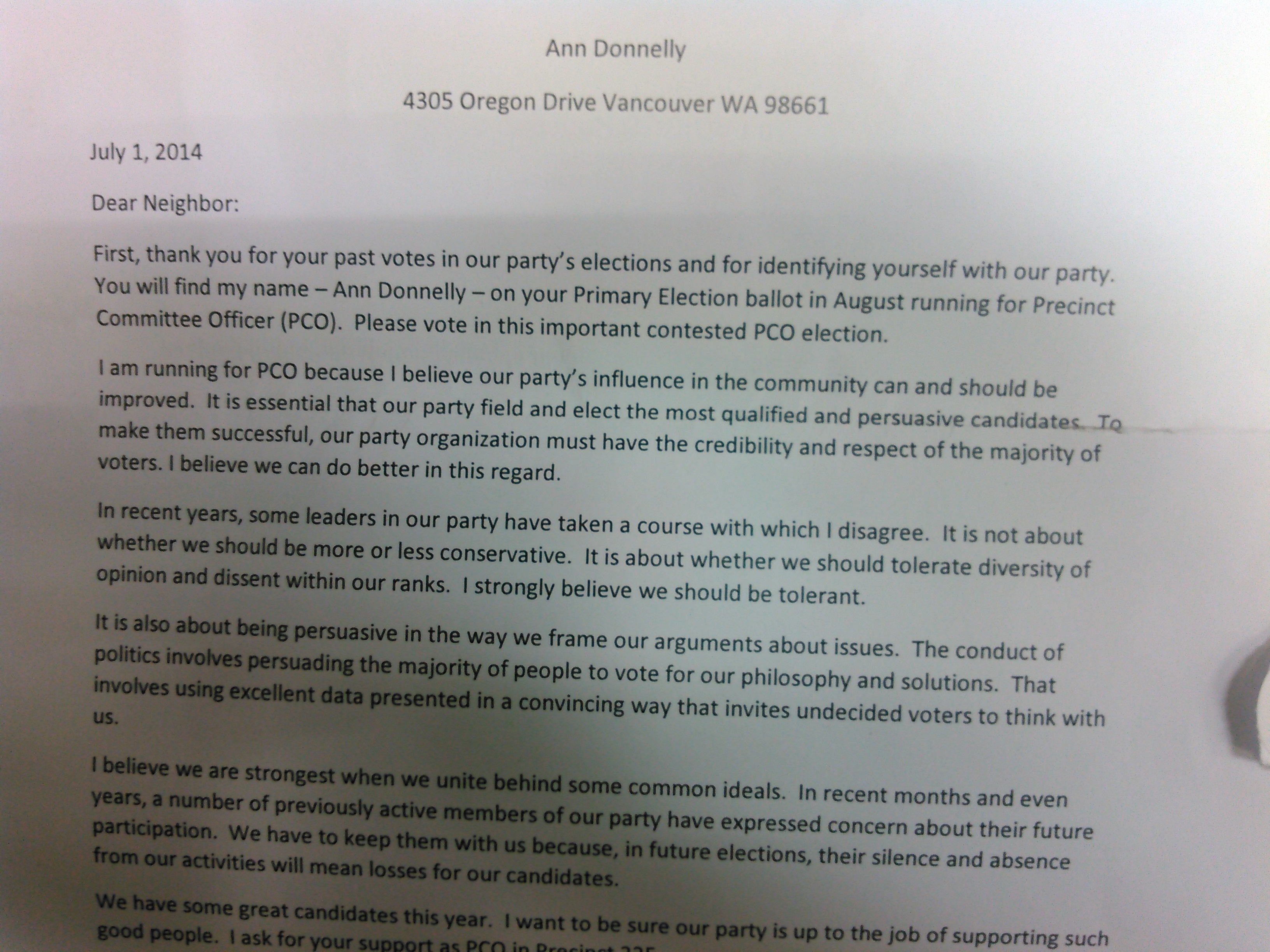 Not to be outdone, Sohn has his own flier, which calls on his fellow Republicans to get active in local party politics. He loses some credibility by writing that by being involved his neighbors can meet "a lot of really fun people."
His flier is here: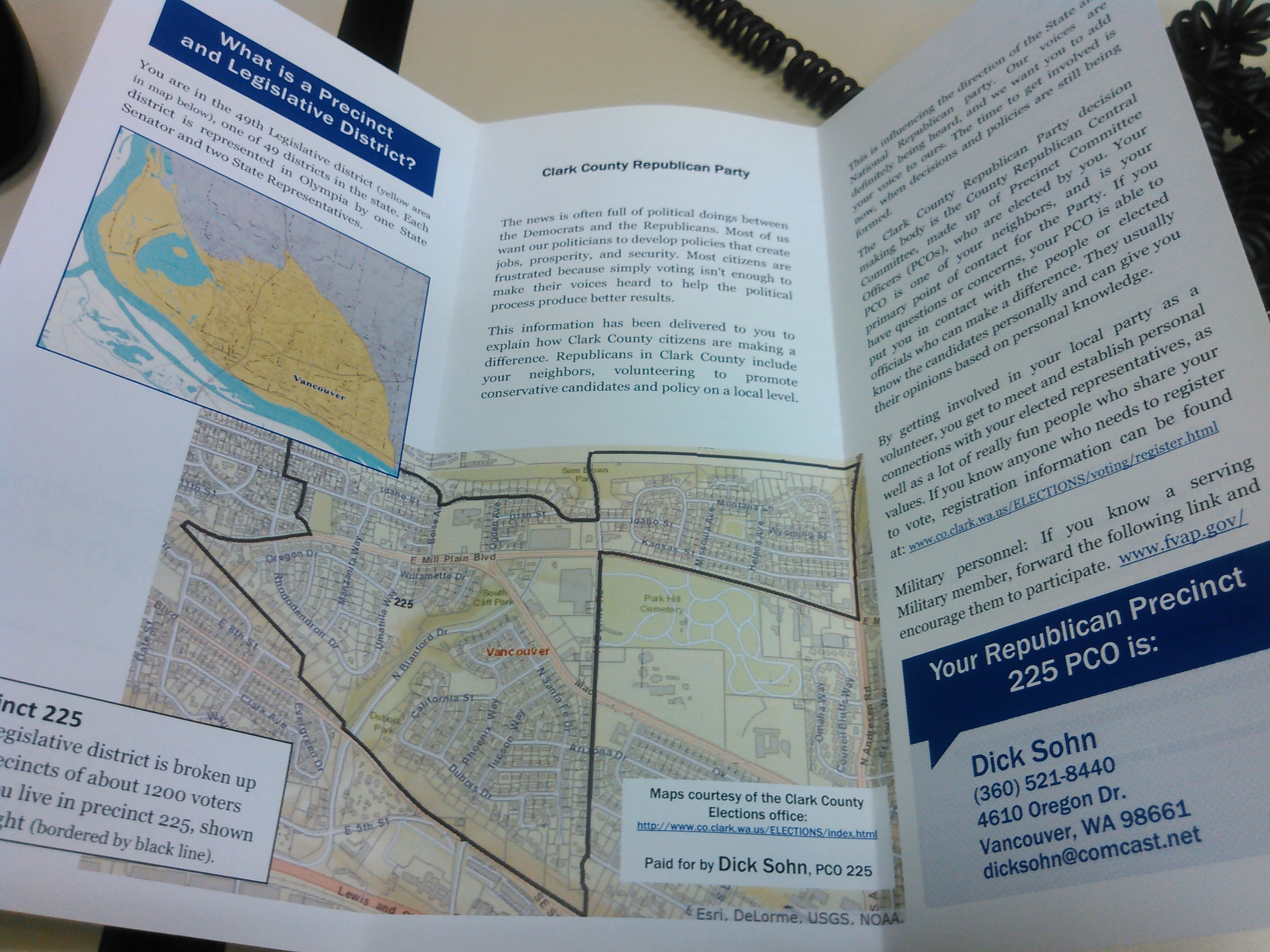 Based on this turn of events, I predict that in five years PCO candidates will be be advertising on television and spending thousands of their own dollars on positions that have no real power.