Petition to investigate Madore reopened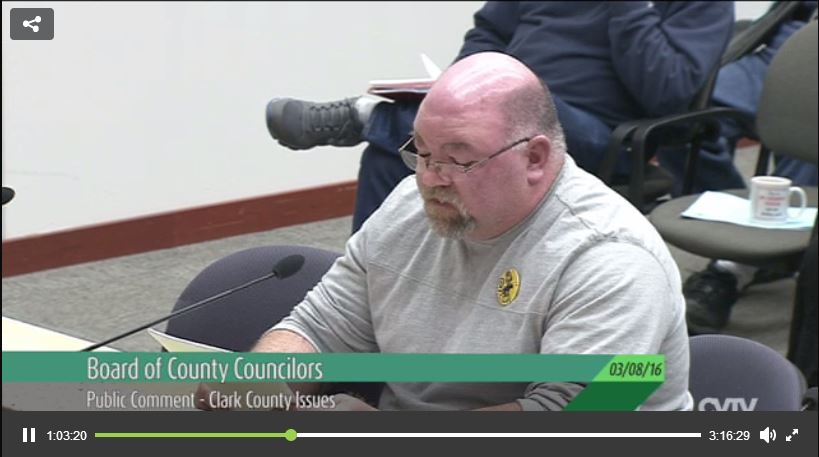 A petition calling for an ethics investigation into Clark County Councilor David Madore's behavior was reopened late last week in the wake of the release of Rebecca Dean's investigation.
Chris Prothero, who has launched an anti-Madore political action committee called Reunite Clark County, originally began collecting signatures in March to demand an ethics investigation into the Republican councilor's conduct.
Among the grievances, which are many, Prothero lists Madore's authoring of Alternative 4, his public accusations against Community Planning Director Oliver Orjiako and county attorneys, and the amount of money his antics have cost the county.
"Now that the Dean Report has been released, it is now time to renew our demand for an ethics investigation," Prothero said in a Facebook post soliciting signatures.
You'll remember the Dean report Prothero references finds all Madore's accusations that staff lied about the Comprehensive Growth Management Plan to promote an anti-growth agenda to be false "in all material respects."
It's unclear what, if anything, the implications of this petition will be. There's a big difference between the referendum petitions political activist Christian Berrigan has filed with Clark County Elections Office and a group of fed up people on the internet asking the county council to do something about Madore. It'll be entirely up to the council to come up with a game plan on how to approach this.
Prothero aims to collect 500 signatures. At the time this blog was written, he was at 479. Chuck Green, a Democrat who ran for county council last year, plans to hand over the signatures and an updated version of an ethics complaint he filed in March to Chair Marc Boldt, no party preference, next week.