Megaproject vs. four-lane "bridge to nowhere"
When I asked all of the members of the Vancouver City Council on Monday whether they supported Clark County Commissioner David Madore's plan for a bridge at 192nd Avenue, I was given more feedback than what I could squeeze into a 33-inch story. (And I had to say "pretty please" to members of the copy desk to get that much inside jump space on deadline.)
The main point I wanted to make in the story was that 192nd is a city street, and county commissioners would need approval from the city to attach a bridge to it, and there's no way the city is going to give that permission. 
But another point brought up by councilors was that Madore was touting a four-lane "bridge to nowhere" as a real steal compared to the Columbia River Crossing, as if the projects were on an equal scale.
Councilor Jack Burkman gave me this map, showing a breakdown of CRC costs. It's from 2011, so things changed, but this map shows the bridge as costing $780 million. (Madore's bridge is estimated to cost $860 million). In our Tuesday story, we cited the cost of the CRC bridge "and landings" (which were much more involved than the ones planned for the east county bridge) as $1.2 billion, which was the most recent information available.
But the map shows the components of the Columbia River Crossing, which wasn't just a bridge.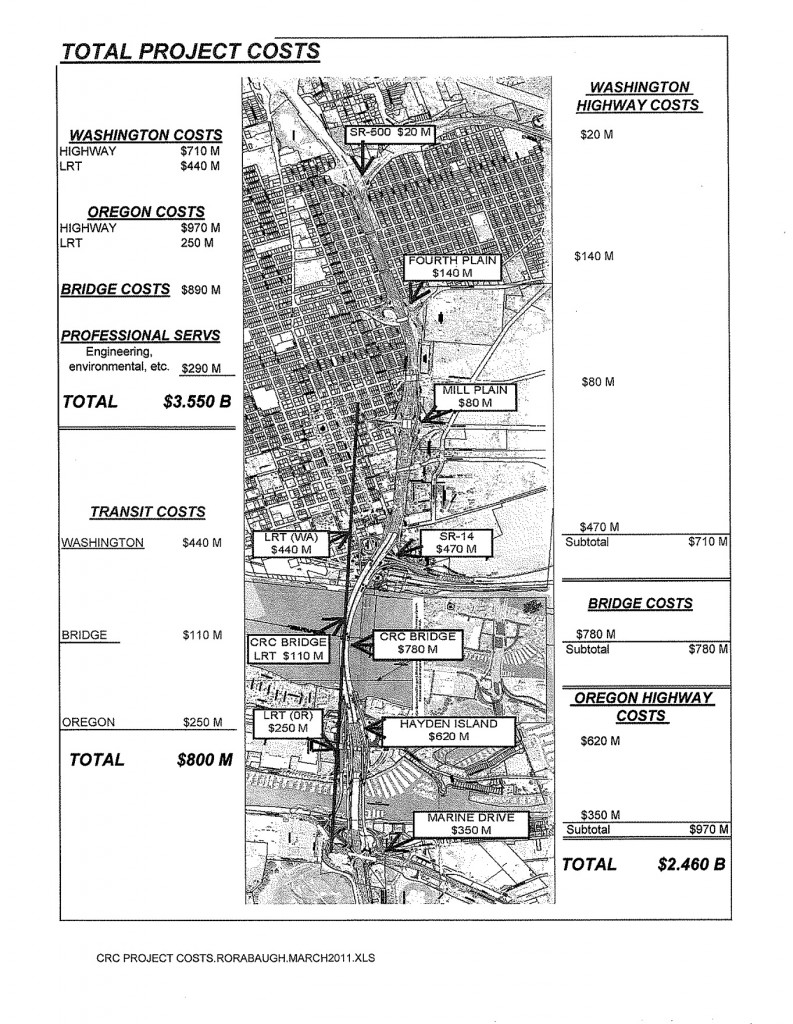 Another point made by councilors, which was briefly addressed in the article, was that Madore has greatly oversimplified the process of building a bridge over a federal waterway that connects two states.
Public discussions related to the bottlenecks at the Interstate 5 bridge began in 1999, and the CRC project formally entered the required decision-making process under the National Environmental Policy Act in 2005. (While Madore has said he wants to leave the feds out of it, he can't escape the feds when it comes to environmental regulations, and this bridge would still go through the NEPA process.) The locally preferred alternative was selected in 2008 by the sponsoring agencies. A final environmental impact statement on that locally preferred alternative was released in September 2011.