Madore says city councilors can't help people in "tangible" ways

Maybe the reactions of Camas Mayor Scott Higgins and Ridgefield Mayor Fred Willard, I mean, Ron Onslow to Clark County Commissioner David Madore's announcement of a third bridge fell short of Madore's expectations. Or maybe Vancouver Mayor Tim Leavitt … well, anything Leavitt has done could have prompted this Facebook post. Whatever the reason, Madore, instead of just explaining the role of a county commissioner, felt the need to dismiss city councilors (and, presumably, mayors who are part of the city council) as people who can't "directly help citizens in tangible ways."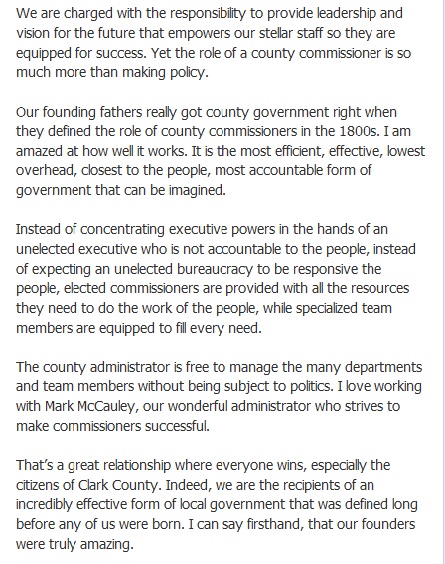 I invited Vancouver City Councilor Jack Burkman to share his thoughts on Madore's post:
"I'm quite sure that Commissioner Madore isn't filling the potholes or putting up stop signs himself. We both turn to staff to fix problems we bring to their attention. Our city manager and staff are just as responsive as the county executive and his staff.
Both commissioners and councilmembers work with their peers to set policy – to work on the big issues. No single commissioner or councilmember does that alone.
Commissioner Madore sings the praises of the county administrator position, yet declares our city manager position as an unelected, unaccountable executive running an unelected bureaucracy. Since both are basically the same position, those negative descriptions would have to apply to his county executive too. I don't think that description is accurate or appropriate for either."