Flyers in Senate race get personal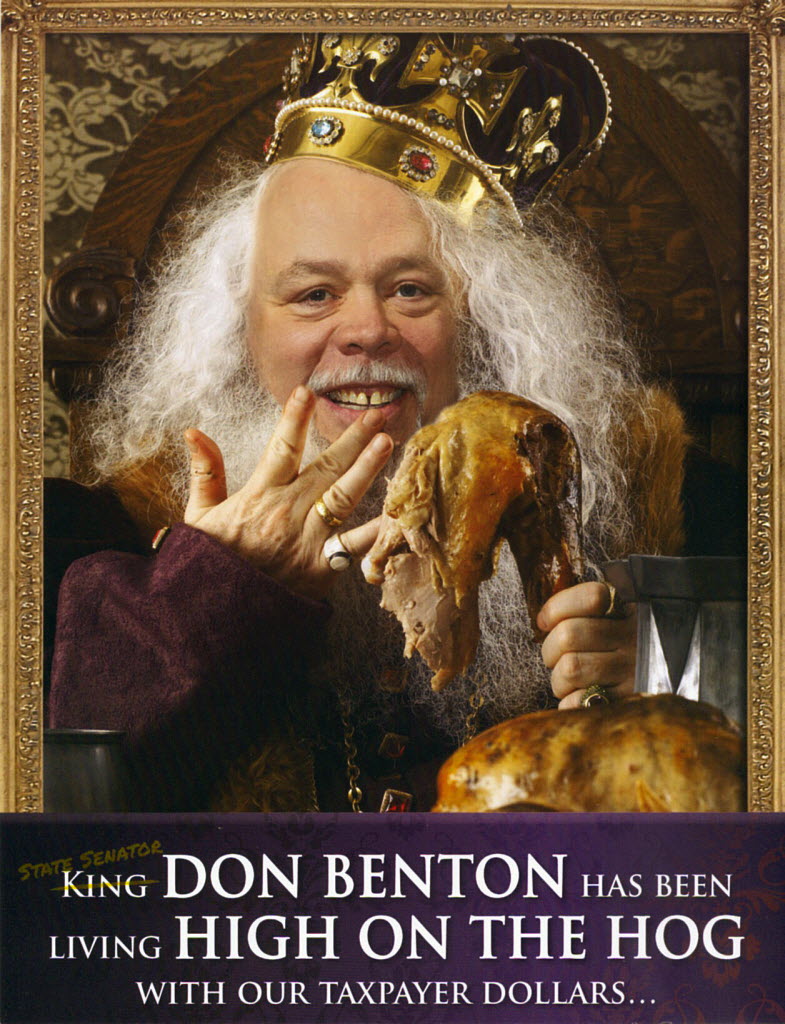 We always knew the battle for the 17th Legislative District Senate seat would be brutal.
With five months to go before the election between Democrat Tim Probst and Republican Lynda Wilson, substantial money is being spent by both political parties in the hopes of getting their candidate to Olympia.
Last week, it was the Tampon truck rolling through town taking a convoluted swipe at Wilson's voting record. This week, it's the fancy mailers being sent to voters accusing Probst of taking illegal money from union bosses.
On one side, the mailer reads: What was Tim Probst trying to hide?
On the other side, a picture of a gavel and charges that Probst is "riding a taxpayer gravy train," "taking illegal contributions from union bosses" and "found guilty of failing to reports hundreds of thousands of dollars he got from taxpayers."
Let's look at those claims individually.
The first, riding a taxpayer gravy train refers to his state job as Director of Workforce Development Strategic Initiatives for the Employment Security Department and his previous time spent serving in the state Legislature. So, he has a state government job.
When it comes to the second claim, the truth is once again unfortunately more bland than the flyer claims; Probst taking illegal money from union bosses sounds a lot better than Probst is disorganized and appears to have changed his mind a couple of times.
Probst filed to run for the Senate initially in 2013, shortly after he lost to Sen. Don Benton in 2012. Both the SWE PAC 48, a union made up of Southwest Washington electricians, and the IAFF Local 452, the international association of firefighters, donated in 2013. Shortly after, he decided against running and wrapped up the campaign.
In 2016, he decided to again to give it a go.
"He registered, he changed his mind, walked away and came back more recently and said, 'I'm going to run again,'" said Lori Anderson, with the public disclosure commission. "That disconnected effort there tripped him up from the over-limit contribution."
The unions donated to him in 2013 and again more recently. When he started fresh, he used new software and had a new treasurer, Anderson said.
When the error was discovered, he gave the money back and the public disclosure commission closed the case.
Finally, the "failure to disclose income" accusation is completely accurate. Probst violated state campaign finance law by not filing a personal financial affairs report in a timely manner.
But the state commission waived a $150 fine and PDC Executive Director Evelyn Lopez noted in a short hearing held on the matter last week that it appeared to be an oversight.
"People are watching your campaign," Lopez said, urging Probst and his campaign team to call with questions and ask for assistance.
"You clearly want to do it right," she added.
Sending out flyers with personal attacks is an age-old strategy used by both sides.
In 2012, a group sent out a mailer with a full-page color image of Benton dressed as a medieval king. The doctored photograph showed Benton eating a turkey leg, licking his fingers and smiling.
The caption on the photo reads: "Don Benton has been living high on the hog with our taxpayer dollars."