Leavitt's billboard pledge
Anyone who has been southbound on Interstate 5 in recent weeks has probably noticed this billboard, near where the long-shuttered Thunderbird on the River Hotel burned last year.
As we've reported, while Vancouver Mayor Tim Leavitt supports the Columbia River Crossing — even though he said in 2009 he would fight tolls — the city of Vancouver will issue permits for the CRC but it will be a state project. (If it ever gets built.) True, Leavitt serves on the C-Tran Board of Directors. But can a mayor really have that much influence on an interstate? You can decide for yourself.
On a much smaller scale, I've received questions about this flier, in which Leavitt is called a local business owner: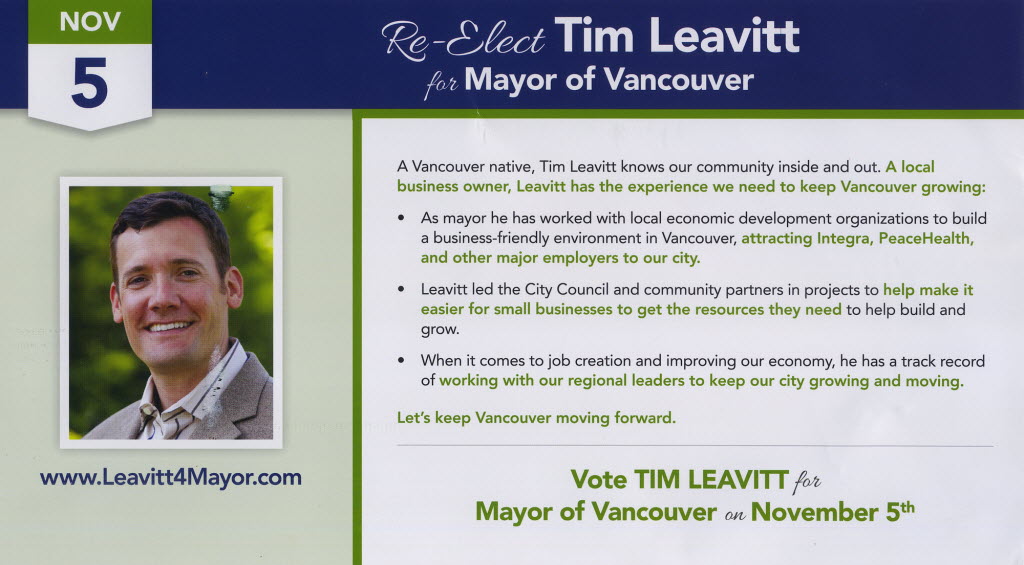 Not quite. Leavitt works as a senior civil engineer for PBS Engineering + Environmental. In 2006, he filed papers with the state to form Leavitt Signature Development LLC, and he has done one project with that business – a subdivision in the county, just in time for the housing market to crash. Leavitt missed his deadline this year to renew with the state, so his corporation was dissolved and he'll need to pay a $140 reinstatement fee.
The flier that called him a small business owner was paid for by a political action committee, and Leavitt said someone obviously gave them the wrong information. As noted on the flier, Leavitt didn't authorize the ad.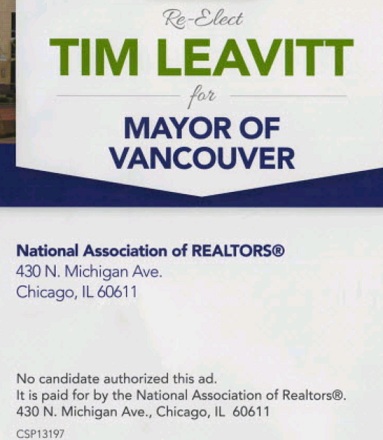 Now, Realtor groups don't have the best track record of accuracy, at least in fliers I have seen. Remember last year? The state Realtor association mixed up Vancouvers in an ad for Clark County commissioner candidates.
At least this ad has Leavitt in the correct country.