John Blom's extremely generous benefactors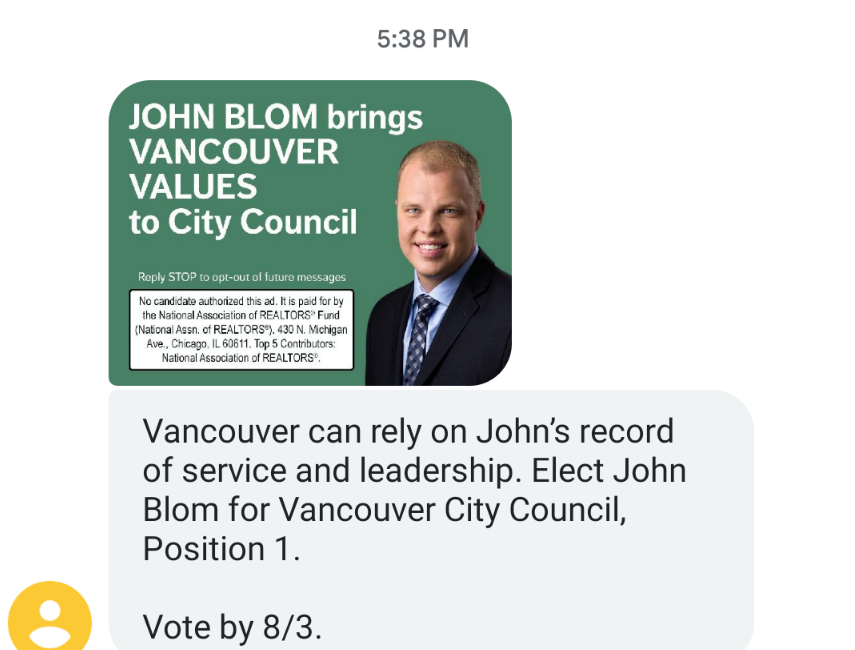 The National Association of Realtors really, really wants John Blom to win his bid for Vancouver City Council.
So much so that they spent more than $160,000 on his behalf ahead of Tuesday's election. In case it's unclear, that's an enormous sum for an odd-year local primary (for context: Blom himself has raised about $24,000 and spent around $18,000 on his own behalf. No other Vancouver city council candidates have reported independent expenditures higher than $200.)
I called Blom on Friday to ask about his extremely generous campaign benefactor. He found out about their expenditures the same way I did, he said — the Public Disclosure Commission's website.
"I saw it at the same time other people saw it," said Blom, who himself is a realtor. "I had no idea they were going to spend that money."
According to a PDC report filed by the National Association of Realtors, the group spent the bulk of the money on digital ads, pre-roll videos, mailers and texts to constituents. They contracted with Denver-based company Access Marketing Services.
The group also reported spending on behalf of two Spokane city council candidates with (much smaller) sums: Mike Lish ($29,000) and Johnathan Bingle ($33,000).
Blom himself hasn't seen everything sent out on his behalf, he added.
"It was definitely a surprise," he said. "Even after the money is spent, I still don't hear anything or see anything."
It wasn't the first time the organization backed Blom in a bid for office. When he ran for Clark County Council as an independent candidate in 2020, they spent more than $91,000 to try and get him elected. During his first bid, in 2016, they spent a whopping $305,000 in support of the then-Republican.
Blom, anticipating that the huge sum would attract attention from PDC browsers, posted the survey used by the National Association of Realtors to his campaign website in its entirety, along with his answers.
"I wanted to be transparent as to how I answered those questions and why they're supporting me," Blom said.
The lengthy survey asks about Blom's view on a potential business and occupation tax, zoning law, homelessness and affordable housing, annexation and equity in home ownership, among other topics.
In our conversation, Blom emphasized that the realtor's group isn't partisan.
"I think there's often confusion between developers and realtors," he said. "The things they care about are homelessness, affordability and transportation issues."