How about restrictions on the name "Vantucky"?
Here's some unsolicited advice for people who have a request for elected Vancouver city officials: Don't start your pitch by insulting their city. (And don't use "Portland did it" as your lead argument for why they should do something.)
My latest batch of Vancouver City Council emails included one from resident Shea Michael Anderson, who wants the council to consider a plastic bag ordinance. His subject line on his email, which he sent to Mayor Tim Leavitt, city councilors and City Manager Eric Holmes: "Plastic bag ordinance in Vantucky?"
Councilor Bill Turlay responded to Holmes with one sentence: "First of all he is off on the wrong foot because I hate being called 'Vantucky.'"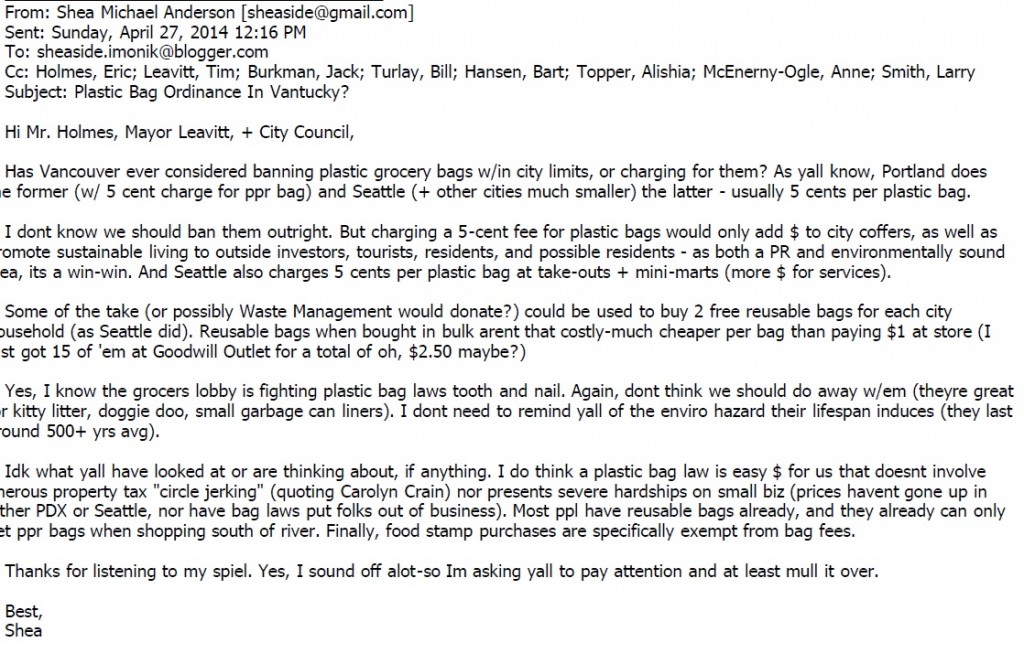 Derogatory nickname aside, other emails indicated Turlay and Councilor Anne McEnerny-Ogle are interested in learning more about problems caused by plastic bags. The city of Portland has a ban on plastic bags. Seattle and Bellingham have bans, too.  Both said they'd like a tour of a transfer station to see how plastic bags get tangled up in sorting machines.
Holmes, however, said today that he hasn't received any direction from the council to schedule a workshop on the topic.