Elected Duck fan says it's okay to laugh at Husky fans again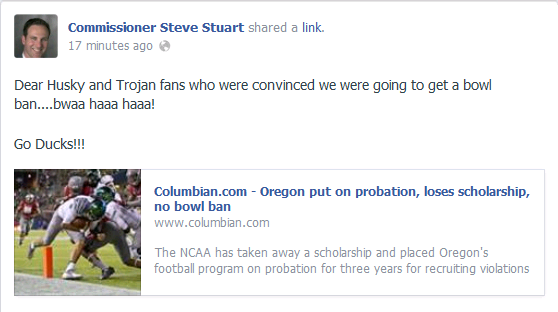 Clark County Commissioner Steve Stuart, a University of Oregon alumnus, has issued a statement on his official Facebook account regarding the NCAA's levying of penalties on Oregon football.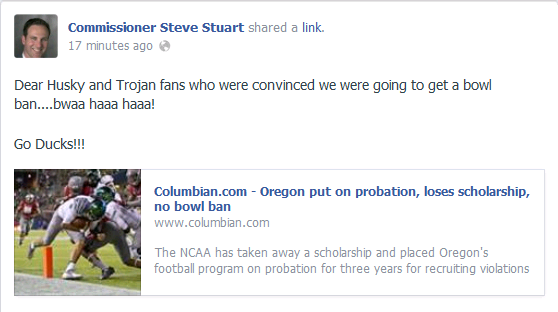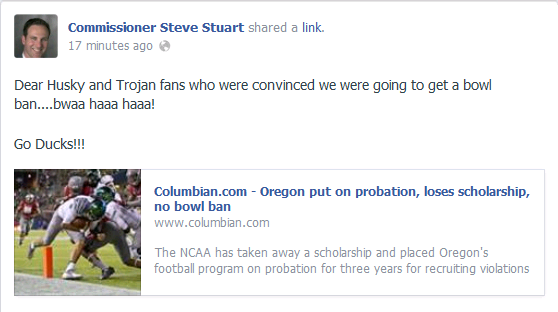 Ah, keepin' it classy.
For 28 months the NCAA investigated Oregon. And for 28 months the typical smugness accompanying a fan base experiencing wild success was tempered ever so slightly.
But now it's over. The NCAA is closing the case by issuing a punishment equal to that of a scolding and weekend grounding.
And while Puddles is taking it easy …
… Stuart is sounding the "all clear" that Duck fans can laugh again. Specifically, Duck fans can laugh at Washington and USC fans.
As of this blog post, Clark County Assessor Peter Van Nortwick, a true purple Husky, has yet to respond.