Washougal's 'rich history' causes waves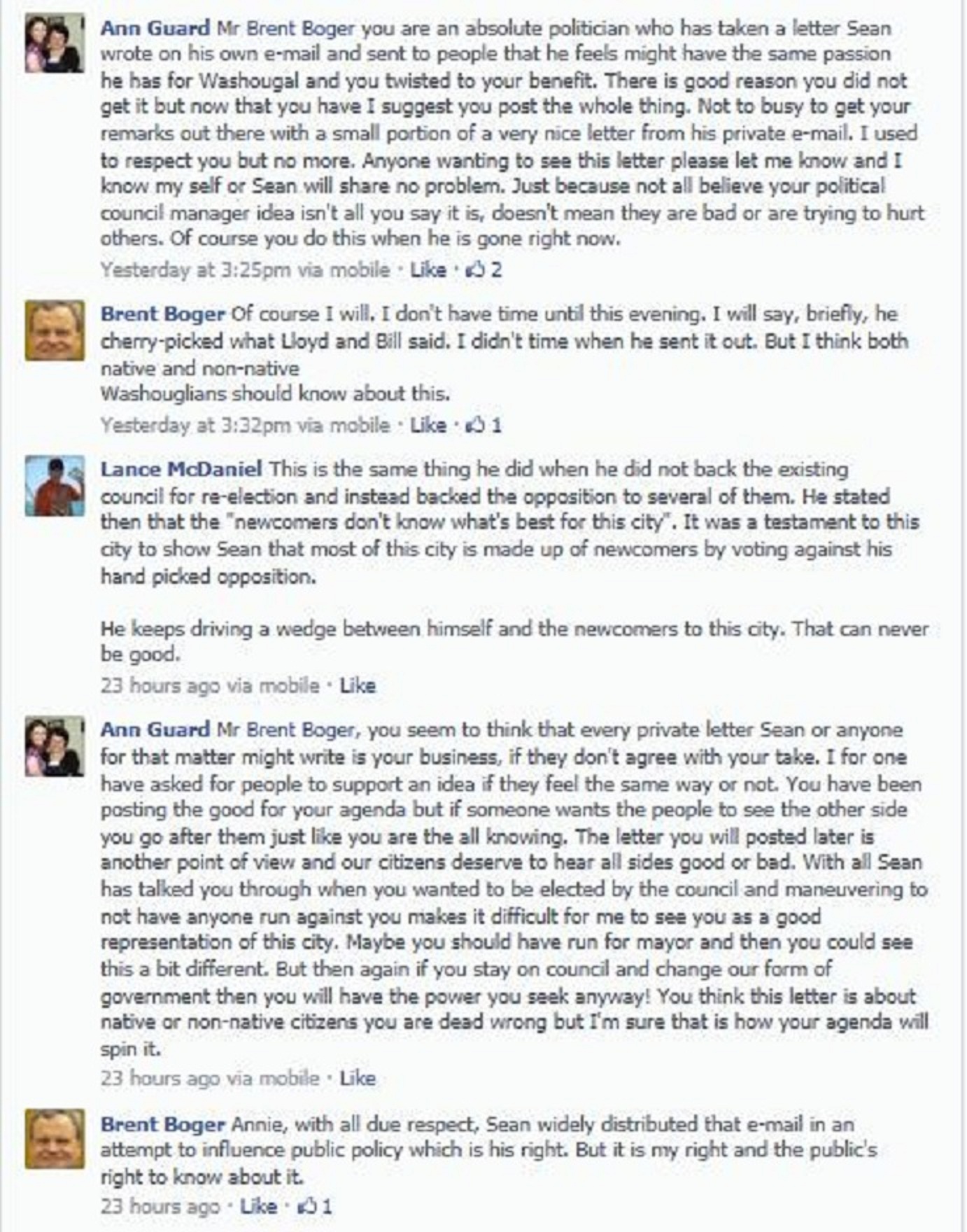 It's no secret that Washougal Mayor Sean Guard disagrees with changing the city's form of government. After all, if the city switched to a weak mayor, council-manager form, he would essentially lose the job for which he's currently campaigning.
But just to make his position extra clear, Guard sent an email blast to supporters Tuesday stating very directly what his gripes with the proposal were. The email came a day after Washougal held a City Council work session at which former Camas City Administrator Lloyd Halverson and long-time Battle Ground City Councilor Bill Ganley underscored the pros and cons of the different forms of government.
Here's the full text of the email with emphasis added because, whoo boy, it didn't sit well with everyone. In particular, Councilman Brent Boger took issue with Guard's statement that the councilmembers pushing to change the form of government were newcomers to Washougal who didn't understand the city's rich history.
—–Original Message—–
From: Sean Guard <seanguard@comcast.net>
To: Sean Guard <seanguard@comcast.net>
Sent: Tue, Jun 25, 2013 10:14 am
Subject: Washougal Change in Government – Eliminating a Mayor Elected by the People

Last night was an interesting city council workshop. The sole topic was potentially changing Washougal's form of government from an elected strong mayor/council (with a professional city manager) to a council/manager form where the council members select a city manager that has no accountability to the voters.

Under this form the mayor is no longer elected by the people and is no longer the head of the city. A hired manager fills that role at the pleasure of a majority of the city council. The people cannot remove the manager as they currently can with the mayor.

We had a presentation by Lloyd Halverson, Camas' recently retired city administrator (and former city manager in Oregon) and a presentation by Battle Ground City Councilman Bill Ganley who led Battle Ground through a similar change in the 1990's.

It was refreshing to hear from Councilman Ganley that Washougal is nothing like Battle Ground was. They had only a strong mayor who was not a good manager of people or work, they had no professional administrator, they were undergoing 27% growth and they had building moratoriums that stifled any additional growth. Further, it was stated that they had no infrastructure plans in place for utilities and roads and things were nearly falling apart. The former mayor had gone to jail for improper activities, as had a finance staff member for stealing cash from the city.

Washougal, on the other hand, has a professional city administrator (the position has been in place since 2004 with only two people in the role, serving 3 different mayors) and we are in excellent shape in regard to plans for all infrastructure moving forward. Yes, we have had past troubles with a rouge mayor and council members who appointed completely unqualified individuals for key staff positions in the city. That mayor was defeated in reelection and only two of those council members remain on the council. We have placed, since 2010 when I took office, many new policies that prevent the past from happening again and we continue to strengthen our processes on a monthly basis.

Additionally in Washougal, with a Mayor who cares deeply about the community and its health, we have also stripped over $2,500,000 out of our general fund and are running more efficiently than we ever have. All of this without the mass layoffs and service cuts that other communities have experienced. Our sales tax revenue is up, as are our construction permit revenues (people are building things again), hotel/motel taxes are up (people are visiting our area MUCH more than in the past), new business starts are up and we are doing very well. I am heartened to hear on a daily basis from people how well the community is doing and how proud they are to be part of it.

With the exception, it appears, of 2-3 council members who feel that in the middle of all of this positive activity, now is the time for them to be in charge and to completely change Washougal's form of government. Keep in mind, while some of them may have the best intentions, all of our council members, currently, have only been part of the community for a few years at best. They did not grow up here, all have moved from outside the area in the last decade or so. They don't know the rich history of our community or the pride that we have, especially since we are becoming one of Clark County's most desirable cities.

There is a town hall meeting this Saturday at city hall from 9 AM – Noon. The first half of the town hall will be a discussion about tourism and events in Washougal, the second half is a continued discussion about changing our form of government. If you care about Washougal and its form of government, either way, I urge you to attend and speak up.

Please let me know if I can answer any questions on this possible change in government.

Respectfully,

Sean Guard
When Boger got his hands on the email, he posted a portion of it to his Facebook feed with the following comments: "Now (Guard) seems to be saying, newcomers should have less of a voice than natives. This is unfortunate. The rest of the e-mail has issues, but I'm busy today and just finished my apple for lunch."
At least one person didn't take kindly to what Boger did, and I don't mean eating a healthy and delicious lunch. That person would be the mayor's wife.
Oh, and there's even a cameo by Councilwoman Jennifer McDaniel's husband.
And the back-and-forth continued for some time.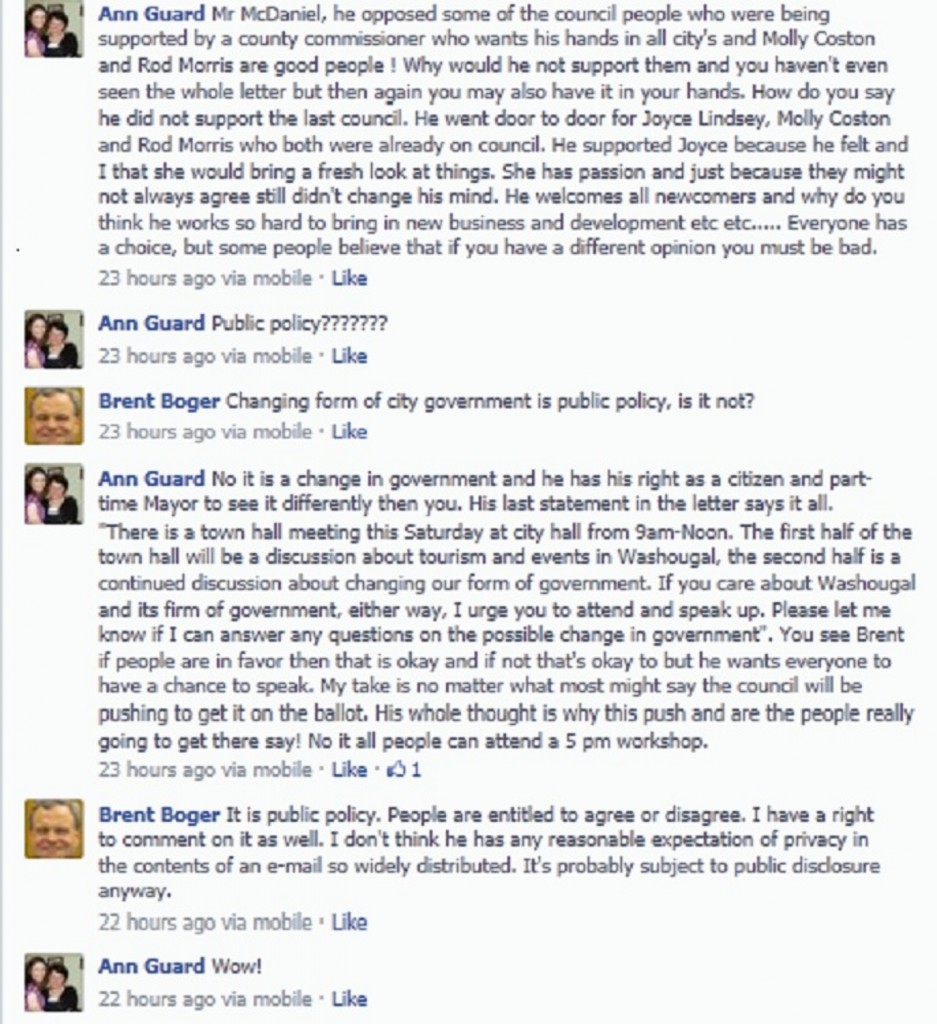 Wow indeed.
The City Council will readdress whether to change the form of government in July.