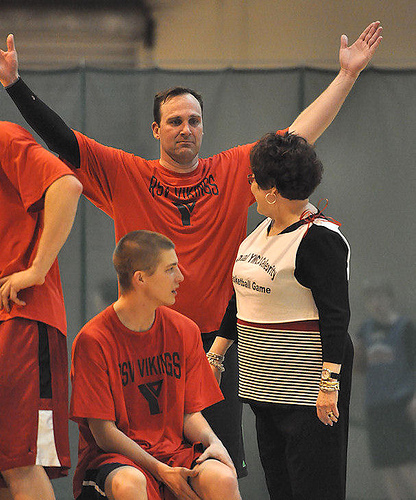 At Thursday's farewell reception for Clark County Commissioner Steve Stuart, a few speakers, including Vancouver Mayor Tim Leavitt, referenced Stuart's APIL nickname, "Big Stu." (Until we started calling him that, nobody used the nickname except some of Big Stu's old classmates from Prairie High School.)
The speakers who talked about the moniker expressed what it meant to them. Leavitt, for example, wondered if it was supposed to refer to Stuart's appetite.
Here's a clip of County Administrator Mark McCauley, Leavitt, and Vancouver City Councilor Anne McEnerny-Ogle.
Of course everyone is free to have their own idea of what "Big Stu," is supposed to mean, but for the record we call Stuart Big Stu because — wait for it — he's tall and broad-shouldered, and his last name is Stuart, and he projects that alpha-male frat guy vibe of someone who should have a nickname like "Big Stu."
Here's Big Stu from my perspective – this photograph was taken by Zach Kaufman yesterday, and reporters Erin Middlewood, left, and Lauren Dake are in the center. Both Erin and Lauren are taller than me, but still — Big Stu dwarfs all.