Delaying council business to meet a former president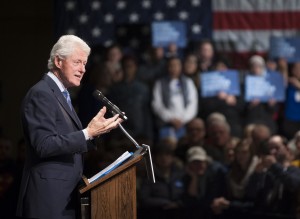 Until Monday, the last time Bill Clinton was in Vancouver was in 1996, when he was campaigning for a second term as U.S. president. Fifty-four years earlier, President Franklin D. Roosevelt secretly visited Vancouver's Kaiser Shipyards on Sept. 23, 1942.
That's why, when Clinton came to give a campaign speech Monday at Clark College on behalf of his wife, Democratic presidential candidate Hillary Clinton, the Vancouver City Council meeting was delayed. Four council members attended the speech, getting to shake Bill Clinton's hand and pose for a photo with him backstage beforehand.
If Clinton's speech had started at 5 p.m. as planned, the council would have been back at city hall in plenty of time.
But Clinton's entourage had decided to make a surprise stop by Powell's Books in downtown Portland first. Naturally, his caravan got tied up in rush hour traffic, and he didn't arrive at Clark College until almost 6 p.m.
Then he had to meet 40 people who'd gotten VIP invites.
Interestingly, City Manager Eric Holmes wasn't among the VIPs – he had to sit in the audience with the rest of the crowd while Mayor Tim Leavitt and councilors Alishia Topper, Anne McEnerny-Ogle and Ty Stober and other elected officials each got 20 seconds of face time with the former president.
"It was very interesting, for sure," said McEnerny-Ogle, who asked Clinton about his grandkids and had him sign a button from his 1992 campaign. "He was warm, professional, and I'm glad I had the opportunity to chat with him. After all, he was the POTUS."
Topper observed that Clinton looked older, thinner and frailer than he had looked on TV in the 1990s.
"He's so articulate. He's a powerful speaker," she said. "Being a Democrat, he was one of my presidents, and I was really excited about it."
Stober, who briefly met President Barack Obama in Portland last summer and once met singer John Denver as a kid, said he was honored to meet Clinton but not starstruck. He and the others were worried about getting back to the council meeting for the 7 p.m. meeting, he said. They'd already canceled the 5 p.m. workshop due to the event.
Back at city hall, city councilors Jack Burkman, Bart Hansen and Bill Turlay were debating whether to start the meeting themselves. (Burkman was invited to meet Clinton but said flashbulb grip-and-grin events "weren't his thing." Turlay and Hansen said they weren't invited.)
Aside from a reporter, there were three women and several excitable Girl Scouts in the audience. Hansen decided to take the Girl Scouts – a chatty, squealing bunch of third and fourth graders — downstairs to buy them snacks while they waited.
Hansen wasn't happy about the delay.
"We still needed to get business done and that's what I was focused on," he said later, acknowledging that nonetheless, the agenda was light that night.
He would have loved to have seen Ronald Reagan or Obama, but Clinton wasn't high on his list, Hansen said. Turlay, a registered Republican, clearly wasn't upset about being left out, opining that presidential contender Donald Trump had given a good speech that evening on TV.
Finally, at 7:20 p.m., the city manager and councilors arrived at council chambers and the meeting began. They said the Pledge of Allegiance, took roll, made a proclamation, passed two consent agenda items without discussion, questioned the Girl Scouts about camping and posed for photos with them.
Afterward, Leavitt said that as mayor of Vancouver, it was appropriate for him to welcome a president of the United States to our community.
Stober agreed, saying, "I thought it was very important for the city to be represented in some form."