Déjà vu all over again with Madore's endorsements

Update: I checked Councilor David Madore's endorsement page shortly after 10 p.m. Tuesday. All individuals mentioned below have been removed.
I'm not entirely sure how Councilor David Madore is choosing to list his endorsements for his Clark County council chair campaign. Neither, apparently, do some of those who appear on that list.
Scott Dalesandro emailed The Columbian today to alert us that Madore, a Republican, was listing him among his endorsements. It's strange to see Dalesandro's name on the list for a few reasons.
First, Dalesandro is running for Port Commissioner, and Madore gave $11,000 in campaign contributions to Lisa Ross, one of Dalesandro's opponents for the seat. Ross is also listed among Madore's endorsements.
Also, Dalesandro's son, Democrat Mike Dalesandro, is running against Madore for the chair seat. So, there's that. I jokingly asked if there were problems in the Dalesandro clan, but not so.
"Mike Dalesandro is the only candidate I support," Scott Dalesandro said by email.
Then there's that pesky fact that Dalesandro says he doesn't support Madore's campaign. Oops.

According to The Columbian's internal voter database, there is only one Scott Dalesandro registered to vote in the entire state, so it's unlikely Madore is talking about a different one.
I also received an email from former Clark County freeholder Randy Mueller, telling me he too was listed on Madore's endorsement list.
"Recently a Clark County friend who was concerned about my possible mental health inquired as to if I was feeling okay and why I had endorsed David Madore in the upcoming race for council chair," Mueller said in his note.
"I assured my friend that I was fine, and was suffering no mind-altering medical impacts that would impair my judgement (sic) so much so as to make voting for David Madore ever appear to be a good choice," he continued.
Mueller noted that he has since moved out of the area, and there's only one Randy Mueller listed in our database.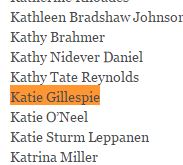 Furthermore, at the bottom of Madore's endorsement page, there is a link to a list of those who have liked his public Facebook page. You know, the one I got banned from recently?
Guess whose name was listed there?
To be fair, Madore isn't outright saying everyone who liked his Facebook page is endorsing him, but the implication that likes are the same as supporting a campaign is pretty clear. I've since messaged and called Madore asking him to remove me from that list, which he appears to have done.
Correction: A previous version of this blog gave the wrong name for Randy Mueller. The post has been updated to reflect the error.